Description
In collaboration with Bristol 24/7 and other artists and performers, Carol Peace celebrates 25 years of being an artist in Bristol with an 11-day celebration of sculpture, drawing, painting, words, food and music.
As a highlight of this celebration we are excited to have Bristol based acoustic trio, Three Cane Whale, playing a special gig in the exhibition space on Tuesday 14th November.
Described as 'Exquisite, elegant, atmospheric and charmingly quirky' by The Guardian, their music shares similar influences as Carol Peace's work and this event promises to be a fascinating journey through the landscape of the west country and beyond.
Doors open 7pm, performance time about 8pm, bar available.
For full details of all events go to http://www.carolpeace.com
---
Carol Peace talks about her inspiration behind the event
"The sculpture 'Unravelling' started a journey with the idea of a poor and desperate man throwing his two children from a bridge. The Clifton Suspension Bridge to be precise and the man was Charles Albert Browne, 36 years, and it was September 1896. It was raining.
It was one of the first stories I heard from the acoustic trio, Three Cane Whale, in their eponymous song, Ruby and Elsie. I remember sitting in a small sweaty little room, crouched on the stairs, as their fingers slipped from ancient instruments and their signature birds flew around the walls.
It was a Bristol Pound fundraising do. On a tiny piece of paper, I drew the two falling girls, dresses like parachutes. They survived because their skirts billowed and river pilots heard their cries and rescued them from the water.
The father was later committed to an asylum for the criminally insane but did manage to answer his daughters question 'Why did you do it?' his only reply was 'Because you were in pain'. Obviously he would be 'committed' but it was for him and his desperate situation, I started the piece.
Life muffles a clear story, the present bumps in and the sculpture changes course in it's realisation but it's birth was all those years back in that sweaty room.
So when I had the idea of a 25 year show I knew it had to be a celebration of Bristol, a realisation of the connections that has made this such an inspiring and amazing city to live and work in.
To me the music of Three Cane Whale is steeped in location, you can feel the bones of the landscape, it's rich. Whether it's a mountain pass, a chapel or under a Bristol flyover, you can feel it in the music as it sails you away. On the way to the foundry I even missed my motorway junction...I was away with the trumpet …not noticing the miles on the M5.
I can see the gig now, three musicians, in the round, the cavernous space is dark bar the lighting spots that picks them and the surrounding sculptures out, the audience sit among the exhibition. People have got their drinks, they have had a chat, a look round and then sit, it's quiet, there's a shuffle, they come on, a slight tune, a correction…and then we are off, out to Wales, to Dorset, who knows where people will go when they hear this sound.
Like my work there's no telling what people think, where people travel in their heads, all you can do is provide the journey's start."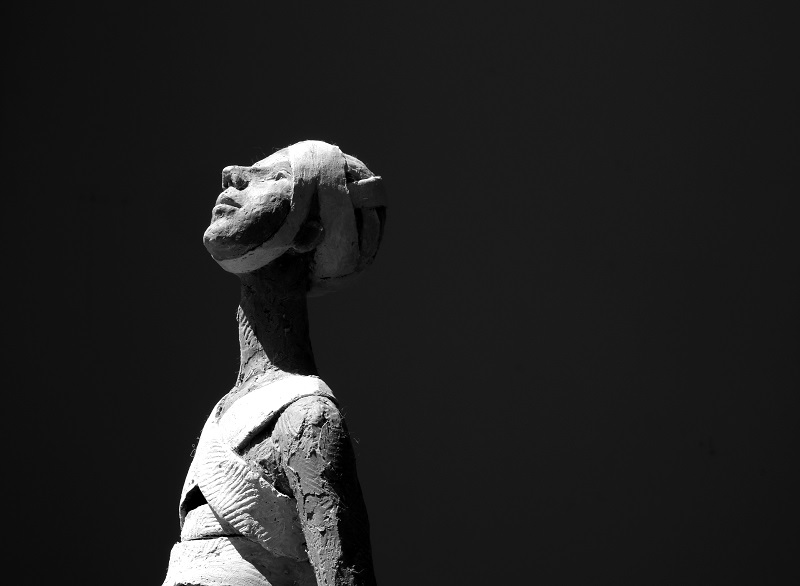 Organiser of Three Cane Whale and Sculptor Carol Peace
Founder of the Bristol Drawing School, Carol Peace is a figurative sculptor who could not work without drawing. The process of drawing, that intuitive response, is what she aims for in her work.
"It's all about trying to see, drawing enables that."
In 1992, she graduated from Winchester School of Art and set up studio in the Bristol Sculpture Shed, which would later become Spike Island, she moved to her Paintworks studio in Bristol in 2004.
In 2019, Carol moved to a new studio in East London, and also has another quiet studio for larger pieces in Wales.
Her intensely personal work is shown and collected all over the UK, Europe, the Far East and United States. Her large-scale work is permanently on show at Glyndebourne and at the Dorchester's country house hotel in Ascot.
The sculptures are made in clay, which like charcoal is quick to make marks with, once finished it is cast into bronze, those fluid marks of the making are then fixed forever.
"The work is about everyday life, in its minutia, the sheer fantastic-ness of it all."