We're offering three online workshops for emerging writers looking to expand their knowledge of publishing, editing and self-publication.
About this event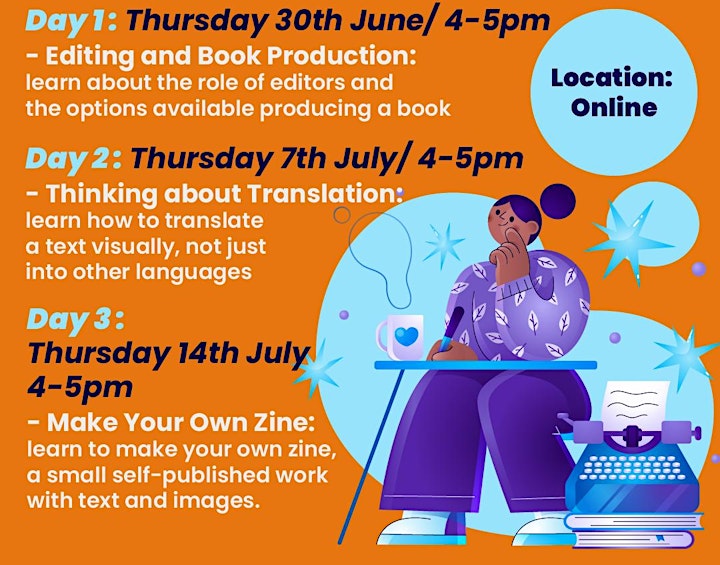 Starting out as a first time writer can be challenging and at The Sapphire Literature Academy, our aim is to assist young writers on their journey to publication.
These online workshops will be held weekly and get you thinking about alternative routes to traditional publishing.
Thursday 30th June - Workshop 1 - Editing and Book Production - think about how proofreaders and editors help authors fine tune their language and the different options in book production.
Thursday 7th July - Workshop 2 - Thinking about Translation - learn about the acquisition of translation rights and seeing translation as a visual and textual representation of content.
Thursday 14th July - Workshop 3 - Make Your Own Zine - Bring the skills you learnt from the previous workshops to produce a zine. You will be asked to 'translate' a piece of literature or a topical theme into a small zine.
If interested, please register your interest on Eventbrite. You can attend an individual workshop but for the third workshop, we strongly recommend you to attend the two previous ones to get the most out of it.
If you have any further questions, contact: publications@sapphireministriesrtwv.org
Sapphire Literature Academy (SLA) supports young people on their journey to expressing their thoughts and ideas in a format that works best for them.
We want more young people to raise their voices and showcase their talents as the next generation of writers.
As an emerging Academy, we'll be offering a book club, blogging opportunities, editorial support, more workshops run by professional writers and one to one mentoring.