Thrive Without Borders is a new online meetup (on Zoom) for British and French female entrepreneurs to learn, connect and grow.
About this event
What is Thrive Without Borders?
Thrive Without Borders is a new online meetup (on Zoom) designed to enable British and French female entrepreneurs to learn from each other, connect, and explore opportunities to grow.
Our event is for curious and outward-looking female entrepreneurs from Sussex UK (Coast 2 Capital LEP Region) and Seine Maritime (76) (Region Normandie France) who would like to be inspired by other women in business from across the Channel / La Manche, discover what it is like being a female founder in another country, and make new connections across the border.
What can you expect to happen at this event?
At Thrive Without Borders, you will have a chance to listen to two inspiring female entrepreneurs - one from the UK and one from France - who will share their insightful stories of business growth.
You will be able to join in the conversation in the chat, to share your own experience, and connect with each other. You will also have the opportunity to network with other women in small, breakout rooms.
There will be an interpreter at the event who will translate the talks, so that everyone can understand both speakers.
This initial event will lead onto other events, and then face to face meetings, in Brighton and Dieppe.
Who is organising the event?
Thrive Without Borders is designed and delivered by Clare Griffiths, Founder of Thrive in Brighton (UK), and Natasja Wehman, Founder and Director of Les Gens Heureux, in Dieppe (France).
Clare Griffiths, Founder of Thrive
Thrive is founded by Clare Griffiths, an award-winning entrepreneurship educator, business support practitioner, and social entrepreneur who has over 18 years of experience offering business support and advice to startups and solopreneurs from a range of industries in London and the South East.
Natasja Wehman, Founder and Director of Les Gens Heureux
Les Gens Heureux is founded by Natasja Wehman. Originally from the Netherlands, where she worked in communication within the cultural sector, Natasja arrived in France in 2012, initially as a hotel/restaurant owner. In 2020, Natasja returned to her original profession in communication, and founded Les Gens Heureux. Natasja specialises in digital communication and community management.
Who are our sponsors and partners?
Graham Precey, CEO and Founder of GROUPE DÉVELOPPEMENT NORMANDIE, is proud to sponsor the Thrive Without Borders initiative, bringing together female entrepreneurs in Normandy (France) and Sussex (UK) to understand each other and do more business, as part of the growth of a thriving social economy post-Brexit and post-Covid.
Enjoolata Foundation is a partner of Thrive, whose support has contributed to making this event possible. At Enjoolata, they believe that lasting and meaningful change comes from within the community. They offer funding and support to people who understand how to better their own communities, facilitate positive change and uncover hidden voices.
With all our enthusiasm, along with the support of Graham Precey and Enjoolata Foundation, together we should be able to create sustainable connections and a strong network between female founders in Normandy (France) and Sussex (UK).
How can I register to attend this event?
This event is free, thanks to the generous support of our sponsors and partners.
It is essential that you register for your ticket via the Eventbrite platform.
Si vous êtes français, et que vous souhaitez visiter la page web de l'événement en français, visitez:
https://www.eventbrite.co.uk/e/billets-entrepreneuses-sans-frontieres-thrive-without-borders-335926052867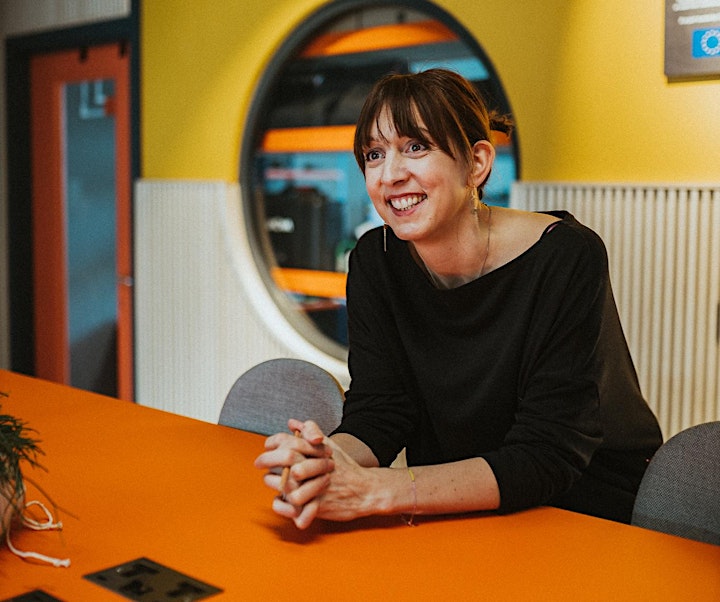 Our speaker from the UK is Kerry Watkins
Kerry Watkins is the Founder and Managing Director of Social For Good, a social media agency who help purpose-driven organisations develop strategies and put reporting in place to gain control over social media.
The Social For Good team specialise in social strategy, paid campaigns and designing social media training programmes. They are committed to using social media ethically, with integrity and to do good; to affect change, improve lives, and make a positive impact in the world.
Social For Good started life as Social Brighton in 2010 and rebranded in 2021 to focus on supporting the third sector. Kerry has spoken as a social media expert on the BBC, at conferences in the UK and international social media summits.
You can find out more about Social For Good here. And connect with Kerry on LinkedIn here.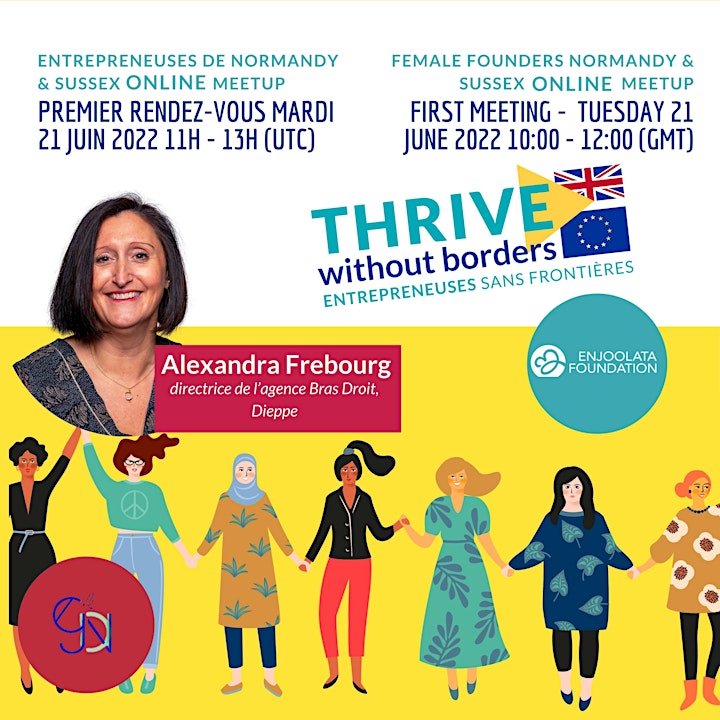 Our speaker from France is Alexandra Frebourg.
Alexandra Frebourg is a committed entrepreneur and manages several women's entrepreneurship networks in Normandy.  
Two years ago, she became independent and opened her agency Bras Droit Des Dirigeants Ressources Humaines in Dieppe, France, providing assistance to small and medium-sized companies in all activities. She is involved in the management of human resources for companies.
Thanks to her profession and experience Alexandra knows the current situation of entrepreneurship in Normandy.
She will tell us about it and explain the challenges and opportunities she sees for the future.