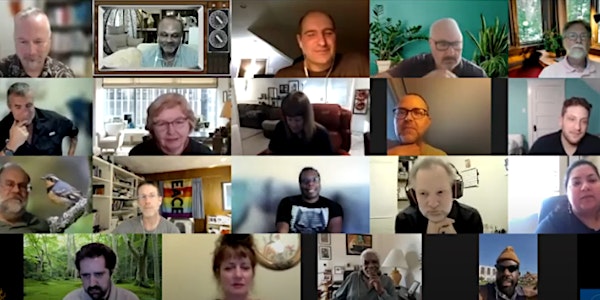 Thriving as a Highly Sensitive Man: Lifestyle, Career & Self-Care. Workshop
Sales Have Ended
Ticket sales have ended
Sorry that you've missed this event, ticket sales have now ended - please go to https://www.eventbrite.co.uk/o/highly-sensitive-thrivers-38613756373 and subscribe, so that you can be notified of other upcoming events! See you at the next one :-)
Thriving as a Highly Sensitive Man: Work / life balance, lifestyle, self-care, careers, parenting, boundaries & values. Join us!
About this event
Thriving as a Highly Sensitive Man: Work / Life Balance, lifestyle, self-care, careers, parenting, boundaries and values.
Based on Elaine Aron's best-selling book "The Highly Sensitive Person", we'll discuss what high sensitivity is and go through a number of common traits that are found in her self-diagnosis test.
Did you know that 20% of the world's population is highly sensitive? Knowing that you're highly sensitive and understanding your condition means you can educate yourself more on the trait.
This session will be run by Tony Dimmock, a highly sensitive man, a father to 3, a business owner, entrepreneur and the creator of the Highly Sensitive Thrivers community.
During this session we will go through:
What does thriving as a Highly Sensitive Man mean in today's world?
Why are boundaries, values, work / life balance and career choice important?
How can grounding and mindfulness offer us a new lease of life, when we're tired, stressed or run-down?
Which areas can we develop ourselves more in, to live happier, more authentic lives?
Why engaging our 5x senses helps us ground
Why listening to our intuition helps
Which vocation, career or self-employment suits a highly sensitive man?
Once we understand ourselves better as highly sensitive men, we can:
Improve our relationships with others
Serve clients through our vocations
Honour our boundaries (personally and professionally)
Live by our values
Maintain our energy
Show ourselves self-care
We will cover all the above, plus diet (food and liquid intake), happy brain chemicals, useful resources for HSP men, books to purchase to help you on your journey and a few exercises to include in your daily life, such as breathing and grounding exercises.
Note: Event open for men and women!
Stay updated on future HST Zoom events by following us here:
https://www.eventbrite.co.uk/o/highly-sensitive-thrivers-38613756373
https://www.facebook.com/highlysensitivethrivers/events
https://www.linkedin.com/company/77047861