About this Event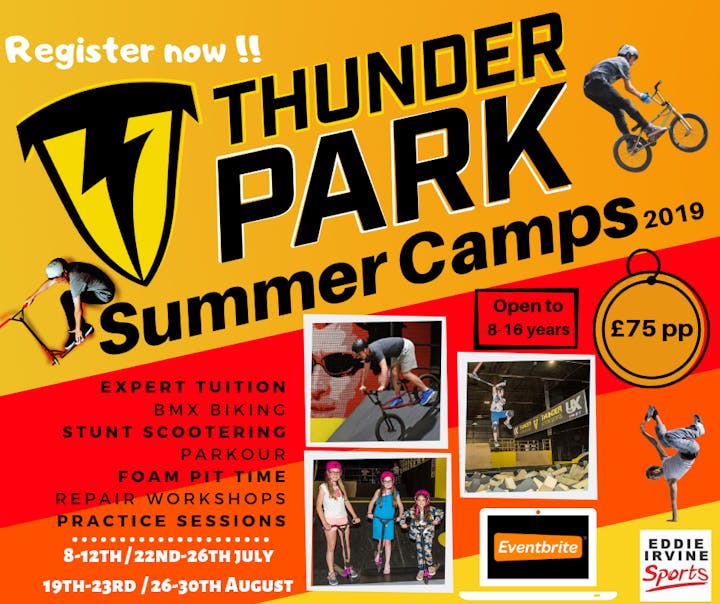 Thunder Park welcome you to take part in our 2019 Summer Camps.
Our Academy is the ultimate location to develop your skills and master BMX biking, Stunt Scootering and Parkour / Free running.
Our instructors are among the most knowledgeable and highly experienced in the industry of Action sports and are leaders in their field of expertise. Time spend with our coaching team will develop a love and appreciation for the sport, a boost in confidence and self-esteem and a firm foundation is skill development.
Camps will start at 9:15am Sharpe and you may arrive from 9am Monday to Friday. These Camps will have fun and beginner friendly coaching classes and workshops from 9:15am to 12noon each day followed by a packed lunch then 2 hours practice time.
BMX bikes, Stunt Scooters & Helmets will be provided for all who need them at no extra cost. The Camp will have 2 BMX training days, 2 Stunt Scooter training days and a Parkour training day. Included in these training sessions will be basic repair workshops where you'll learn how your equipment works and what to do to keep it safe and maintained.
5 days of Camp is just £75pp + booking fee.
You must bring a packed lunch each day and we clothing suitable for physical activity. We recommend wearing full length trousers and bring any safety equipment you may already own (knee, elbow pads & Helmet)
Camp3 runs 19th - 23rd August / Camp 4 runs 26-30th August.
Certificates of participation & exclusive Camp Sticker Packs will be awarded to all camp attendees!