Join Peter Sawkins as he discusses his brand new book, Peter Bakes, with Dame Prue Leith
About this event
We are beaming from ear-to-ear to be welcoming Edinburgh's very own Peter Sawkins to an event at The Assembly Roxy theatre, where he will be in conversation with none other than Dame Prue Leith.
Peter Sawkins left the tent as the triumphant youngest ever winner of the Great British Bake Off in November 2020, a feat he undertook all whilst studying Accounting & Finance here at the University of Edinburgh.
When he started watching the show aged 12, he couldn't know that in just 8 years, he'd go on to win the coveted GBBO cake-stand with his imaginative, distinctly Scottish twists on baking classics, his unsurpassed flair for flavour and his witty, endearing modesty. And, of course, his sheer passion for baking.
In Peter's exciting debut book Peter Bakes he reveals the secrets of his baking success, his brilliant recipes and gluten-free options, and his trademark tricks including how to listen to your cakes, how to enhance your skills and how to develop the confidence to trust your senses in the kitchen. All of which will help you make everything from showstopping cakes and perfect patisserie to yummy puddings that'll bring a smile to everyone's face
From his Cranachan Cake and Christmas Croquembouche to Apple Galette and Mini Carrot Cakes, Peter's flair for flavour and passion for baking make this a book you will turn to again and again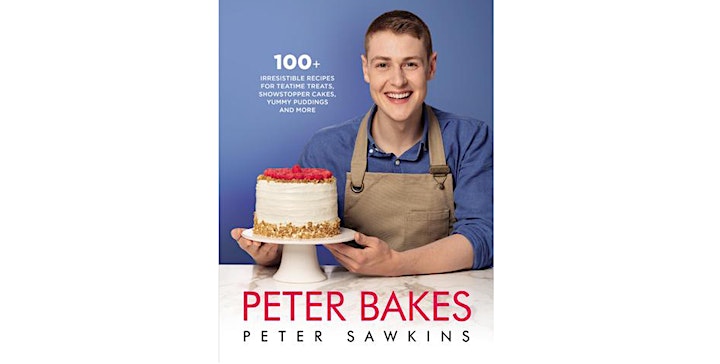 ...AND we are exceedingly grateful to Dame Prue Leith for enthusiastically agreeing to take the time out of her very busy schedule to visit us in Edinburgh to chair this very special exclusive event.
Prue Leith studied at the Sorbonne in Paris, before moving to England in 1960 to study at the Cordon Bleu Cookery School. Over nearly sixty years, Prue Leith has risen to the top of the British food scene. She has seen huge success not only as founder of the renowned Leith's School of Food and Wine, but also as a caterer, restaurateur, teacher, TV cook, food journalist, novelist, and cookery book author of books such as The Joy of Baking. She's also been a leading figure in campaigns to improve food in schools, hospitals and in the home, and was made Chancellor of Queen Margaret University in 2017.
The pair will be discussing the huge achievement of Peter's new book, along with the journey, passion and inspirations that have lead to this landmark moment in his career; and let's all take a pause to remember, he's only gone and achieved all of this at the age of 21.
So come a long for what will undoubtely be a thoroughly enjoyable evening, and show your support for Edinburgh's Champion of the Bake Off*
*for legal purposes this is not an official title
This ticket includes admission to the event, and is redeemable towards the price of the book (in this case £9.00 off the price of the book) on the evening of Friday 29th October 2021 -
-
Events are seated and speakers use microphones. If you have any concerns about accessibility, please do get in touch and we will do our best to accommodate your needs.
Covid 19 Precautions will be adhered to ensure the safety of our attendees, authors and booksellers. Please do not attend the event if you are displaying any symptoms of Covid-19 or if you have been advised to self-isolate. We ask that all ticket holders wear a face mask whilst in the shop, medical exemptions will continue to apply. For more information or if you would like a signed copy because you can't make it to the event, please contact the Blackwell's events team on 0131 622 8222 or matthew.land@blackwell.co.uk
Organiser of TICKET: Peter Sawkins In-Conversation With Dame Prue Leith
Blackwell's Bookshop has been serving the needs of academics, students, and book lovers since 1879. Our year-round events programme is currently on hold although please check out our social media events on Twitter @blackwellbooks
Edinburgh's oldest bookshop is situated right in the heart of the Old Town. On our three floors you will find anything from the latest bestseller to university textbooks. Make sure to visit our Scottish Room for the best selection of Scottish books in the city!
The majority of our events are held on our First Floor and our event space has level access.
There is on-street parking in Infirmary Street, Chamber Street, Drummond Street and Roxburgh Place (paid till 6:30pm), and Blue Badge Holders can park on the single yellow just outside Caffè Nero on Infirmary Street. 
Our Caffè Nero is open till 7pm on weekdays for pre-event coffee and cake (or tea and panini).