Dit evenement is afgelopen.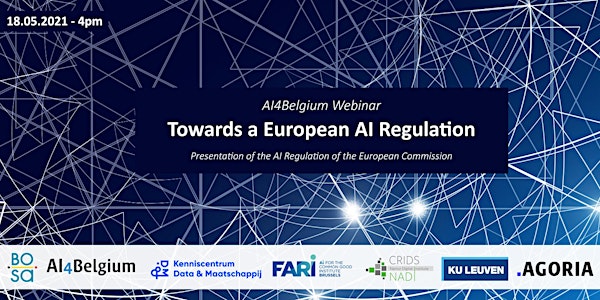 AI4Belgium Webinar: Towards a European AI Regulation
Sign up for the AI4Belgium Webinar: Towards a European AI Regulation
Over dit evenement
If you are active or interested in the field of AI, you will have seen that the European Commission recently published its proposal for an AI regulation.
While the publication already provides an overview of the Commission's regulatory intentions, it is not always straightforward to understand what the new regulation will mean in practice, and what the next steps are.
The proposed AI regulation is quite an extensive document, but here are some key points:
Some uses of AI will be prohibited in Europe
Some uses of AI are classified as 'high risk' and will be subjected to new requirements
Some uses of AI will be subjected to specific transparency requirements
Member states will need to establish a national supervisory authority to verify conformity with the AI regulation, and a European AI Board will be established
To make this clearer, AI4Belgium Ethics & Law is organizing a webinar on 18 May 2021. The event will bring together AI policy experts that will provide insights about the content and consequences of the AI regulation. We will also discuss what this means for the Belgian AI ecosystem, and collect your feedback on the proposal.
This webinar is hosted in cooperation with well-known institutes located in the three regions: the Kenniscentrum Data & Maatschappij, the CRIDS/NADI and the AI Institute for the Common Good (FARI)
Agenda
16:00 - Introduction
EU Commissioner Didier Reynders
Belgian State Secretary Mathieu Michel
16:20 - Overview of the AI regulation
Kilian Gross (DG Connect, European Commission).
16:40 - Introduction of the MIRO Board (online tool) to collect feedback
Kenniscentrum Data & Maatschappij
16:45 Panel discussion: "What does this AI regulation mean for the Belgian AI ecosystem?"
Moderators: Jelle Hoedemaekers & Nathalie Smuha
Panel:
Noemie Bontridder (UNamur)
Mireille Hildebrandt (VUB)
Peggy Valcke (Kenniscentrum Data & Maatschappij, KU Leuven)
Julie Scherpenseel (ML6)
17:15 Q&A
Jelle Hoedemaekers & Nathalie Smuha
17:35 MIRO View – overview of feedback
Kenniscentrum Data & Maatschappij
17:38 AI Regulation: next steps
Jelle Hoedemaekers & Nathalie Smuha
17:42 Closing
Nathanael Ackerman