Evenementdetails
Locatie
Maarn
Buurtsteeg 7
3951 Maarn
Netherlands
Beleid voor refunds
Neem contact op met de organisator om een restitutie aan te vragen.
Eventbrite-kosten zijn niet restitueerbaar.
Beschrijving van het evenement
Natural Women Retreat Date: 23-25 April 2021 (Arrive Friday after 3pm, leave after lunch Sunday) Venue: Maarn, Utrechtse Heuvelrug.
Over dit evenement
♥ This Natural Women Retreat will be Held & Hosted by Soemeh Brands & Claudia van Zuiden ♥
Take your Self to the Wild Side and Re-discover your Natural Woman from April 23-25th April 2021.
Imagine waking up in the silence of nature, only with the subtle breeze and you walk towards a yurt with warm cup of chai. Women are already sitting around the fire, some telling stories and singing songs of way back. You know you can open your heart here, that you can tap into your deep wisdom that has the place to be seen as no environmental distractions are present. It's like coming home.
We want to offer this retreat so you can take some time to go within and to connect with your heart and your inner wisdom, you true nature. During this retreat we offer a place to contemplate, to meditate, to tell stories, to re-connect with Nature and with open-hearted women. When women come together in such a safe and open space, a softening of the senses arises and the innate power that lies within this. This softening creates a merging of oneness and this power creates clarity and trust, which has always been there waiting for us to be enjoyed.
𝗪𝐡𝐚𝐭 𝐢𝐬 𝐢𝐧𝐜𝐥𝐮𝐝𝐞𝐝
- Nature Walks on the Utrechtse Heuvelrug
- Sound journey & Yoga in Motion
- Storytelling
- Connecting to your Natural Essence & Intuition
- Fire Ceremonies
- Guided & Silence Meditations
- Heart Sharing Circles in Yurt & Outdoors
- Meals Preparation & Community Meals
- Zoom Connection call with the retreat group before event
- A safe and loving environment where you can feel at home.
- Vegetarian meals nourishing your body and spirit.
- Fruits, snacks and teas & coffees
- Breakfasts, lunch, dinner (vegetarian)
- Rooms (2 double bedroom and 4 bunkbeds)
- Camping optional
𝗪𝐡𝐚𝐭 𝐢𝐬 𝐧𝐨𝐭 𝐢𝐧𝐜𝐥𝐮𝐝𝐞𝐝 :
- Flights and transportation to and from the venue
- Your Camping Gear if you desire to camp
- You will need to bring any of the items listed above that you
think will be necessary for a comfortable adventure
-Warm and suitable clothing
𝐏𝐫𝐢𝐜𝐞s:
Price Retreat €325 pp
Incl. bunkbed small dormitory + €25
Incl. double room + €60
Incl. camping FREE
Cancelation Policy:
100% Refund until 23-03-2021. No refund possible one month before the event. Exception: when due to CORONA restrictions the event has to be cancelled, full refund will be given.
Testimonials:
"Claudia is a fantastic role model on how to be authentic. That is she connects with what is right for her and goes for it full of heart, compassion, generosity and consideration. A passion for learning and serving. I adore her honesty and learnt sooo much through yoga sessions, women healing circles, solution focused training which has helped me grow and explore my own unique self. I would in equivocally recommend Claudia to assist you on your journey." - Lorna Forsyth
" I joined one of Soemeh's retreats and it's hard do describe what's going on there, because It's not about the things that "happen"... it's not about the things that where "organized". It's the ultra healthy environment that they create which is profoundly conducive to step into what's the next thing for you for deepening and moving towards being the most authentic and connected human being you can be." - Cedric Tineo
"A superb human being". I met Claudia 5 years ago. Since the first time I did meditation with her I learnt from her teachings, talents and her wisdom. Claudia is a superb human being, I highly recommend any of the disciplines she offers as a coach, yoga teacher, reiki master, women circles .. and of course, as a magnificent woman. - Silvia Fiddes OrtizPerea
"In just one session Soemeh got me out of my head into action. Feeling excited about creating instead of thinking what's not working yet/seeking perfection. With Soemeh my inauthentic behavior gets exposed but she manages to hold a balance and not make you feel too uncomfortable." -Noemie
"I have been lucky enough to know Claudia for 12 years now, she was a pillar of strength and wisdom to me as a self-conscious and confused 16-year-old when I first started attending the Women circles which mainly gave me the confidence to realise that I have the strength within me to be my authentic self and not worry about what others thoughts may be etc. Since then, I've also attended yoga sessions and meditation courses all of which are always deeply beneficial as well as being enjoyable! Claudia is an inspiration to us all and we all learn so much from her, at the same time she reminds us that she constantly learns from us all too, Claudia is very modest and humble and a joy to be around always and I'm thankful she has been part of my journey growing as an adult." Jessica Allen
"When ever I am wrapped in confusion and contraction it helps me so much to connect with Soemeh. She looks at me with her big loving eyes. Not expecting anything. Totally open and 100% present. It opens me up. It allows me to bring all my shit on the table without feeling ashamed. (Or at least not toward her). She never trys to change or save you. She is there, with you, with what ever arises. Infinitely patient and no judgements whatsoever. By her silent presence the confusion naturally dissolves and clarity remains." -Rashma
"Claudia is such an inspirational human being who gives such a sense of peace and creates spaces filled with calm and positivity whether with coaching or yoga, giving you the space and guidance to see the solutions you knew all along that you couldn't see before. " -Nicole Blyth
"Soemeh is one of these beings who can perfectly tune in into peoples needs and act accordingly. By staying true to herself and her inner guide she is able to lift groups by lighting up individuals. Her soft heart combined with her adventurous nature and direct communication makes her a great coach and facilitator. She can really break through beliefs and status quos. A powerful woman on a mission!" - Laurine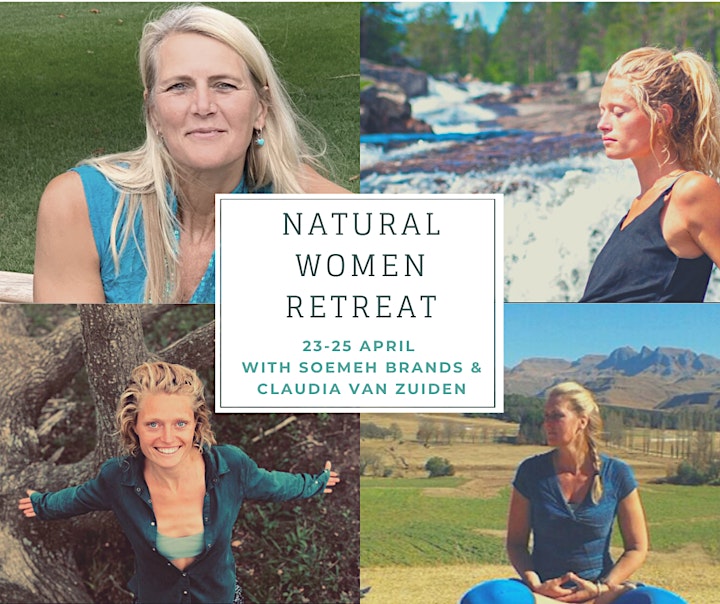 Datum en tijd
Locatie
Maarn
Buurtsteeg 7
3951 Maarn
Netherlands
Beleid voor refunds
Neem contact op met de organisator om een restitutie aan te vragen.
Eventbrite-kosten zijn niet restitueerbaar.