Beschrijving van het evenement
Online Mini Festival Participatory Video: Stories of Transformation, with (participatory) videos from Kenya, Greece and Afghanistan
Over dit evenement
Facili2transform and Momologue invite you to the online Mini Festival Participatory Video. We like to share our (participatory) films and share our experiences in a 3-hour webinar with films from participatory video interventions in Afghanistan, Greece and Kenya. We will project three films:
Stories of Transformation – a participatory film about deaf young people/
Corinna Philpott and Washington Sati
Drop by Drop a River is formed – a short film about Rangeland Management in Afghanistan
Dirk R. Frans
Listening to the voices of refugees – a short film about the making of of a participatory video
intervention with refugees in Greece
Ralf Otto and Simon Koolwijk
Stories of Transformation is a film created by 10 deaf young people who were part of a livelihoods project implemented by Deaf Empowerment Kenya and supported by Deaf Child Worldwide, and was the end of project evaluation using Participatory Video. The process was facilitated in 2021 by Corinna Philpott and Washington Sati. In the participatory video the deaf young people show us their jobs, workplaces and businesses. They talk about the ways training in key skills has helped them with their employment, about their future aspirations, and the challenges they have faced in gaining employment and accessing vocational training. This film invites you to learn more about the barriers that deaf young people to the workplace, and shows the ways that deaf young people are able to transform their situation and achieve their aspirations.
"Drop by Drop a River is formed" shows a video about the Rangeland Management (RAMA) project in Afghanistan, which was produced and shot by Dirk R. Frans and partly by local Afghan video makers with the aim to use it for monitoring and evaluation purposes and to inspire local Afghan professionals at the project to apply video for monitoring and learning. The project is funded by the Swiss Development Cooperation (SDC) and implemented by the Ministry of Agriculture, Livestock and Irrigation (MAIL). RAMA aims at improving livelihoods of Hazara people in the central highlands through and community based rangeland management. As a water resources specialist Dirk R. Frans sees the need to highlight the wider context in which this upper catchment work fits. Dirk R. Frans has therefore produced this video highlighting the integrated water resources management and the climate change context of the RAMA project.
The making of "Listening to the voices of refugees" shows the journey, experiences with the process on how the voice was given to refugees and on how they experience the life in the refugee camps and on how they see their future. Due to privacy and saftety reasons, the original participatory films were used by the internal stakeholders, but the making of shows some of the experiences and the results of the intervention. The process was facilitated through remote means by Ralf Otto and Simon Koolwijk.
Participation is free of charge. We allow a maximum of 95 participants. Please subscribe at Event Brite Mini festival PV 25th November, 2021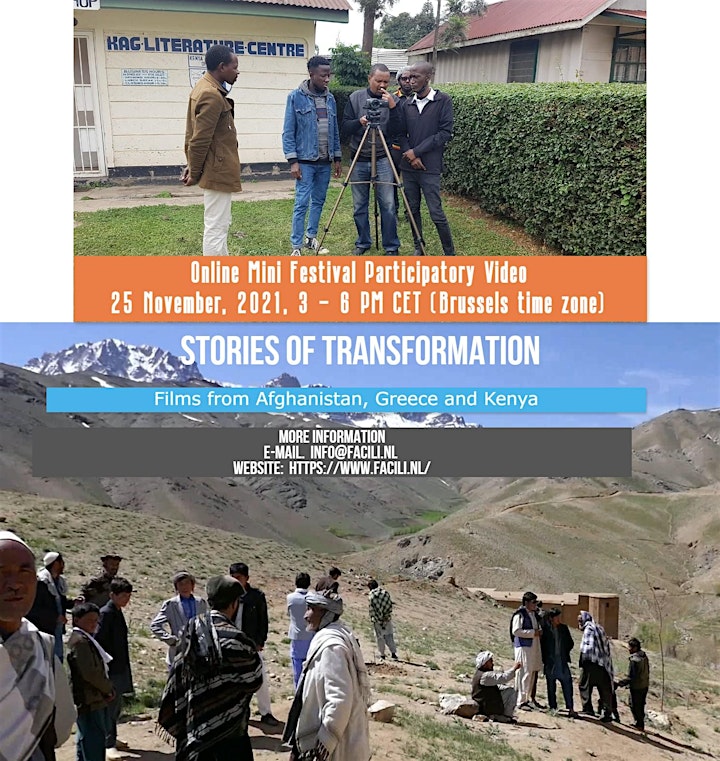 Organisator van Online Mini Festival Participatory Video: Stories of Transformation