About this Event
During the weekend we have an exciting line up, from short story slams to comedians and live music.
PLEASE SPECIFY IF YOU WOULD LIKE TO ATTEND SATURDAY EVE OR SUNDAY EVE ENTERTAINMENT.
Ruth Cockburn will be performing her show - Love Letters from Blackpool
Matt Sowerby will be previewing his debut performance - 'Kidz Theez Dayz'
Tony Vino will humour us all with a night of comedy
Linda Hampton is a renowned children's story teller and will run alongside Usborne Book's celebrations and activities for families.
The Flamingo Fiesta will be full of fun, perfect for toddlers and families to join in with games and crafts.
Our Moon Base Poetry Camp will showcase literary talent from 5 -11 year olds, in our poem competition, celebrating 50 years since the first moon landing. There will also be other activities included.
Our FIRST Line-Up - released on 05/06/19 and more acts are to be revealed soon!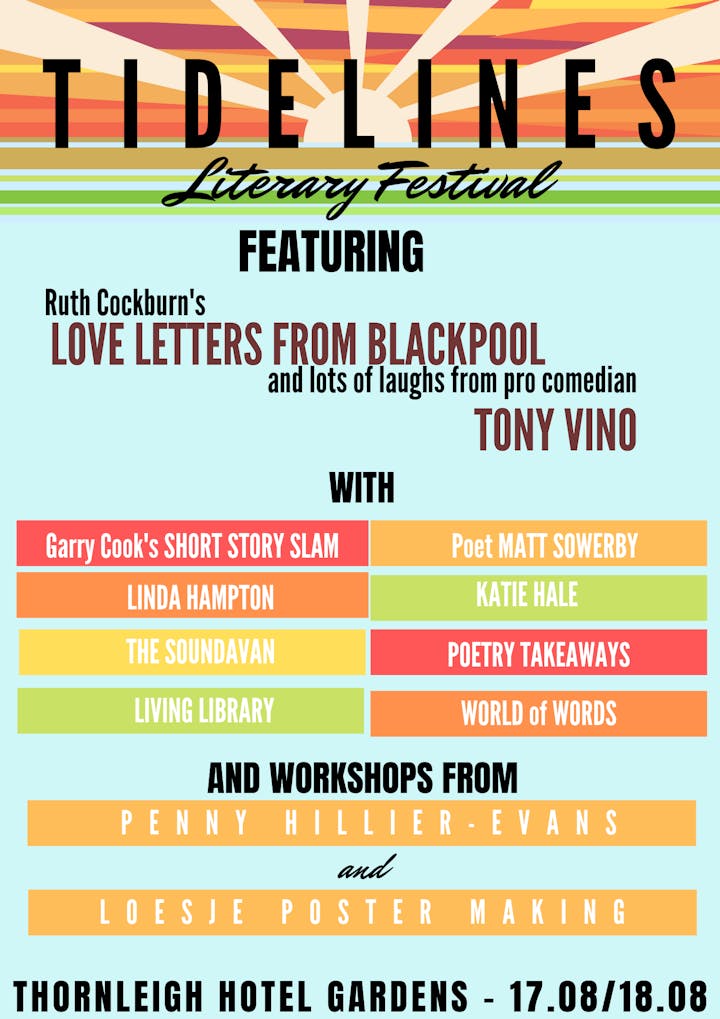 Tidelines Literary Festival is a first in Grange-over-Sands, taking place 17th & 18th August 2019 on The Esplanade, where the world of words will be celebrated.
We have an exciting line-up, where there will be activities for all ages and families can enjoy the day looking out at our unique, picturesque view of Morecambe Bay.
On the Saturday 17th August, the day will begin with activities for families, from a Flamingo Fiesta celebrating 20 years of Usborne's 'That's Not My' books where we invite families to create their own flamingo art to add to our party atmosphere, you'll be hopping on one leg and turning pink with excitement! For 7-11 year olds we will have a Moon Base poetry competition commemorating 50 years since the moon landing. Tidelines will even have a renowned space consultant, Stuart Atkinson who will be bringing a REAL piece of the moon.
Throughout the day there will be a hubbub of activities from intricate paper crafts with artist Penny Hillier Evans, giant crosswords, 'Make Your Mark' Loesje poster workshops for teenagers and a Living Library of interesting people sharing their life stories in a 1-1 session.
On the main stage, Matt Sowerby, an award-winning young poet, will perform his debut show 'Kidz Theez Dayz' in anticipation of his slot at Greenbelt, where he will talk passionately about the negative effects of climate change and the strength of 'generation Z'. Local author Katie Hale will be promoting her book, 'My Name is Monster' with a Q&A session to follow.
The evening will begin with a spoken word, open mic slot where budding writers are welcomed to take to the stage and share their words proceeded by a Short Story Slam led by Garry Cook, where we are still looking for potential novelists to sign up for the 200 word competition.
Our headline act on Saturday evening is the comedic Ruth Cockburn, performing 'Love Letters from Blackpool' as seen at the Edinburgh Fringe. Her cheeky show hopes to make you laugh whilst whisking you away to the seaside.
On the Sunday 18th, Linda Hampton a renowned children's story teller will transport young ones into a fantasy world of words and the Living Library will continue throughout the day. In the evening comedian Tony Vino will entertain, followed by a Gospel choir from London to close our festival.
Of course there will be much more happening at Tidelines Literary Festival from book stalls, refreshments, a poetry takeaway, Cumbria Wildlife Trust and Morecambe Bay Partnership Oral Histories collection.
We hope to see as many of you attend our FREE literary festival, please register for your tickets on Eventbrite and if you would like to be involved in the Spoken Word, Short Story Slam, Living Library or have any ideas or queries please email tidelines@thornleigh.org
Follow our Instagram page @tidelines_grange to keep up to date with the festival plans.
We encourage everyone to bring along picnics and to anticipate all weather conditions as we will go ahead rain or shine!
See you there!