#SHAPEOFTHENEW, a virtual exhibition opens with Tiffanie Delune in conversation with Emma Jacobs.
About this Event
THE SHAPE OF THE NEW is a series of art events organised by CasildART in partnership with ArtCan and hosted by Kroll. It includes a virtual exhibition #SHAPEOFTHENEW - THE POWER OF REINVENTION which opens on 12 March.
The exhibition is curated by Sukai Eccleston of CasildART and features 29 international artists making sense of the pandemic, climate change, social injustice and fractured economies. It opens with Tiffanie Delune, a London-based artist with French, Belgian and Congolese background in conversation with Financial Times journalist, Emma Jacobs, a features writer at the Financial Times with a focus on work and culture. They will discuss Delune's personal reinvention, her work practice during lockdown, and why her art expresses hope about the future.
#shapeofthenew features two of Delune's dazzling multi-layered paintings: 'Feelings Of Transiton' and Daydreaming Of Love In A Papier-Mâché Dress' created during the recent lockdowns.
Of her work, Delune states:
'My practice always starts from the exploration of the self as your greatest gift to others and the past indelible year was no different — the exception being that the stop-and-go energy made me embrace stillness. Further expanding on unspoken creative territories within myself, I weaved apparitions in dreams and travel recollections with hints of femininity and flux of spirituality. Navigating between my shadow self and solar personality, I am interested in the magic of storytelling that engages conversations and evokes emotions. I've conveyed this in 'Feelings Of Transition', created in the first agitated weeks of the first lockdown, and 'Daydreaming Of Love In A Papier-Mâché Dress' was made once I had settled into this new kind of life, quietly contemplating the early days of summer.
Emotions such as wonder, vulnerability, clarity, hope, strength and wisdom made of acrylic, pastels, papers, loo roll and threads inhabit the two multi-layered pieces, at the intersection of abstraction and figuration. Interlacing feelings of belonging, the magic of the universe and surrendering to the unknown, I am here interested in leading viewers to question what connects the collective and the individual, the physical and the sensorial, the programmed and the magical.
The talk is between 6pm - 7pm on 12 March. After the talk you will be able to tour the exhibition #shapeofthenew.
Book early to reserve your place as limited tickets are available. A Zoom link will be sent to you two hours before the event starts.
Register here to tour the virtual exhibition.
Photo credit: Othello De'Souza-Hartley.
Below: 'Feelings Of Transition' painting by Tiffanie Delune.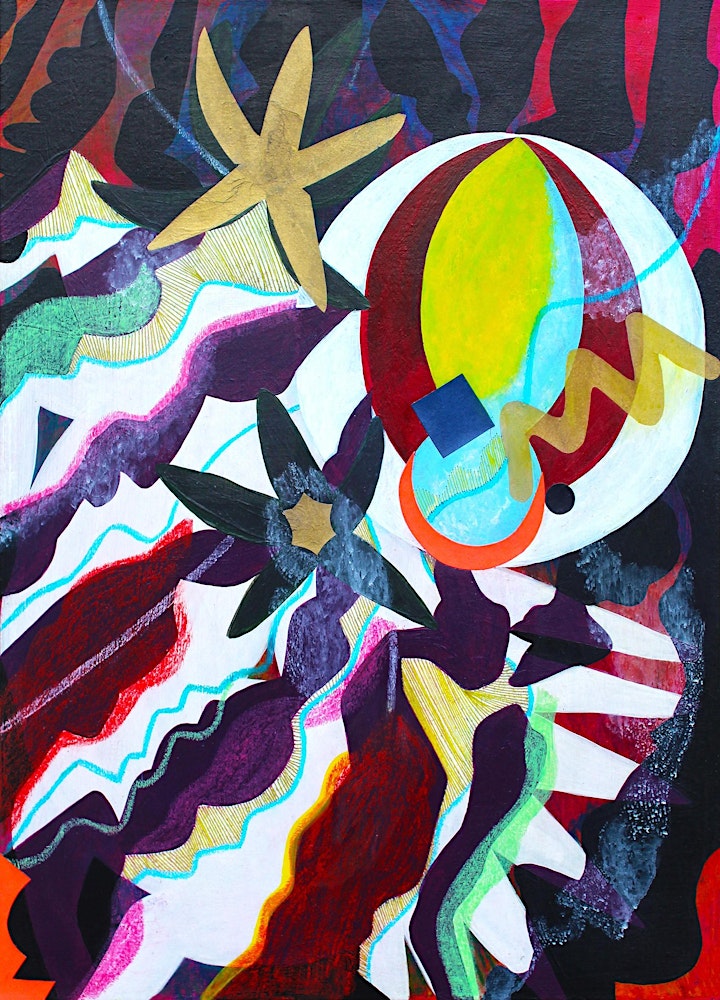 Below:watch the video trailer of the exhibition.