A celebration of Tilbury! The final walk of T100 Dreaming from Tilbury Town to Fort with by workshops and performances at Tilbury Fort.
About this event
Tilbury Town to Tilbury Fort
Tilbury is the Place for Me
1st August 2021 11am-3.30pm
Last walk plus finale event of T100 Dreaming
Starts: Tilbury Town Train Station 
Ends: Tilbury Fort
On the last day of the festival this year, we start with a gentle walk to the edge of Tilbury Town, then follow the new Fort Road to Tilbury Fort with views of the Thames and local farmland.
At Tilbury Fort there is a grand finale event as T100 welcomes Beach of Dreams back to Thurrock, where the walking, talking & making events began.
The Fort will host fun workshops for all ages including puppetry, craft and a flag movement session as well as a performance from Kinetika Bloco.
The full description of all things happening at the finale event is is here.
The day will end with a celebratory performance by young people from Tilbury who have been rehearsing for weeks to bring you their new song 'Tilbury is the Place for Me'.
This new song for Tilbury is written by Anthony Joseph and Ruben Fox with Kinetika Bloco and local young people from the Gateway Learning Community and Tilbury Youth Services, inspired by the calypso of the Windrush generation 'London is the place for me'. 'Tilbury is the Place for Me' is part of Shout Out Loud, English Heritage's national youth engagement programme. Shout Out Loud is funded by the National Lottery Heritage Fund's Kick the Dust programme.
So join us, and the young people of Tilbury, in this finale event where we consider the past, celebrate the present, and dream big for the future!
You are welcome to bring your own picnic lunch to enjoy during the event, food vendors will be at the event but in a limited capacity.
Finale only tickets, which do not include the walk can be booked here.
Please read our Covid-19 Walk Guidelines before booking.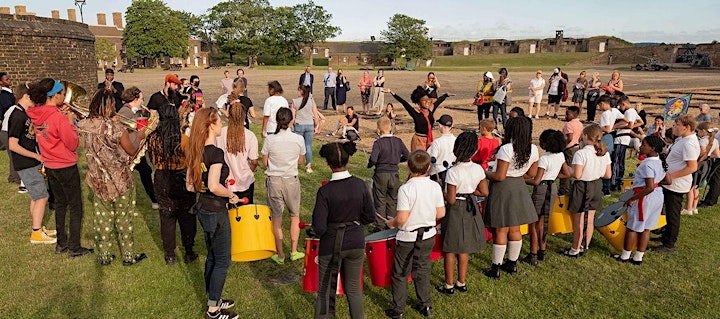 Schedule
10.45am - Meet at Tilbury Train Station
11am: Walk begins
1pm: Arrival at Tilbury Fort for finale celebrations.
1pm – 3pm: Flag parade, puppet and music workshops, picnic lunch and the premiere of the new song 'Tilbury is the Place for Me'
3pm - 3.30pm: Event ends: Tilbury Fort.
Walk Info
Duration: 2 hours walk (5 hours including time at the Fort).
Distance: 2.5 miles
Grading:  Easy
Terrain: Pavements and walk ways although some are narrow. We walk near a river bed.
Walk Leaders: Roberta Fontaine
Route Map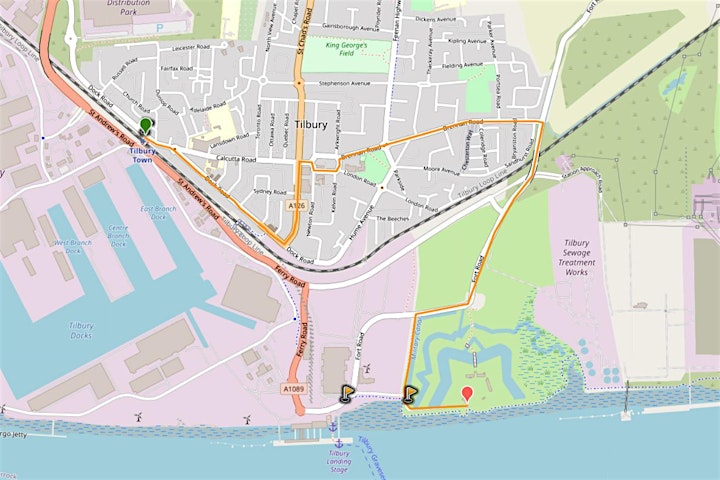 Travel
Train
Nearest train station at the start & end: C2C Tilbury Town Train Station St Andrews Road, Tilbury, Essex, RM18 7JH
The end of this walk is at Tilbury Fort, walk leaders will be able to direct you to the starting point of the walk - at the station - via a shorter 30minute route.
Bus
Please note that the 99 Ferry bus does not run on a Sunday, alternative arrangements will need to be made.
Parking
At the start there are several residential road options because parking restrictions do not apply on a Sunday. There is also a car park on Montreal Road RM18 7QX. No parking is available  at Tilbury Station.
Parking near the end is available at Tilbury Fort
Accessibility
This walk isn't accessible to wheelchairs or  large pushchairs because there are barriers at the start of some footpaths.
Toilets facilities will be available at the end of the route at Tilbury Fort.
Walk Safe
Read the walk guidelines/ Covid Safety information here.
Face coverings are essential for the event. You will not have to wear face coverings for the duration of the walk but they must be worn if you wish to enter any indoor spaces at the park , use public toilets or are travelling via public transport.
Please ensure that you are properly equipped for all walks. The weather can be unpredictable so bring waterproof clothing and/or sun hats and sun cream – it's best to be prepared for everything!
Walking boots/shoes are recommended, but otherwise please wear suitable and comfortable footwear- best to leave open-toe sandals or high heels at home.  Make sure you bring a packed lunch if necessary, and plenty to drink.
You need to choose walks within your capabilities; the walk leaders are experienced but must take your word that you are sufficiently fit for the grade of walk you have chosen. T100 walks are of different lengths and on different terrain. Some are mainly on footpaths, and others mainly on footpaths where ground may be uneven. If one walk doesn't suit you, there is probably another one that will.
Due care has been exercised in organising the walks, however Kinetika, the funders and associated partners of the project cannot accept liability for loss, accident or injury caused to any person following the routes, especially unsupervised.  Participants under the age of 16 must be accompanied by an adult.
Photos/ filming
We will be taking photographs and video of this event to promote and celebrate the project. If you do not give consent to be photographed or filmed, that's absolutely fine, please let a member of the Kinetika team know on the day.
Share your own photos on social media with #T100Dreaming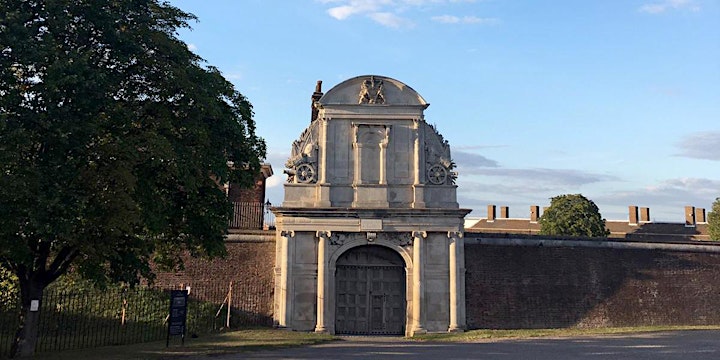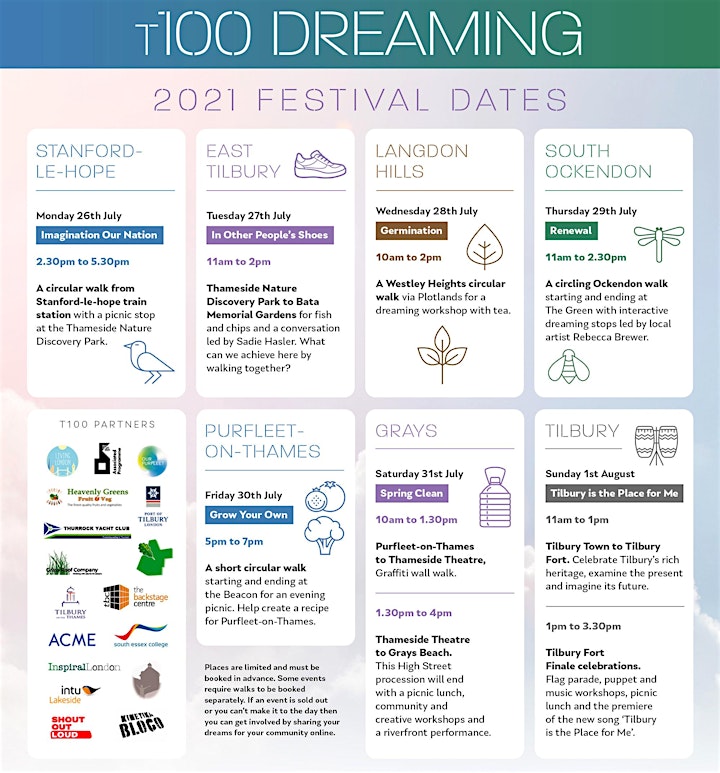 Organiser of Tilbury Town to Tilbury Fort walk plus finale celebration