Location
Tilbury Town Train Station
St Andrews Road
Tilbury
RM18 7JH
United Kingdom
This will be a gentle walk around Tilbury Town and over to Tilbury Fort, celebrating the community, looking at the past and future.
About this event
Tilbury is the place for me
10 June 2021 5-7pm
Starts: Tilbury Town Train Station 
Ends: Tilbury Fort
This will be a gentle walk around Tilbury Town and over to Tilbury Fort, celebrating the  community, reflecting on what used to be as we look forward to the future.
This walk begins as a residential route that stretches to the edge of the town. As we cross the cattle grid to make our way along the new Fort Road we will take in views of the farmlands and the Thames that runs alongside it.
Arriving at Tilbury Fort we will have access to this impressive historical site and be treated to a sneak peek of rehearsals for the T100 finale and a new song for Tilbury, 'Tilbury is the Place for Me'.
This is inspired by Lord Kitchener's 1948 Calypso "London is the Place for Me" sung upon arrival at Tilbury Docks on the Empire Windrush.  This new song for Tilbury is being created in partnership with English Heritage, Kinetika Bloco and award-winning, Trinidad born musician, Anthony Joseph working with local Youth Services and the Tilbury community.  The finished piece will be unveiled at our finale event at Tilbury Fort on 1st August.
Please read our Covid-19 Walk Guidelines before booking.
Schedule
5pm: Meeting point: Tilbury Town Train Station St Andrews Road, Tilbury, Essex, RM18 7JH
5.15pm Walk starts
6:45: Arrival at Tilbury Fort for a preview of a new song for Tilbury
7:00pm Walk ends at Tilbury Fort, Tilbury RM18 7NR
Walk Info
Duration: 2 hours including time at the Fort.
Distance: 2.5miles
Grading:  Easy
Terrain: Pavements and walk ways, although some are narrow so may not be accessible for wheelchair users. We walk near a river bed.
Access: Barriers at the start of some footpaths mean the route is isn't accessible to wheelchairs or large pushchairs.
Walk Leader: Roberta Fontaine
Route Map
View the walk route on Wikiloc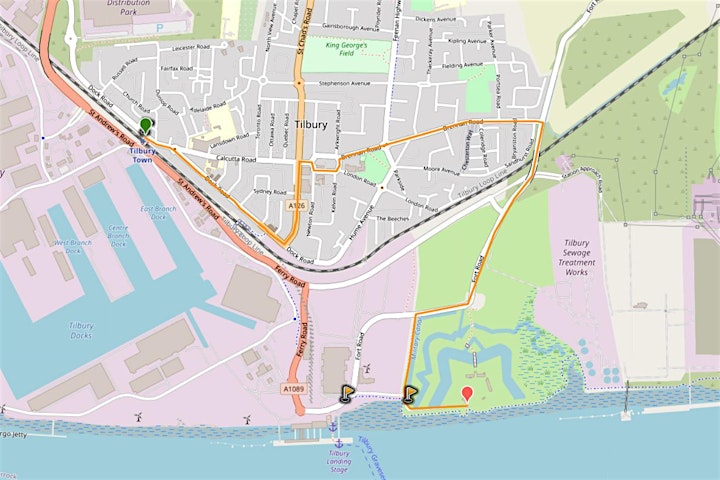 Travel
Train
Nearest train station at the start & end: C2C Tilbury Town Train Station St Andrews Road, Tilbury, Essex, RM18 7JH
The end of this walk is at Tilbury Fort, walk leaders will be able to direct you to the starting point of the walk - at the station - via a shorter 30minute route.
Bus
Ensign Bus service 99 connects with trains at Tilbury Town and passes the fort.
Parking
No parking is available  at Tilbury Station.
Free parking in front of Tilbury fort. Further parking available adjacent to World's End Public House.
Local area parking info: https://www.thurrock.gov.uk/car-parks/off-street-car-parks
Accessibility
This walk isn't accessible to wheelchairs or large pushchairs as there are barriers at the start of some footpaths.
Toilets, including a national key toilet, are available at the station.
Toilets facilities are also available at Tilbury Fort.
Walk Safe
Read the walk guidelines/ Covid Safety information here.
Face coverings are essential for the event. You will not have to wear face coverings for the duration of the walk but they MUST be worn if you wish to view the rehearsal, use public toilets or are travelling via public transport.
Please ensure that you are properly equipped for all walks. The weather can be unpredictable so bring waterproof clothing and/or sun hats and sun cream – it's best to be prepared for everything!
Walking boots/shoes are recommended, but otherwise please wear suitable and comfortable footwear- best to leave open-toe sandals or high heels at home.  Make sure you bring a packed lunch if necessary, and plenty to drink.
You need to choose walks within your capabilities; the walk leaders are experienced but must take your word that you are sufficiently fit for the grade of walk you have chosen. T100 walks are of different lengths and on different terrain. Some are mainly on footpaths, and others mainly on footpaths where ground may be uneven. If one walk doesn't suit you, there is probably another one that will.
Due care has been exercised in organising the walks, however Kinetika, the funders and associated partners of the project cannot accept liability for loss, accident or injury caused to any person following the routes, especially unsupervised.  Participants under the age of 16 must be accompanied by an adult.
Photos/ filming
We will be taking photographs and video of this event to promote and celebrate the project in print and online. If you do not give consent to be photographed or filmed, that's absolutely fine, please let a member of the Kinetika team know on the day.
Share your own photos on social media with #T100Dreaming