Location
The Pearce Institute
840-860 Govan Road
Glasgow
G51 3UU
United Kingdom
Description
Time for a Basic Income in Scotland?
This conference marks the launch of a new Scottish Organisation, Citizen's Basic Income Network Scotland SC0460356 (CBINS) promoting public understanding about and support for Basic Income (BI).
CBINS and conference co-sponsors - the RSA, GalGael, the Centre for Human Ecology and Govan Folk University - warmly invite interested individuals and organizations to come and join them in exploring the many practical ways that BI could increase economic and social inclusion, reduce poverty and improve individual work/life balance and societal wellbeing in Scotland.
The conference will be a very interactive forum: providing information about action research on BI in European and other countries; discussing key Scottish social and economic challenges; and collaborating to shape options for introducing BI to Scotland.
We are particularly pleased to have working with us, Professor Guy Standing, Co-founder of the Basic Income Earth Network and internationally debated author of ground breaking books on work, security and the economy. Having spoken in Scotland several times in recent years, he is well placed to help us tailor BI to the Scottish context.
CONFERENCE PROGRAMME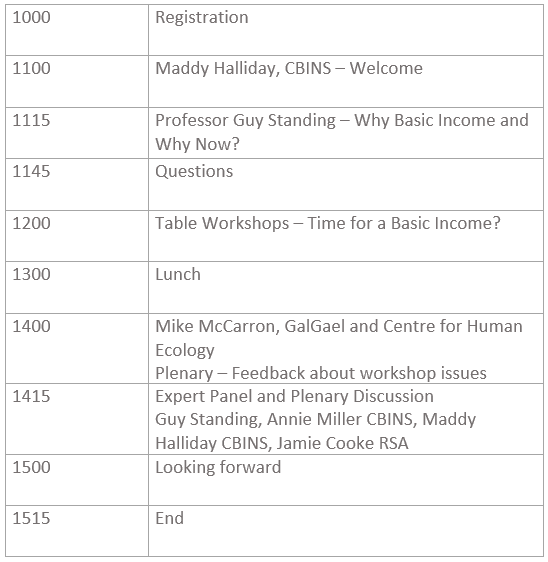 Catering Arrangements
Tea/coffee from 10am and soup/sandwiches at lunch
A box will be available for voluntary donations towards catering
Enquiries to mk.mccarron@ntlworld.com tel. 07833595845
Follow us on Twitter @cbinscot