Description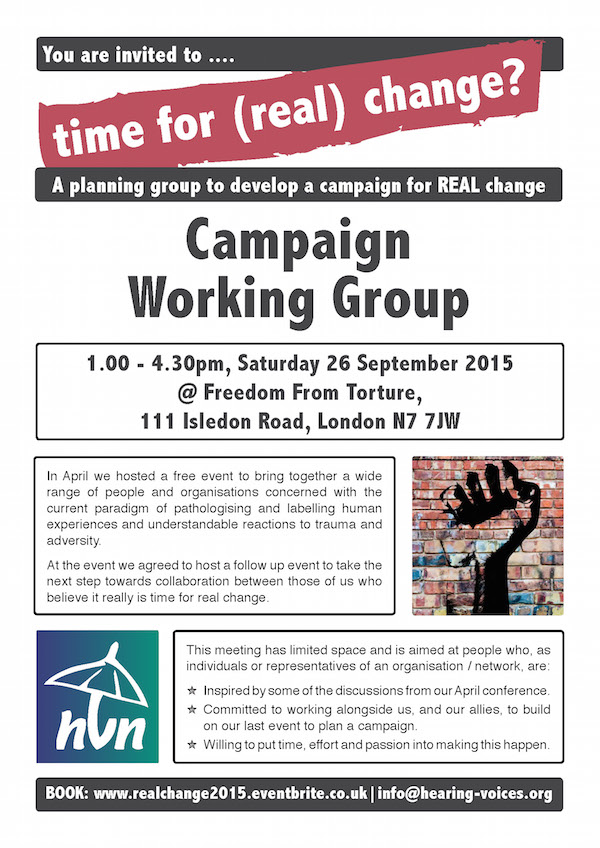 In April we hosted a free event to bring together a wide range of people and organisations concerned with the current paradigm of pathologising and labelling human experiences and understandable reactions to trauma and adversity.
At the event we agreed to host a follow up event to take the next step towards collaboration between those of us to believe it really is time for real change. As such, we are hosting a campaign working group on Saturday 26 September from 1.00 - 4.30pm at Freedom From Torture in London.
This meeting is aimed at people who, as individuals or representatives of an organisation or network, are:
Inspired by some of the discussions from our April conference (download our report).

Committed to working alongside us, and our allies, to build on our last event to plan a campaign.

Willing to put time, effort and passion into making this happen.
We hope that you will join us at this event.
Please e-mail info@hearing-voices.org if you want to find out more. Please download and distribute our flyer to those you think may be interested.
If you haven't read the report from our April event, please check it out before signing up to this meeting. We have a limited number of places and are keen that those who are attending are all familiar with what we have already covered in order to move forwards rather than re-cover old ground.