We need to value the importance of the time available to us and utilise that to achieve everything we want to achieve
About this event
The webinar will be delivered by Mike Brown of Perrett and Brown Organisational Development and is funded by the Unite Union Wales Union Learning Fund
Workshop aim
Time itself goes by regardless of our actions, it's the one resource we can't control and neither are we able to 'create' extra time. We need to value the importance of the time available to us and utilise that to achieve everything we want to achieve. Managing our time or more accurately 'managing ourselves' to achieve what is important to us above all else, should be our number one priority.
Our brains love simple, easily understood and easy to carry out actions, and this session is designed specifically with that in mind:
Workshop content
Self-assessment: where is our time going?
Identifying the 'Time Bandits'
Email
Meetings
Saying 'yes' too often
Lack of planning and prioritising
Procrastination
Creating actions to arrest and reform our 'Time Bandits'
Realistic planning of our day, week so we get the best chance of achieving our goals.
Understanding our individual approach and how we view time differently
Creating a meaningful action plan that you will commit to doing.
Online Training Delivery
This training will be delivered online using MS Teams.
A link to join the session will be contained in the additional information section of your confirmation email.
Please log in to the training 5 minutes beforehand to allow the training to start on time
Adult Learners Week 2021
To Celebrate Adult Learners Week 2021 taking place from 20th to 26th September, the Unite the Union Wales Union Learning Fund (WULF) project has arranged a number of free courses.
Please take a look at our full range of courses on offer by visiting our home page https://unitewulf.eventbrite.co.uk/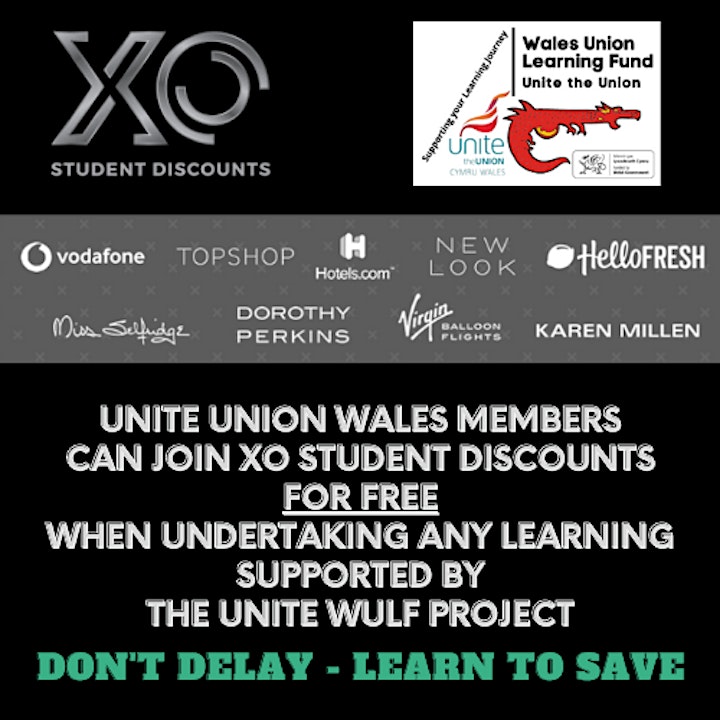 Student Discount
If you are a Unite the Union member living in Wales, who undertakes any training supported by the Unite WULF project, you can join XO Student Discounts For FREE.
Click HERE to join and select "Unite Wulf Project" as your place of study
Not a member then ......
Join Us
If you are not a member of Unite the Union, you can join by clicking HERE to access additional benefits and support as part of your Union Membership.
Follow Us
Please follow the Unite WULF social media feeds for the latest updates on training offers and courses:
Facebook: https://www.facebook.com/UniteWalesLearning Click here
Twitter: https://twitter.com/UniteWulf Click Here
Contact Us
If you have any questions, please contact the Unite Wales Learning team: learnwithunite.wulf@unitetheunion.org
About the Speakers
Perrett and Brown Organisational Development is an organisation created and run by two experienced Learning and Development Practitioners- Hazel Perrett and Mike Brown.
Hazel and Mike each bring over 20 years of experience in the L&D field, working with a cross section of organisations in the private, public and third sectors. Both have proven track records working with clients in the development, design and delivery of robust solutions in both a personal but professional way. This personal approach has consistently met and exceeded the expectations of the organisations they have supported.
Perrett and Brown combine their practical experience aligned with relevant academic qualifications in their respective areas. This includes the following qualification based academic achievement alongside business related training and development:
• MA Leadership Studies
• CIPD Chartered Member
• British Psychology Society (Level A & B)
• Myers-Briggs Type Indicator (Step 1 and 2)
• DDI Approved Facilitators
• FIRO-B
• OPP Benchmarks 360
Perrett and Brown Organisational Development are an Institute of Leadership and Management
(ILM) approved centre and provide professional qualifications in Leadership and Management Development at levels 2, 3 and 5.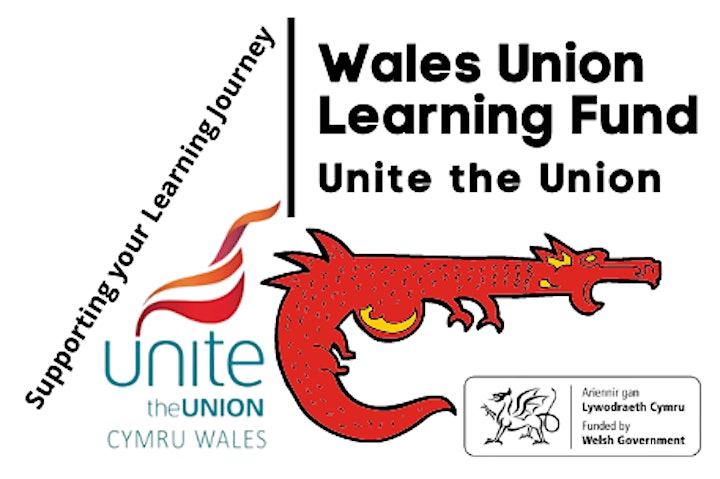 A Note About Data Collection
This training is funded by the Welsh Government funded Wales Union Learning Fund (WULF) project.
Please note that, for you to receive support from the WULF project, we are required to collect specific information from you during the registration process. This information is collected for project monitoring and evaluation purposes only.
You can view the privacy notice by clicking HERE
Get in touch with learnwithunite.wulf@unitetheunion.org prior to making your booking should you have any queries or questions about providing the information requested.
Organizer of Time Management
The Unite Wales Union Learning Fund (WULF) Project is funded by Welsh Government.
The purpose of the fund is to help people living and working in unionised workplaces in Wales access support, advice and funding for vocational training and personal development.
Unite WULF covers all of Wales and most sectors where there are Unite members and has helped thousands of workers and union members to upskill and be job ready.
We organise a broad range of training including Health & Safety, Mental Health and Wellbeing, literacy. numeracy and digital skills training, and any qualifications that will help you to progress within your work and career.
The Project can signpost to a wide range of online courses that are fully funded or discounted and also takes applications for funding bursaries up to £200 per person.
The funding is available to union and non union members alike as long as you live in Wales, if you want to know more please contact us directly at learnwithunite.wulf@unitetheunion.org
If you are not a member of Unite the Union, you can join HERE to access additional benefits and support as part of your Union Membership.