Event Information
Location
Impact Hub
Lambeth Town Hall
Brixton
SW9 1RW
United Kingdom
Description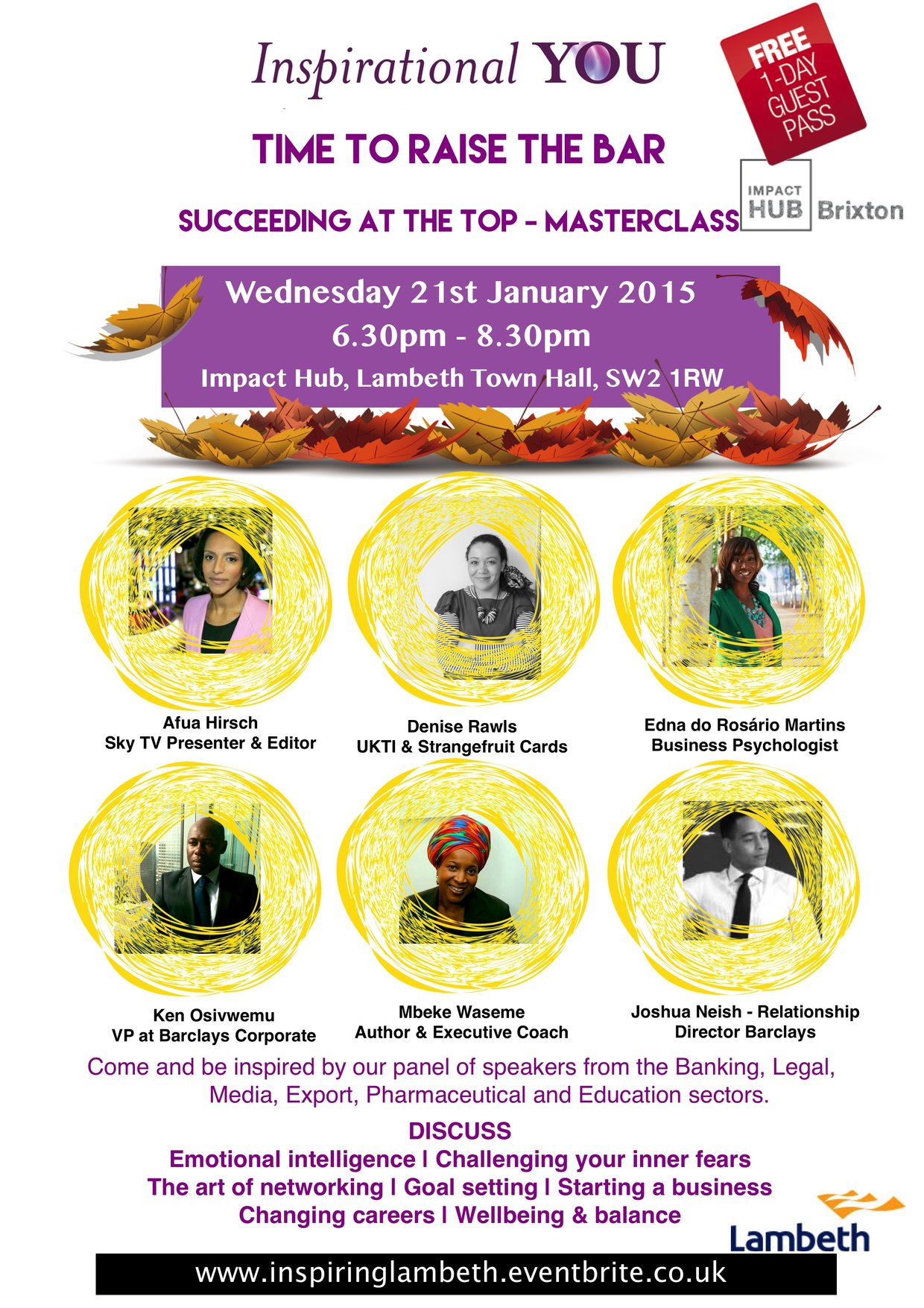 Inspirational YOU

Time to raise the bar - Succeeding at the top
Wednesday 21st January 2015
Doors: 6.00pm
6.30pm – 8.30pm
This is part 1 of our 2015 series of talks to empower female leaders and entrepreneurs.
Learn from successful business leaders

Want to start and grow their business

Change careers

Network
Each session will consist of a panel of speakers from competitive industries who will share their story and inspire the audience to develop and grow.
Speakers (click to see bio's)
Denise Rawls – Head of Local Engagement at UKTI / Founder of Strangefruit Greeting Cards
Denise is a career portflo-ist; she has more than one focus in her career.
At UK Trade & Investment, the government department responsible for overseas trade and inward investment, she works with the English regions to help them attract more investment from foreign owned businesses who want to expand or set up in the UK.
Alongside her job she runs Strange Fruit, a boutique greeting card design company which creates vintage inspired designs from a personal collection of antique photographs. Strange Fruit cards are sold across the UK and the USA. The business continues to grow through a network of personal contacts and customer recommendations.
Edna do Rosário Martins – Business Change Lead at GSK and Former BBC Apprentice contestant
Edna is a chartered Business Psychologist and MBA with over 15 years of international experience in emerging and established markets at our first Inspirational YOU masterclass of 2015.
Edna has a strong consultancy background and is currently the Business Change Lead at GlaxoSmithKline with a global remit to embed new behaviours and transform the way the finance function operates. Edna has successfully applied client-focused techniques to improve business performance in individuals, teams and organisations across Europe, Africa, America and Asia.
Mbeke Waseme – Author, Executive Coach and Former Vice Principal at Ghana International School
Mbeke Waseme was born in the UK to Jamaican parents. She attended Vauxhall Manor Secondary school, Lambeth (South West London). With the encourage of her wonderful English teacher, she began reading work by African American writers like Alice Walker, Maya Angelou, Angela Davis and Toni Morrison.
She went on to discover other writers like Miriam Makeba, Chinua Achebe and Fela Kuti whose music and words continue to inspire her. Whilst a student at Vauxhall Manor School, she was a winner of the Black Penmanship award for her poem on blackness. This was run by the great Len Garrison.
At Sussex University where she completed her first degree, Mbeke was also a student of black politics as she sat with mature students from Africa and the Caribbean who had been part of the administration of greats like Michael Manley, Kwame Nkrumah, Patrice Lumumba and Julius Nyerere.
She would progress on to teach, lecture train, holding senior positions within the education sector.
Afua Hirsch – Social Affairs and Education Editor, Sky News
Afua Hirsch is Sky News' Social Affairs and Education Editor. She covers a range of issues including school and higher education, training and skills, unemployment, equality and social change.
Afua was the Guardian Newspaper's first West Africa correspondent. Based in Accra Ghana, Afua covered the war in Mali, the terrorist attacks at the Westgate Mall in Kenya and multi billion pound corruption scandal in Guinea, as well as other stories across more than 20 countries.
Before that Afua was the Guardian Legal Affairs correspondent, covering issues including secret courts, control orders, extraordinary rendition, and the legality of the war in Iraq while breaking exclusive stories on the DNA database, the human rights act and trials of terrorist suspects.
Ken Osivwemu – Vice-President, Global Cash Product Mgt at Barclays
Ken joined Barclays in Jan 2004 and in the 11 years has held a number of positions within the group. He started in Barclaycard as a Business Improvement Manager responsible for identifying and delivering operational change to ensure customer service contact centres met their key objectives.
He moved on to a Business Design role 2 years later where he was responsible for leading the customer experience and operating model design, implementation and readiness for the launch of new white-labelled credit card joint venture businesses to the market in partnership with leading retailers.
Ken joined corporate banking in 2007 as an Operational Re-engineering Leader responsible for improving business operating models and supporting processes to meet changing regulatory, market and client needs. He went on lead client satisfaction benchmarking and improvement which measured Barclays Corporate Banking performance against domestic competitors. He moved into his current role in Jan 2012.
Joshua Neish – Relationship Director Barclays Corporate
This evening will include a panel discussion on:
Starting a business

Changing your career

Emotional intelligence – understanding the reactions of yourself and others

Challenging your inner beliefs

The art of networking

Goal setting

Excelling in a competitive industry

The importance of balance
Book your ticket today – Entry includes:
Refreshments

1 day pass to use the Impact Hub (Co-Working space) in Brixton

Automatic membership to the Inspirational YOU Network (IYN).
Running order
6.00 – 6.30 Guests seated for discussion
6.30 - 8.00 Welcome, intro and panel discussion
8.00 – 8.30 Q & A
8.30 – 8.45 Close and depart
Impact Hub

Lambeth Town Hall, Brixton Hill, London SW2 1RW
Nearest mainline station: Brixton
Supported by Barclays, Impact Hub and Lambeth Business
http://www.inspirationalyou.co.uk
07545 156 111 | info@inspirationalyou.co.uk
@inspirational_u
Book today – Limited Spaces
http://inspiringlambeth.eventbrite.co.uk

Date and time
Location
Impact Hub
Lambeth Town Hall
Brixton
SW9 1RW
United Kingdom