Time to Talk Day 2021 with S.T.E.P.S by EACH Counselling and Support
A small conversation about mental health has the power to make a big difference. This Time to Talk Day join STEPS for a virtual Tea and Talk
About this event
A small conversation about mental health has the power to make a big difference.
We know that the more conversations we have, the more myths we can bust and barriers we can break down, helping to end the isolation, shame and worthlessness that too many of us with mental health problems are made to feel.
Join S.T.E.P.S this Time to Talk Day, as we help get the nation talking about mental health. This year's event might look a little different, but at times like this open conversations about mental health are more important than ever. Join us for a virtual tea and talk. We will be a hosting an open discussion led by our very own service users/volunteers to uncover what mental health is, how we can support ourselves and others, where we can access help, and how we can transform our mental health into a super weapon.
We need your help to start the conversation this Time to Talk Day – together we can end mental health stigma.
Join us on Wednesday 3rd of February from 18:00 on zoom.
What is S.T.E.P.S?
S.T.E.P.S is an EACH Counselling and Support project funded by the London Borough of Ealing. Our project S.T.E.P.S supports people and communities in Ealing to build resilience and to improve their mental health and well-being through integrated schedule of community information and signposting, education and specialised support.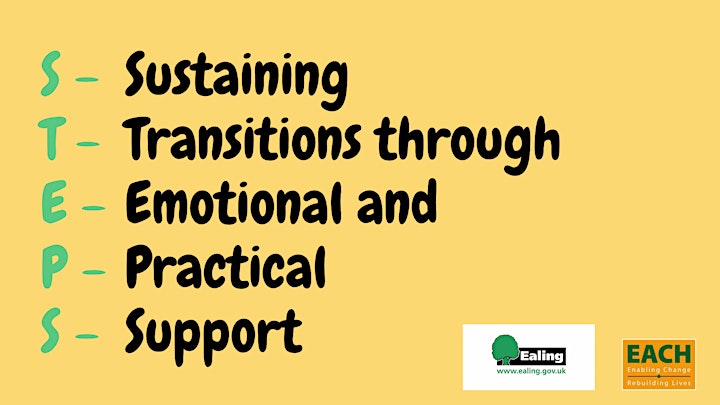 Organiser of Time to Talk Day 2021 with S.T.E.P.S by EACH Counselling and Support