Sales Have Ended
Registrations are closed
This event is no longer taking bookings. Please follow @EQUAL_CJS on Twitter and Instagram to stay up to date with future events.
Sales Have Ended
Registrations are closed
This event is no longer taking bookings. Please follow @EQUAL_CJS on Twitter and Instagram to stay up to date with future events.
A free, online forum to learn about Section 60 Stops and the impact these powers have had on young BAME people and communities.
About this Event
The third and final event in our #TimeToTalk series takes a hard look at the landscape around Section 60 Stop & Search.
The event offers a safe space to have personal stories and experiences heard as part of EQUAL's upcoming plans to challenge the use of these controversial powers.
***
Section 60 orders, which have been in place since 1994, have recently seen a drastic surge in use following the passing of the Coronavirus Act (2020): an act which has given police unprecedented powers to enforce lockdown in response to COVID-19.
Human rights, race equality and criminal justice organisations have vocally criticised the disproportionate and rapid escalation of Section 60 Stops being carried out on young BAME people, especially young black men.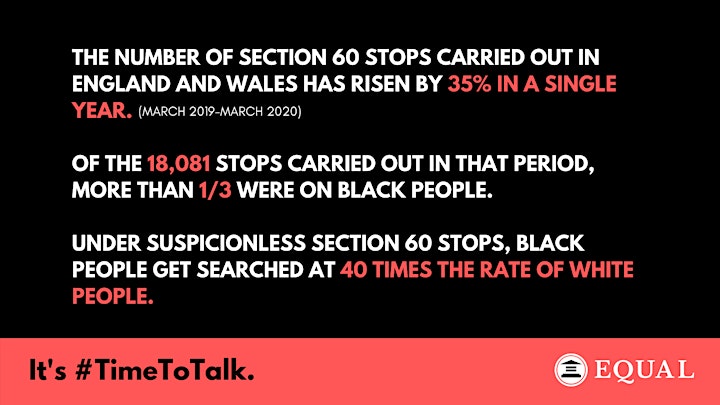 (Sources: Guardian October 2020 and July 2020; Home Office 2020)
We need to change this, and fast. And to do so, we need your help.
------------
For 2021, EQUAL is looking to challenge the use of S60 legislation and the disproportionate impact it has on black young people specifically.
Join us on Wednesday 17th Februrary for a lively and open forum, featuring guest speaker Katrina Ffrench. Katrina is the Founder and Director of Unjust C.I.C. a non-profit organisation challenging discrimination within policing and the wider criminal justice system, and is the former CEO of Stop-Watch UK. She will be giving attendees a unique insight into the latest implications of S60, and her work campaigning for fairer policing in the UK.
It will be followed by an interactive, evidence-gathering session in the form of breakout rooms where you will have the chance to share your stories.
The event will be chaired by a member of EQUAL (Action for Race Equality in the Criminal Justice System), a national independent advisory group tackling racial bias in the Criminal Justice System.
We are committed to improving outcomes for BAME young people, and to make sure their voices are represented at the highest levels of change.
Find out more about EQUAL (a BTEG project) and what we're doing to champion and lobby for racial equality in this area and more, here.
It's #TimeToTalk about Section 60 and the mis(use) of police powers.
Please bring your stories, experiences and questions. We look forward to hearing from you.