Multiple Dates
Tina Rae: Using Tools from CBT with Children & Young People Essential Guide
Sales Have Ended
Ticket sales have ended
Thank you for booking your place on the training day: Using Tools from CBT with Children & Young People Your copy of the course book will be sent to you shortly after booking. Please ensure you have provided us with full delivery address details as well as a contact telephone number. This is an online course, so we need to have the correct email address for each delegate. Your link for the Zoom meeting will be sent a few days before the event. If you have any questions about this event, please contact sales@hintonpublishers.com
Sales Have Ended
Ticket sales have ended
Thank you for booking your place on the training day: Using Tools from CBT with Children & Young People Your copy of the course book will be sent to you shortly after booking. Please ensure you have provided us with full delivery address details as well as a contact telephone number. This is an online course, so we need to have the correct email address for each delegate. Your link for the Zoom meeting will be sent a few days before the event. If you have any questions about this event, please contact sales@hintonpublishers.com
About this Event
Using Tools & Strategies from Cognitive Behaviour Therapy (CBT) with Children & Young People: An Essential Guide.
Presenter: Dr Tina Rae
About this event
This is a practical, interactive training session for anyone working with children and young people who would like to learn more about using tools and strategies from Cognitive Behaviour Therapy (CBT) to build effective thinking habits, emotional resilience and better mental health. This training will introduce practitioners and parents/carers to the approaches underpinning CBT and will provide them with a range of key tools and strategies which can be confidently used with children and young people by those who are not therapists.
Learning Outcomes
Delegates will:
Gain an understanding of CBT
Develop skills for applying the cognitive model
Develop strategies for self-regulation
Develop and practice strategies for effective thinking
Feel confident in using tools from CBT with children & young people
Your delegate fee includes a copy of Dr Tina Rae's bestselling book:
The Essential Guide to Using CBT with Children & Young People
Activities from the book will be presented and delegates will learn how these can be used with young people and their parents/carers. This course is suitable for:
Counsellors
Therapists
Teachers
Mental Health Leads
SENCOs
Foster Carers/Parents
Social Workers
Youth Workers
Family Support Workers
The course includes an introductory PowerPoint session, with opportunities to practice and reflect upon the key tools and strategies introduced. There will also be a question and answer session.
Each delegate will receive a Certificate of Attendance
AFTER BOOKING YOU WILL BE SENT A COPY OF THE COURSE BOOK AND DETAILS OF HOW TO JOIN THE ONLINE TRAINING
Any queries, please contact Hinton House directly: sales@hintonpublishers.com
TIMETABLE
9.45-10.00
Welcome & Introduction
10.00-11.00
PowerPoint Presentation: Introduction to CBT
11.00-11.30
Coffee break & reflection
11.30-1.00
PowerPoint Presentation: Practising some key tools and strategies
Questions and Discussion
Closing comments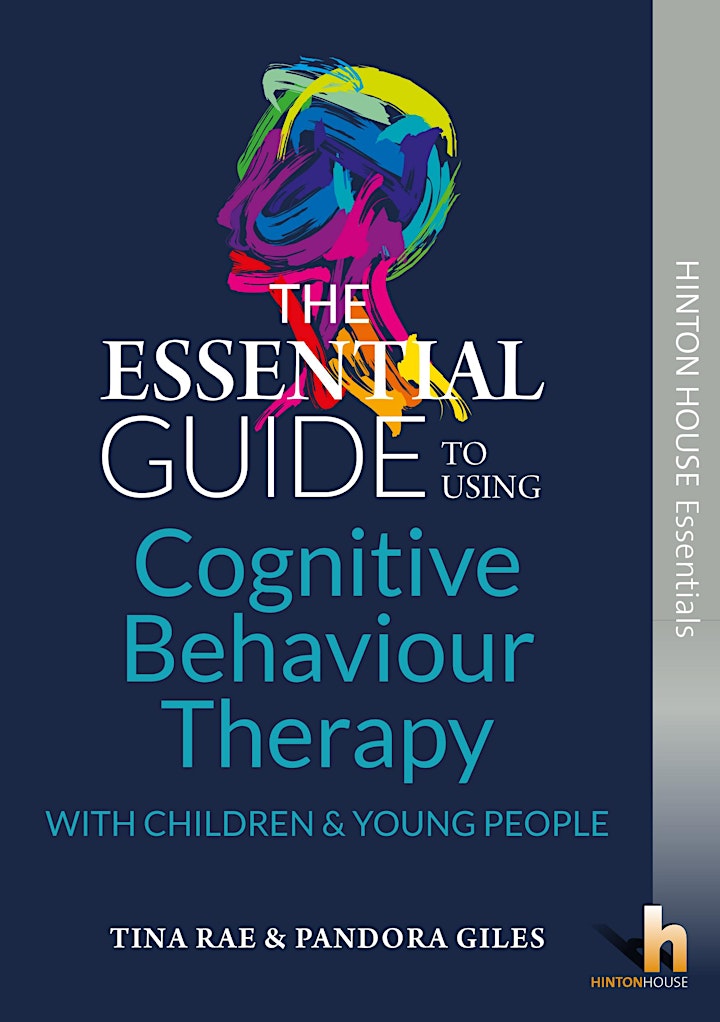 About Dr Tina Rae
Dr Tina Rae has over 30 years' experience working with children, adults and families in clinical and educational contexts within local authorities and specialist services. She currently works as a Consultant Educational and Child Psychologist in a range of SEMH and mainstream contexts and for Compass Fostering as a Consultant Psychologist supporting foster carers, social workers and Looked after children. From 2010 to 2016 Tina was an Academic and Professional Tutor for the Doctorate in Educational and Child psychology (University of East London).
Tina is a member of the editorial board for the journal Emotional and Behavioural Difficulties and for the International Journal of Nurture in Education. She is also a member of the Advisory board for Fresh Start in Education.
Tina is an award-winning, prolific author and has written more than 100 publications to date. She is passionate about promoting the mental health and well being of children and young people and her publications are renowned for being evidence based, practical and user friendly. She is the 'go-to' author for all those in the caring professions who promote and nurture the mental health and well being of our children.
Recent publications include:
Rae T., Such A. & Wood J. (2020) The Wellbeing Tool Kit for Mental Health Leads in Schools A comprehensive Training Resource to Support Emotional Wellbeing in Education and Social Care, Hinton House Publishers, Banbury.
Rae T. (2020) Motivation Matters, Hinton House Publishers, Banbury.
Rae T. & Such A. (2019) The ASD Girls' Wellbeing Toolkit An Evidence-Based Intervention Promoting Mental, Physical & Emotional Health, Hinton House Publishers, Banbury.
Rae T. & Wood J. (2019) The Essential Resilience and Wellbeing Toolkit for Early Years & Younger Children, Hinton House Publishers, Banbury.