Description
TinderboxFest
* Saturday 12th December *
7.30pm-10.30pm: Tinderbox 5th Anniversary Concert (£10 Online / £12 on the door)

1.30pm-7.00pm: Daytime Festival (Free)
The Tinderbox Orchestra will celebrate its 5 year anniversary with a huge orchestral concert and one-day festival showcasing all of the wonderful music, art and people that have been part of its journey so far.
FEATURING:
Tinderbox Orchestra, Black Diamond Express, Dawanggang, Jellyman's Daughter, Frontiers Orchestra, Mantra, Haftor Medboe & Pete Furniss, Balkans Music Camps, ECA Film & Animation, Urvanovic, Edinburgh Youth Gaitherin, Jack & The' , Totally Sound, Rachel Alice Johnson, Baron Salmon, Sight of Mind, Key to Music, Alchemy Arts, North Edinburgh Arts.
Facebook event here
Website & More info here & see below
---
"Rave Culture Meets Last Night of the Proms" The Herald
"An Orchestral Revolution" Edinburgh Evening News
"Makes the consequences of globalisation personal" The Scotsman (on our Fringe show)
Scotsman Fringe First Award 2014 for innovation and outstanding new writing
Scottish Jazz Awards 2013 – Innovation Award, Education Award runners up
---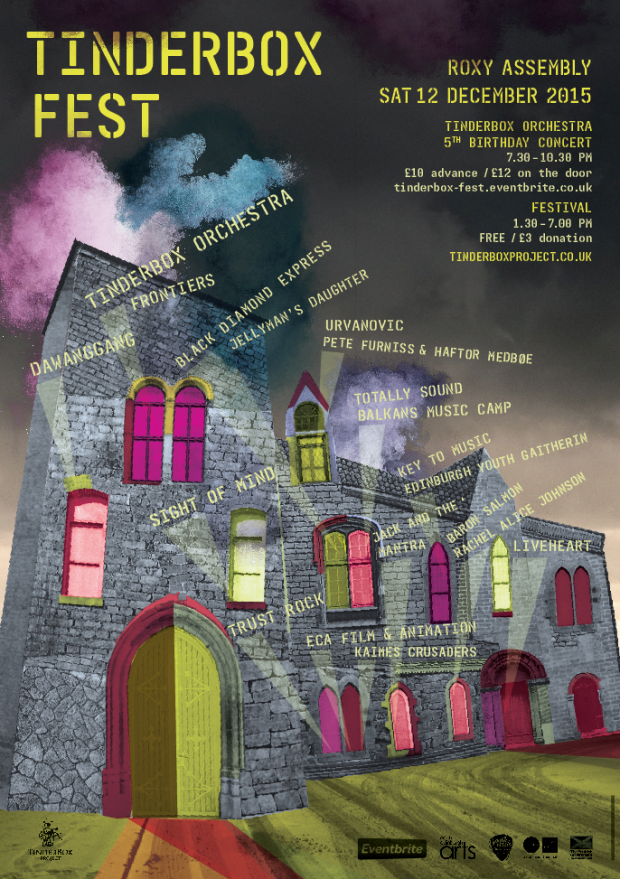 Some information on the Acts:
TINDERBOX ORCHESTRA 5 YEAR CONCERT
7.30pm Roxy Hall, £12/10 in advance
With up to 70 people on stage, Edinburgh's groundbreaking Tinderbox Orchestra will take the audience on a journey of the most inspiring projects and collaborations they have developed over the last 5 years – from local collaborators in Edinburgh to international music and community projects in China & the Balkans, from orchestral improvisation experiments to their pioneering work with communities around Edinburgh, plus a taste of their best original compositions for their upcoming album! "An Orchestral Revolution" (Evening News).
**** The Guardain, **** The List, **** The Scotsman
DAYTIME FESTIVAL

1.30pm – 7pm, Free/Donation
ROXY HALL
THEATRE
SNUG BAR
1.45 ECA Film and Animation
1.45 Key to Music
2.15 Mantra
2.15 Balkans Music Camp
2.45 Pete Furniss, Haftor Medboe
2.45 Sight of Mind
3.15 Baron Salmon
3.30 Jellymans Daughter
3.45 Trust Rock
4.00 Edinburgh Youth Gaitherin
4.00 Rachel Alice Johnson
4.15 Dawanggang
4.30 Totally Sound
4.45 Urvanovic
5.30 Black Diamond Express
5.15 Jack and the '
6.15 Frontiers Orchestra
7.00 (free festival ends)
7.30 The Tinderbox Orchestra 5 Year Concert
THEATRE
Black Diamond Express – 5.30pm
Nominated for a Scottish BAFTA for their work on the short film 'A Zombie Musical'. Their gypsy aesthetic and hooks that could get the grinch to dance, this is primal roots rock 'n' roll. www.theblackdiamondexpress.com
Dawanggang – 4.15pm
A completely unique sound from China, Dawanggang recently came 6th in World Music Charts Europe and won the prestigious German Music Critics Award 2012. www.dawanggang.com
Mantra – 2.15pm
Stunning live multisensory experiences with music for film, games and media. A development workshop on interactive games music 'Dance of Whispered Truths' a performance of live music to an incredible visually hypnotic video game by independent developer Niall Moody.
https://www.facebook.com/events/957093884361666/
ECA Film and Animation – 1.45pm
A screening of the finest short Films and Animations from one of the worlds most prestigious Art colleges – Edinburgh College of Art. Many films from these courses have gone on to win BAFTAs and other international awards.
ROXY HALL
The Frontiers Orchestra – 6pm
Frontiers has a focus on bringing people & communities together from diverse backgrounds and providing opportunities for young people who would not otherwise have access to them. Partnering with, The Kaimes Crusiaders, The Rock Trust, LiveHeart (Drake Music Scotland), MYDG/PYCP
Urvanovic – 4.45pm
Featured on STV and BBC Radio Scotland, Urvanovic are a seven-piece variety bucket of electronics, percussion and a built-in string trio, Urvanovic play dynamic alternative pop with a mixture of sweet and harsh sounds and intertwined vocals. http://urvanovic.com/
Edinburgh Youth Gatherin – 4pm
Traditional music in Scotland is alive and well! For over 15 years the EYG has inspired the next generation of young musicians to play together and learn from some of the country's finest traditional musicians. http://www.eyg.org.uk/
Pete Furniss & Haftor Medboe – 2.45pm
Edinburgh's Jazz and contemporary music legends perform their mastery of imporvisation. Employing Bass Clarinet, guitar and Electronics, the duo presents a programme of merged acoustic and electronic sound-worlds that sizzles and sparkles with improvisational flair.
SNUG BAR
Jack and the ' – 5.15pm
combine catchy melodies with elaborate orchestrations and song structures, creating a new sound, somewhere between pop, chamber music and jazz. The band has played extensively in Ireland, Scotland and France.
Totally Sound – 4.30pm
A platform for creative expression. Instrument tuition, recording, rehearsal space and performance opportunities, Totally Sound support young people of all skill levels from absolute beginners to the most talented young performers and provide low cost access to high quality equipment and professional tuition. www.totallysound.org
Rachel Alice Johnson – 4pm
Edinburgh based singer-songwriter as well as painter and artist. Rachel Alice Johnson has been making her mark performing regularly in the Edinburgh Music Scene.
Baron Salmon – 3.15pm
Alternative folk by one man and his guitar. A passionate songwriter with a mixture of quirky and emotional lyrics.
Sight of Mind – 2.45pm
Three young talented multi-instrumentalists from the west of the city, the trio were one of the audience favourites when they played at #artcore live at The Bongo Club in June.

Balkans Music Camp – 2.15pm
World renowned composer, Prof. Nigel Osborne's, long running programme in the Balkans working with musicians and young people in Croatia and Bosnia.

Key to Music – 1.45pm
Hear Annie Humphreys, Anna Caceres and Nikita Bleasdale some of the emerging talent from the grassroots of the city. Key To Music is a hub for developing singers, guitarists and song-writers of all ages led by Diana de Cabarrus.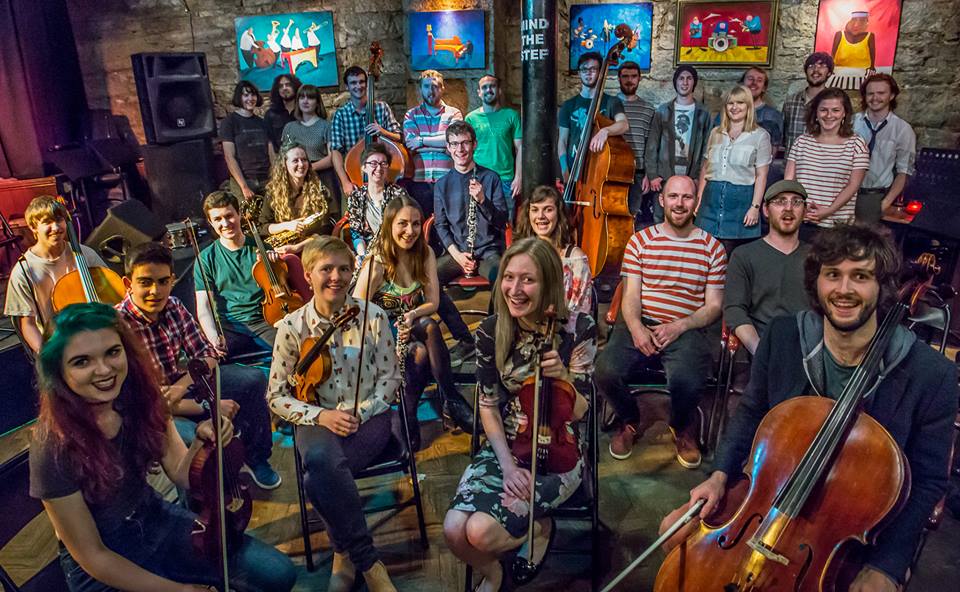 Organiser of TinderboxFest - 5th Anniversary!
The Tinderbox Collective provides inspiring education and opportunities for young people in the contemporary arts. The Tinderbox Collective is a registered charity no: SC042825