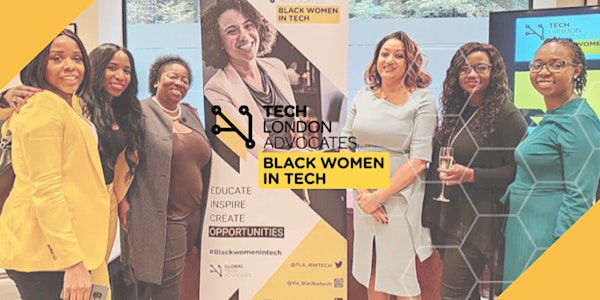 TLA Black Women in Tech - Anniversary Event with Guest Speakers
TLA Black Women in tech network event every 2nd Thursday of the month, full of creativity, inspiration, and passionate conversations.
About this event
The September event will be focused on:
- The anniversary of TLA Black Women in Tech
- Skincare & technology - Ifeoma Ejikeme
Dr Ejikeme is the Founder and Medical Director of premium west London medical and aesthetics clinic, Adonia Medical Clinic. One of only a few doctors in the UK to have undertaken her level of specialist training, she is a highly qualified and experienced skin specialist and aesthetics medicine expert, renowned internationally.
With her wealth of experience and trail blazing passion, it is of no surprise that large brands regularly seek to work with Dr Ejikeme – she is a Key Opinion Leader for a number of brands – and that top tier press frequently ask her for comment and interview – having featured in British Vogue, Sky News, ELLE, The Telegraph, Cosmopolitan, The Times and many more.
Find out more about her, by clicking here!
- Finance & technology - Benedicta Egbeme
Benedicta is a qualified accountant who is currently working as a Management Consultant, dealing with finance transformation in one of the 'big 4' accounting firms. She also has seven years experience working in Government Finance.
Her skills, experience and passion for every day people led her to set up BeniRatio Finances, a personal and small business finance advisory company; which provides guiding principles and tools on how to successfully manage money and make it work for everyday people.
A few of the organisations she has worked with include; DEFRA, Ministry of Defence, Home Office, Department for Education, Broadband Delivery UK/Department for Culture Media Sport and Department of Health as well as other Public Sector bodies.
Find out more about her here!
- Haircare & technology - Paula Francis
Paula is a Clinical Nutritionist and co-founder and formulator for premium hair wellness brand SuperFoodLx. As a Nutritional expert, Paula advises on the ingredients and nutritional content for every SuperFoodLx recipe. Paula's rigorous standards for maintaining healthy, luxurious cosmeceuticals of the highest nutrient content, with no parabens, sulphates, mineral oil or animal testing can be seen in each recipe's construction and continuous efficacy.
Find out more about her work here!
TLA Black Women in Tech Events
TLA Black Women in Tech presents a regular network event for everyone, every 2nd Thursday of the month, full of creativity, inspiration, and passionate conversations. The topic of the evening is The stratgeies to become an iconic brand.
At this event join us for networking and relaxing night out. You should bring your business cards and energy to speak about yourself. The TLA Black Women in Tech Network Event is an event for tech business professionals and entrepreneurs to come and network. Be inspired by our speakers during our network events. 
The TLA Network Event is a great opportunity to meet other like-minded technology and digital businesses/individuals in the area. This is an informal way to introduce yourself and make long-lasting contacts.
Why attend?
1) To network;
2) To relax and have a chat;
3) To learn as to what others are doing;
4) To build or to retain old connections.
Our Objectives
Tech London Advocates Black Women in Tech is a network of tech leaders, entrepreneurs, and experts in London, across the UK and in over 50 countries worldwide. TLA Black Women in Tech fundamentally believes that London is one of the world's leading tech hubs and we are here to build opportunities, inspire and educate. 
We will also welcome speakers to come and provide knowledge to our guests. Click here to apply for a speaker position during one of our events.