TLA Black Women in Tech - Preparation for 2021 with Deutsche Bank
TLA Black Women in tech network event every 2nd Thursday of the month, full of creativity, inspiration, and passionate conversations.
About this event
TLA Black Women in Tech Events
For the last event of the year, TLA Black Women in Tech is excited to run this event with Deutsche Bank.
Are you looking to start or elevate your career in engineering or software development?
What should you expect during this event:
Driving an Engineering Culture
Diversifying your workforce
Engineering career opportunities
Engineering entrepreneurship opportunities
Inspiring stories from Black Women in Tech
Opportunities to start a career with Deutsche Bank
Deutsche Bank is the leading German bank with strong European roots and a global network. The bank focuses on its strengths in a Corporate Bank newly created in 2019, a leading Private Bank, a focused investment bank and in asset management. more. Click here to find out more
If you are interested in starting a career with Deutsche Bank, click here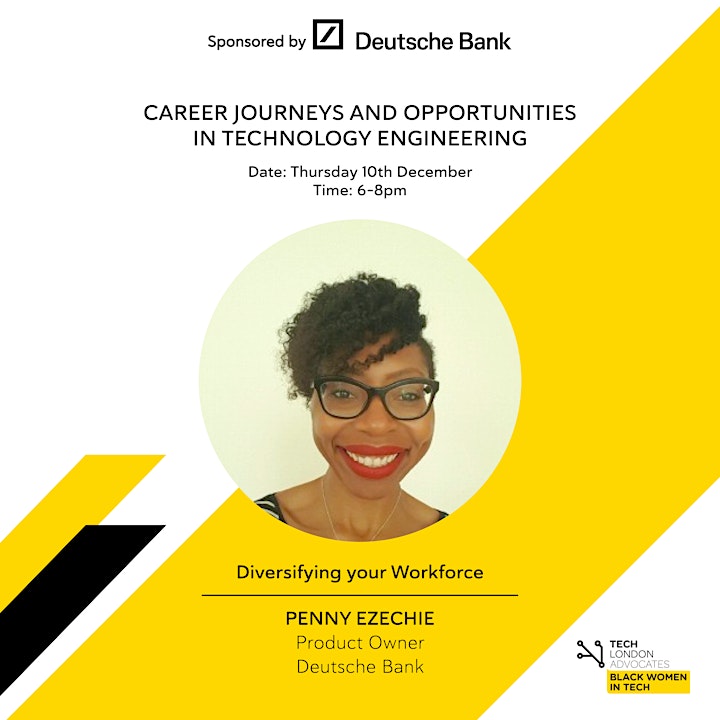 Penny Ezechie - Diversifying your Workforce
Penny Ezechie is VP at Deutsche Bank with responsibility for SDLC Governance Monitoring and Control in Cloud and Platform Technology. She has over 20 years of experience of working in Technology in Banking and Finance, with expertise in Service Delivery, Programme Management and IT Transformation. She is a champion for Black representation and Women and is committed to creating work environments where people can be themselves and feel like they belong, wherever they may be.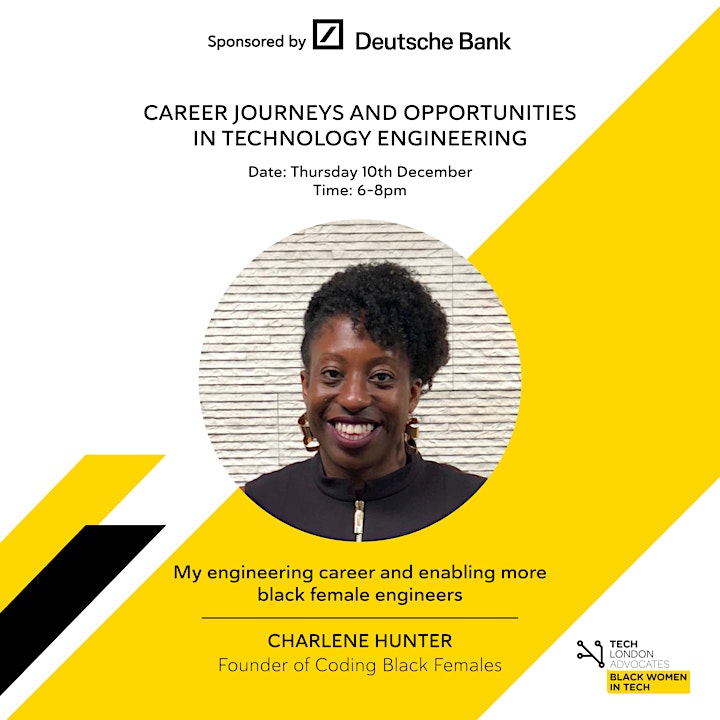 Charlene Hunter - Engineering career and enabling more black female engineers
Charlene has been a software developer for over 10 years in a range of languages and technologies. She is the founder and CEO of Coding Black Females, a non profit organisation to inspire, provide opportunities, and showcase the talents of black women in tech. She is also the co-founder of Meet Up and Code, a community to bring developers together and code together. Charlene is passionate about increasing diversity in tech.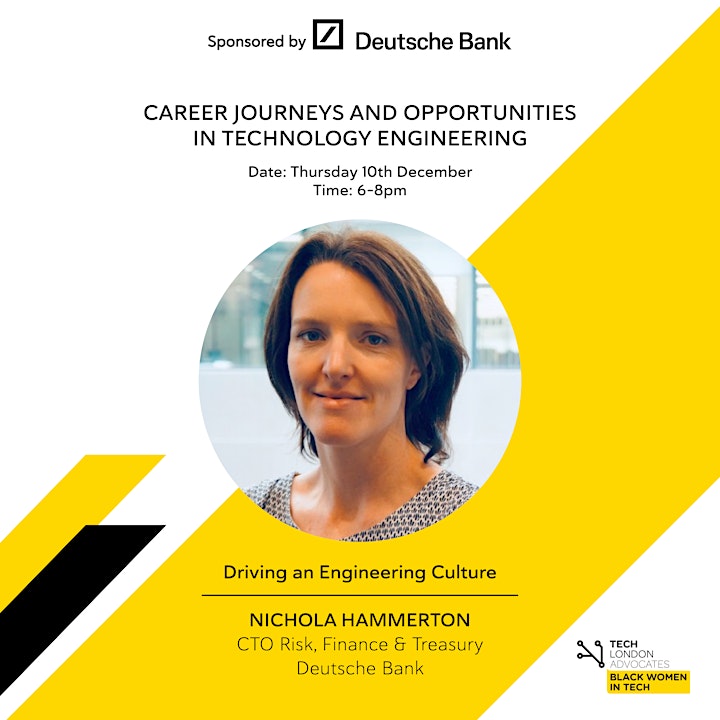 Nichola Hammerton - Driving an Engineering Culture
Nichola has had a varied career which started out at one of the Big Four Management Consultancies, before following her entrepreneurial dreams and staring her own company. She worked with clients in Manufacturing and Financial Services before spending two years at the British Red Cross Society driving through transformational change. She has spent the majority of her career in Financial Services delivering technology solutions to achieve business goals and meet regulatory requirements. More recently at DB, Nichola was CTO of Risk, Finance and Treasury before moving into her current role, Group Architecture, Head of IT Strategy & Execution where she is leading the Architecture pillar to deliver a Service Oriented Architecture.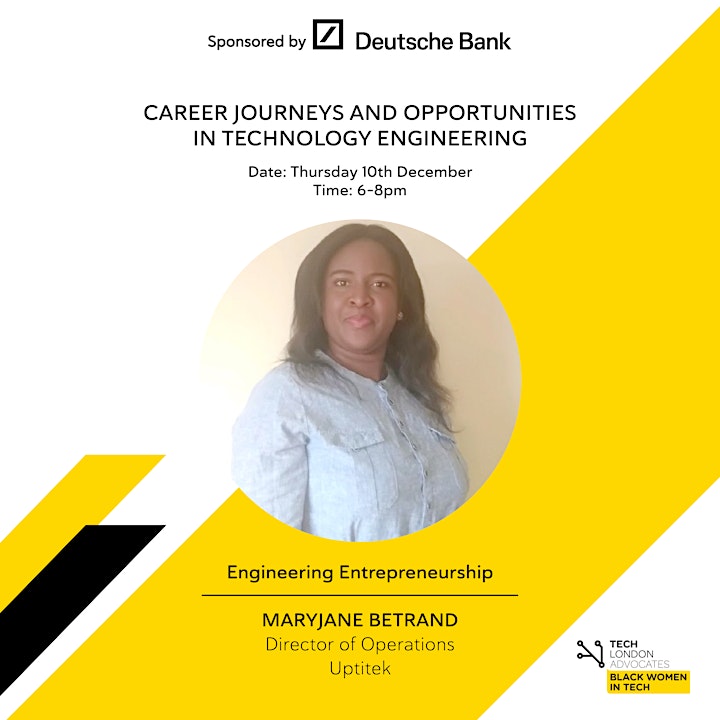 MaryJane Betrand - Engineering Entrepreneurship
Maryjane Betrand is a Co-Founder of Uptitek Limited, an indigenous Software Development company. She has 6 years of experience in business development and 4 years' experience as a software engineer and has led a range of initiatives across the UK and Nigeria.
Maryjane started her career as a Web developer with the University of Hertfordshire UK, working with their Web and learning team, UK. After completing her education, she joined Uptitek Ltd to serve as the pioneer executive director of the company, a leading company specializing in the development and provision of ERP (Enterprise Resource Planning) systems to different organizations both in UK and Nigeria.
Event sponsored by

Organiser of TLA Black Women in Tech - Preparation for 2021 with Deutsche Bank