Tech for disAbility informal conversations is a time to discuss important topics focused on accessibility and inclusion within thechnology.
About this event
Are you a start-up, organisation or individual interested in disability within technology?
Tech London Advocates Tech For disAbility invites you to a regular series of informal conversations where we can get to know each other better and exchange ideas and thoughts.
We will plan this every two months on Wednesday at 5pm, starting with 30th June.
Please let us know of a topic you'd like to share as a POV, or if you'd like to do a lightning talk, or simply would like to join in the conversation.
We want to bring together people from the disability community, tech startups and anyone else interested in disability and how technology can benefit.
Any of you can speak about a topic of interest to the group, participate in lightning talks with one minute to offer or ask something of the group, or simply join in the chat and network.
RSVP us at info@techfordisability.org.uk
Web info here: Events – Tech For disAbility
We are on info@techfordisability.org.uk and https://techfordisability.org.uk, LinkedIn and Twitter, as well as our Slack group - click here to join
Hope you can join our conversations!
TLA Tech For disAbility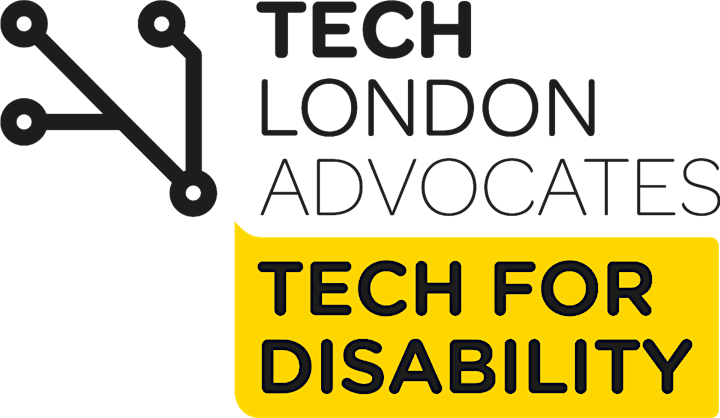 Organiser of TLA Tech For disAbility Inclusive Conversations
 We are dedicated to raising awareness, promoting inclusion, and increasing accessibility
Tech For disAbility is a new working group set up within the wider Tech London Advocates network to promote London as a global centre for technology and innovation within a number of areas.
Our main aims include the following:
Improve Lives Through Tech
Promote the value of technology in benefiting the lives of the disabled. Encourage more problem solving and innovation directed to different abilities
Accessibility
Raise awareness for all tech startup of creating technology with accessibility built in to ensure it intrinsically responds to and includes all needs from the outset, so no one is left behind