Themes: Mental Health,Paediatric Oncology,Rheumatology,Cardiovascular Disease,Improvement Science,Neuromuscular Disease,COVID19 Research
About this event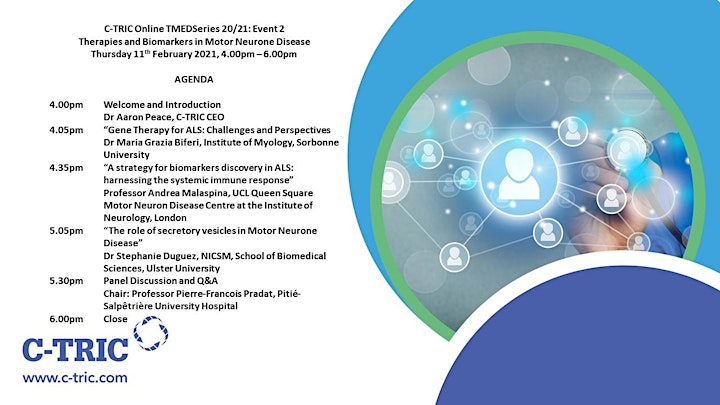 TMEDSeries20/21 Event Two: "Therapies and Biomarkers for Motor Neurone Disease"
The theme for the 2nd in our TMEDSeries20/21 events is Therapies and Biomarkers for Motor Neurone Disease. Prof Andrena Malaspina will discuss novel biomarkers for ALS, while Dr Biferi will discuss developments in gene therapy, and Dr Duguez will speak on the role of secretory vesicles in the disease. An interactive panel discussion will be chaired by Prof Pierre-François Pradat."
As a result of the COVID19 pandemic C-TRIC has unfortunately been unable to host the TMED Conference. Given the increasing popularity of TMED we have instead chosen to run the TMED Series 20/21. The series will be free to register and focus on themes included within the City Deals. The Derry/Londonderry City Deal along with the Belfast Region City Deal provides a massive opportunity for Northern Ireland as a whole to innovate within the Life and Health Science Arena and to show case the considerable strengths on display between the Health Trusts, the Health and Social Care Board and the 2 Universities. We propose to run a series of online video conferences each lasting 2 hours over the next 12 months. Each of these online symposia will have 2 to 3 Keynote Speakers with interactive panel discussion and questions from the delegates provided through an interactive platform. There will be a range of themes from Mental Health to Paediatric Oncology to Rheumatology to Cardiovascular Disease to Improvement Science to Neuromuscular disease to COVID19 related Research. Personalised Medicine, Polyomic Research and Digital Health will provide an undertone across the entire series with Industry showcasing their vision for the future. Given the success of previous public involvement in TMED we will again obtain testimony from our public without which research cannot progress. We hope to have dedicated sessions for Young Investigators and PhD presentations with prizes for the best presenter and Young Investigator in Spring 2021. We will also include a specific COVID19 Session covering the NI experience and lessons learned in testing, contact tracing and treatment. We hope to see you all virtually and to meet our future researchers at this year's online TMED series.
Organizer of TMEDSeries20/21 Event 2: Therapies and Biomarkers for Motor Neurone Disease