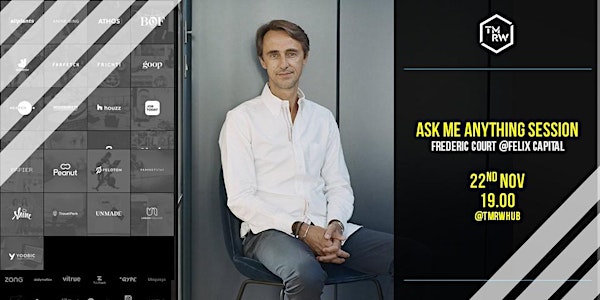 TMRW "Ask me Anything" Session | Frédéric Court, Felix Capital
Event Information
Location
TMRW & Byte Café
75-77 High Street
Croydon
CR0 1QE
United Kingdom
Description
We're super excited to welcome Frédéric, one of London's most prestigious investors for our no-BS "Ask Me Anything" session - see below.
Frédéric is the Founder and Managing Partner of Felix Capital, the "investment fund for the Creative Class". He has worked in the technology industry for the past 20 years, prior to Felix as General Partner with Advent Ventures in London, and previously as an entrepreneur. At Felix he works with Farfetch, goop, The Business of Fashion, La Ruche Qui Dit Oui, Yoobic, Frichti and Mirakl.
He has an impressive track record of exits too with Olapic (sold to Monotype in 2016), Farfetch (IPO), Zong (sold to eBay), Vitrue (to Oracle), Dailymotion (to Orange), Qype (to Yelp), Fizzback (to Nice Systems) and Ubiquisys (to Cisco) that made him the "Investor of the Year" in Europe by his peers at the 2012 Investor All Stars and listed on the Midas List Europe 2017.

Frédéric is also investing "on the side" as an active angel, mainly in digital lifestyle start-ups.
---


ASK ME ANYTHING at TMRW - what's that?
As the name implies, here at TMRW we're big on real entrepreneurs, real stories and experiences; we believe that one learns way more from others' mistakes and near-misses than from the media's sugar coated fairy tales.
We also meet outstanding people (entrepreneurs, investors, activators and networkers, companies) who, usually, are massively successful, and they too keep a low profile - signal, not noise.
So we keep our meetings small in size (strictly first come first served, don't moan if the event's full, register now), intimate, no stage no lighting no glamour, and ask honest, no-BS questions. So bring your own and keep them short, focused and relevant.
Registration strictly required. Come and join us, meet other entrepreneurs and discuss the what/how/who of funding, growing and selling a massively successful startup.
Date and time
Location
TMRW & Byte Café
75-77 High Street
Croydon
CR0 1QE
United Kingdom