Description
TICKETS WILL ALSO BE AVAILABLE AT THE DOOR
Toastmasters International Division K (London) District 91 UK South invites you to it's 2017 Spring Conference and Contests.
This half-day conference includes a workshop, the Division K International Speech and Evaluation Contest, raffle and opportunities to meet and network with other Toastmasters in London.
Keynote Speaker Jean Gamester, DTM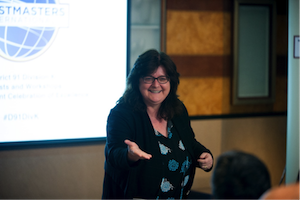 Jean is Immediate Past District Director for District 91, UK South, having led the district to Presidents Distinguished. It ranked as one of the leading districts in the world in 2015/16. She is passionate about the use of values-based leadership and storytelling to create great team environments that deliver results. In her working life, she is a change consultant and programme manager and has led change in a variety of sectors for organisations like BT, Vodafone, Speakers Trust and in Local Government.
Jean's values-based workshop is designed to rise above the idea that talking about values and culture is just political correctness gone mad. This workshop will focus on the values we have in Toastmasters and will bring them to life by helping us all reflect on our experiences. Participants will experiment with different ways of exploring these values and how they can be used to create a brilliant environment for us all, where we achieve our goals. Past participants of Jean's workshops have said that they are inspiring, enlightening and fun. Come along and find out for yourself!
Come and support your Club and Area contest Champions.
Come and attend this fun-filled afternoon with a chance at winning one of the five amazing prizes in our raffle draw.
Your Ticket also serves as an automatic entry into the raffle draw.