Event Information
Location
Country Manor close to Gillingham in Dorset
Description
SOULFUL • SENSUAL • DARING
Togetherness is a unique festival where you
• Explore new ways of connecting with self and others informed by cutting-edge concepts and science.

• Enrich your lifestyle by experiencing new practices from Shibari & Power Dynamics to naturally reaching altered states through Soma Breathwork.

• Feast, party and chill in and around the intimate gardens of a 19th century Dorset Country Manor.

---
Experiences on offer include
MINDFULNESS FOR BETTER SEX • AUTHENTIC RELATING • CACAO BODY PAINTING • ELEMENTAL MASSAGE • WIM HOF ICE BATHS • ECSTATIC DANCE • WOOD FIRED HOT TUBS • PLAYFIGHTING • SOUND HEALING
---

PROGRAM

Start the day attending to your body and mind; whether you are feeling super energised or needing nurture you will be catered for by our morning program of yoga, meditation, embodiment, sauna and playful power ballad aerobics.

We gather after breakfast for a dance together before everyone breaks to pursue their activities of interest. Three to four sessions happen at once and last for around 90 mins each. Sessions are grouped by theme:

PLAY brings us back to a state of openness and innocence from which authenticity can be expressed freely. This sense of freedom and vibrancy is the foundation of truly juicy connections.

CONNECT - explore the meaning of closeness in its various intensities. A range of sessions will allow you to experience connection on the emotional as well as physical level both in light-hearted and profound ways.

ENRICH your everyday life with skills. Including sensual massage techniques, Wim Hoff breathing methods, traditional Japanese Shibari rope work and healthy boundary setting.

EXPRESS - dance, sweat, breathe, feel your heart pumping and let yourself go. Embrace your body, give yourself a voice. Dare to be who you are.

RELAX in the tranquility area; bathe in the wood fired hot tubs, steam in the yurt sauna, treat yourself to a deep tissue massage. Sip a botanical infusion, take the time and space you need to to deeply chill.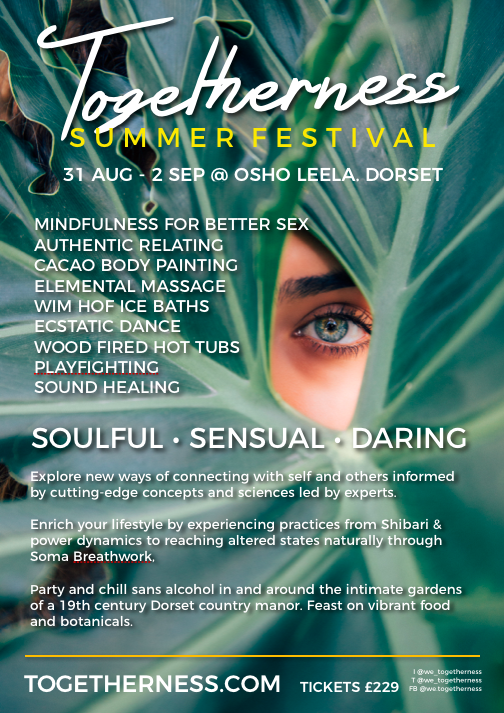 ---

STAY in a log cabin, a mobile home, a room in the main house, bring your own tent, live in vehicle or glamp in the intimate enclaves and grounds.

EAT delicious vegetarian and plant based foods, sip botanical elixirs from Real Remedies or self cater.

JOIN an international team of facilitators and experts including ADAM WILDER • ANATOMIE STUDIO • DJ BOBBY LOST • ALIX FOX • JAMES FROST • ROMA NORRISS • BUSTER RADVIC • RACHEL RICKARDS • NIRAJ NAIK • ANDREW BARNES • ART OF BEING • BODY LOVE SKETCH CLUB


---


Come with your friends, come with your partner, come by yourself.
Whatever your gender, sexuality, relationship status, physical ability, wherever you have come from and wherever you are going, you are welcome at Togetherness.
---

TICKETS

There will be a maximum of 300 people at this event. First tier tickets are gone. The price is now £249

For any questions contact us

••••••••••••••••••••••••••••••••••••••••••••••••••••••••••••••••••

ACCESSIBILITY

90% of the site is wheel chair accessible and the site has large toilets and showers which have been used by wheelchair users.
Carers and personal assistants for disabled guests are eligible for half price tickets. Please contact us if you require a BSL translator or for any other access needs you have.


---
Previous participants said:
'My mind was blown, my heart was re-opened, then my mind was blown again'
'It was sexy, innocent and daring'
'...feeling alive, embodied, strong, honest, vulnerable, moved, excited, sad, satisfied, curious and everything else that bubbled up'
Date and Time
Location
Country Manor close to Gillingham in Dorset