Our panel will dig deeper into what changes men can make to be their true selves and to create societies and workplaces that are inclusive
About this event
The last six months have been a really important time for men to reflect on the world that we live in and their responsibility for creating a world in which everyone can feel safe. We need to do better. But what does better mean? And just as importantly what does it mean to be a modern man?
In this panel, hosted by Nadya Powell (CoFounder at Utopia), we will be talking to some of the key change-makers in this space about what they are doing to support men on their journeys to become better men. Some of the topics we will covering include:
Allyship
Emotional release in boys and men
Heartbreak - grief, betrayal, breakups, breakdowns and forgiveness
Inclusive leadership
Mental health
Masculinity
Resilience; and
Toning it down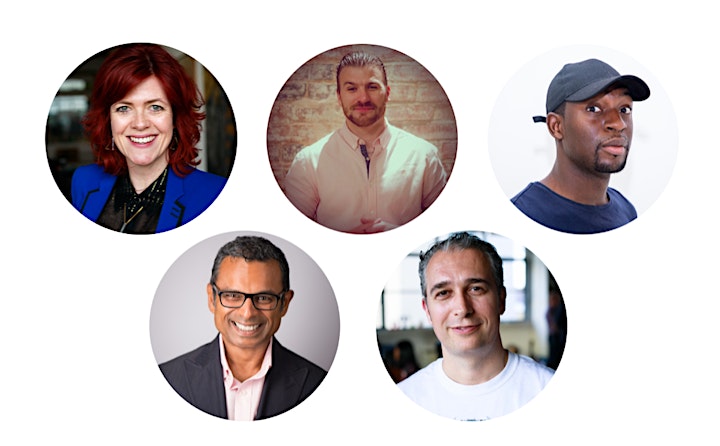 The panel
Josh Connolly - Josh is a resilience coach and will talk about the work he has been doing to provide men with the resilience tools to help them be their best selves
Alex Holmes - Alex is author of Time to Talk, a book about how men think about love, belonging and connection
Kenny Mammarella-D'Cruz - also known as the man whisperer, Kenny shares personal development, management & marketing tools to empower men to transform their lives and businesses
The panel will be followed by a reflection session, hosted by Daniele Fiandaca, co-founder of Token Man & Utopia, who will also touch on what this means for the workplace and as leaders or future leaders.
This event is for anyone who is looking to understand more about the challenges men are facing right now and want to understand how they can either go on their own journey or support others in their journey, both as individuals as well as leaders in the workplace.
Practicalities
This virtual session will need good wifi and sound and we will be delivering via Zoom so please make sure you have the latest version downloaded. You will receive the zoom login link via an eventbrite message 48 hours, 2 hours and 10 mins before the live date.
Accessibility
We believe inclusion is fundamental in the creation of healthy workplace cultures. Which is why we want to make sure all of our events, physical or virtual, are inclusive and accessible to everyone. If you require any adjustments to make your experience of this workshop inclusive and equitable please contact Elle Whiteley via email [elle@weareutopia.co] and we can work together to put effective adjustments in place.
Support
We understand that for many businesses this is a time of uncertainty and financial worry - especially for small businesses and freelancers. To support those that may be struggling we're offering free spaces on all of our workshops. If you are experiencing difficulties, please send us a note [elle@weareutopia.co].
Organiser of Token Man - Better Man Panel
Token Man is an initiative to give men in industry a better understanding of the challenges women face in business and a greater empathy for when they are in the minority. We hope to achieve individual behaviour change that fuels a cultural shift in the workplace, enabling men in a tangible way to contribute to the movement for gender equality. Ultimately this needs to act as a platform for the progression of women in industry to reverse gender inequality.