Event Information
Refund policy
Contact the organiser to request a refund.
Eventbrite's fee is nonrefundable.
The virtual conference for property investors, tech investors, consultants, and startups who don't want to be left behind.
About this event
VIRTUAL CONFERENCE & NETWORKING
For Property Investors, Tech Investors, Consultants, and Startups Who Don't Want to Be Left Behind in the New Investment Landscape
After 10 years of investing in startups, and even more in property to build my passive income, I can feel when a storm of change is going to hit the market.
A global financial crisis has already started
We are already in the beginning phases of the next global financial crisis. These are not my words, but the analyses of many governments and economists. This financial earthquake will provide spectacular opportunities to individuals and organizations with cash or with the tools to find cash.
There is just one (major) problem: real estate is mostly illiquid -- especially in times of recession. Try to ask a bank for a re-mortgage when the value of properties is going down. We have already lived it during the last crisis in 2008-09. It's going to happen again.
What if you have a tool to make any property liquid like cash?
I am not just talking about the properties you own but also about the property you want to buy. This is exactly what's happening with the "tokenization of assets."
Trillions of dollars of illiquid assets are ready to be unlocked by their tokenization. The most ambitious entrepreneurs are already closing the first deals, but most of the public is unaware of this opportunity.
Join us for a virtual conference and networking (this is *not* a webinar but a full conference in a virtual space) about the future of property investing, blockchain technology, and security tokens. Meet other people like you, who share the same interests, and have a chance to ask questions to the experts.
This is *not* about cryptocurrencies nor tokens
"From art to buildings, the way we invest in assets could be about to fundamentally change with the arrival of tokenization. Those who are not prepared risk being left behind." - DELOITTE
Tokenizing real estate is profoundly different from anything you have seen until now.
It's the kind of difference between Pet.com and Amazon. They were both e-commerce, and they used similar technologies. Still, the first went bust and its investors lost all their money. The second is a trillion-dollar company that made thousands of investors millionaires.
Real estate tokenization transforms an illiquid asset (the property) into a liquid one. At the end of the process, the asset is still there and so is its value. On the contrary, the (utility) tokens, the ICOs, and everything that you may have seen or read about in the last years were not backed by any assets. They had no "real" value.
Bitcoin and cryptocurrencies are also of a completely different nature. No matter if you love crypto or despise them, it's *not* the subject of this event.
What's in It for Me?
This is *not* an online webinar where you passively listen to a speaker. This is a full conference in a virtual space, where you can network with other participants and ask the speakers questions.
1. If you are a property investor
You'll find a way to increase your cash and funds, and add premium value to your properties.
2. If you are in crypto
If you had bad experiences with tokens and ICOs, and with investments losing 70-90% in one week, you'll finally find a solid opportunity, with all the features you loved (decentralization, access, etc.) without the instability and scams of the ICOs.
3. If you are a tech investor
Trillions of dollars are ready to be unlocked. You don't want to miss investing in the startups that will make it possible.
4. If you are a family office
You'll learn a new way to make alternative investments with the potential of early Internet companies.
5. No matter who you are
If you don't want to miss the next fastest-growing market - and be ready to catch a business opportunity - then you want to get insights and information before they became known by the public.
When you join the event you will:
✅ Learn how real estate tokenization works and what are the business opportunities. This is not an academic discussion. You'll receive actionable information, from entrepreneurs and thought leaders.
✅ Network with other people like you, who share the same interests.
✅ Ask questions to the speakers and experts. If you have a specific idea or project, feel free to ask questions and get specific answers.
What you will not get:
❌ You will *not* learn how to code. Indeed you will get an understanding of how everything works, but the goal is to recognize bad products, bad consultants, and avoid scams - not to code yourself.
❌ You will *not* receive an academic lesson. The speakers are entrepreneurs, investors, and thought leaders. Everything will be very practical and business oriented.
❌ You will *not* learn any get-rich-quick schemes. Tokenizing assets is like investing in real estate or in startups. They are different activities but have a rule in common. If you are promised to get rich quick, it's almost securely a scam.
What Are They Saying About Our Events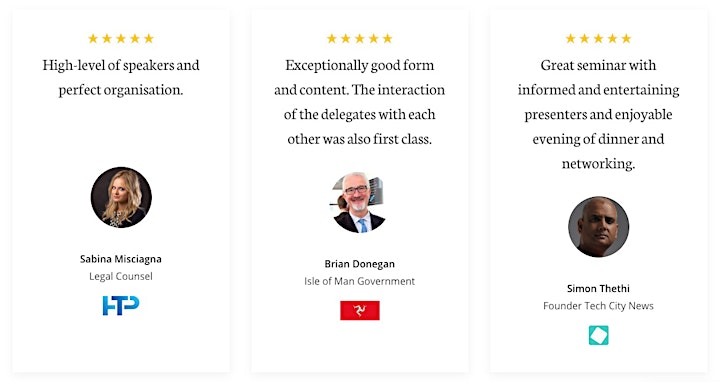 How the Agenda Looks Like
➡️ 6:30 pm - We'll meet online for the initial networking session. This is a real conference and networking event, just happening in a virtual space. You can join other participants on virtual tables, talk to them and move to another table when you like as you usually do in a face-to-face event (more below).
➡️ 07:00 pm - We will begin the conference by learning more about the state of real estate tokenization, what may happen in the next months and in the future, and access a list of real case studies.
➡️ An intense, 30-minute Q&A will close this session.
➡️ Then, the room will be open for another 30 minutes of networking, if you decide to stay.
Speakers
Stefano Tresca
Serial entrepreneur, bestselling author, and tech investor - Stefano was employee #8 at Wind, a telecom and internet company with a $12.1 billion exit.
Stefano works in the Blockchain space from 2014 and purchased his first property to build a passive income in the '90s. He helped set up the first licensed crypto-gaming company, the first tokenized venture capital in Europe, and the first crowdsourced A.I. for online trading.
With his newsletter - Startupagora.com - he helps 5000+ investors and family offices to profit from tech and startup investing.
Alpesh Doshi
Alpesh is an entrepreneur and innovator in how enterprises can transform and future-proof their business using disruptive technologies and business models, particularly around blockchain, digital, big data & analytics (AI). He is focused on innovative thinking and practical strategies to add value for his clients fast and often, introducing the agile approach of working to digital transformation.
He has worked in the Blockchain space for over 5 years and is passionate about application of Tokenization across industries. He is launching a venture, Areno, which will provide asset tokenization for real estate assets.
Alpesh's is an innovative and creative thinker and delivery focused entrepreneur enabled by new technologies and business models.
On Yavin
On Yavin is the Founder and CEO of Cointelligence and the blockchain and cryptocurrency education platform Cointelligence Academy. Since 2017, he has been dedicated to championing cryptocurrency and the blockchain. On works tirelessly to build the cryptocurrency community, bank the unbanked, fight corruption, and make education accessible to people around the world.
Elisa Giudici (Host)
Serial entrepreneur, tech investor in 20+ startups, and public speaker. Member of the board of Fintech Institute, and founder of Expanse, the Global Summit of Impact Investors in Tech.
Elisa is a board member of Fintech Institute, and founder of Expanse, the Global Summit of Impact Investors in Tech, where business angels, family offices, HNWIs, and VCs from all over the world meet in London. She's a serial entrepreneur with two exits, a tech investors in 20+ startups, and a mentor for aspiring business-women at Cherie Blair Foundation and with London Partners. Today, Elisa invest a good part of her time to bridge the tech and the business community, especially in FinTech, Blockchain and e-Commerce, providing training, mentoring, and events.
What Do I Need to Join the Virtual Conference
✅ Audio and video on your laptop/tablet/smartphone. That's all!
✅ (Optional) A good cup of coffee or tea if you like.
Joining is easy. You do *not* need to learn anything complex nor download any software. You'll get an invitation link to click, and everything will happen on your browser.
How virtual networking looks like
This is how your 4 people table will look. You can move to another table anytime and join another group.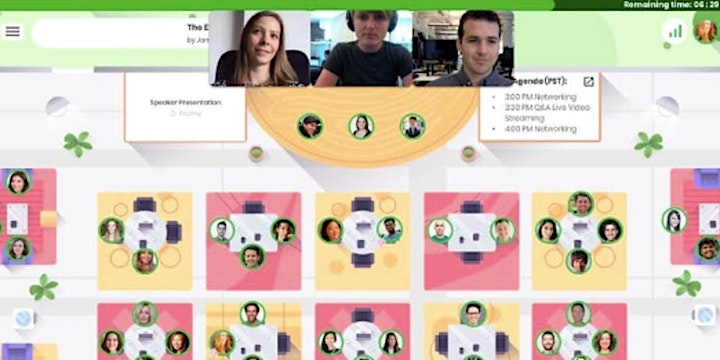 Date and time
Location
Refund policy
Contact the organiser to request a refund.
Eventbrite's fee is nonrefundable.
Organiser of Tokenizing Real Estate - Virtual Conference & Online Networking