Description
For the first time ever in Canterbury and much to the delight of his fans, legendary artist Tom Jones is set to perform at The Spitfire Ground, St Lawrence, home of Kent County Cricket Club, on Saturday 8 July 2017.
Tom Jones is considered a living legend. His irresistible style fuses musical eras and genres, cuts across class divides, and appeals to all ages, male and female, mainstream and cutting edge. Tom has always been about the power of the song, the power of the voice. And what a voice indeed.
Tom Jones' distinctive voice and iconic records have earned him a place as one of the best loved artists ever to emerge from the 1960s with an eclectic musical mix spanning pop, rock, soul, R&B, dance, country and gospel. To date he has achieved more than 100 million record sales, including hits such as It's Not Unusual, Kiss, Delilah and What's New Pussycat. Along with sustaining his popularity as a live performer and recording artist for five decades, he has garnered—at the age of 76—the best reviews of his career for his most recent albums Long Lost Suitcase, Spirit In The Room and Praise & Blame.
A popular choice not just on the stage but on TV, Tom is currently a coach on ITV's The Voice, and has appeared in films, including 'Mars Attacks'. With numerous tours the world over under his belt, and a legion of fans, his extraordinary career was recognised in 2006 through his knighthood from Her Majesty the Queen, and a string of prestigious music awards, including BRIT Awards for Best Male and Outstanding Contribution to Music, a Silver Clef Award for Lifetime Achievement, the Hitmaker Award from the [US] Songwriters Hall of Fame, GQ Man Of The Year, and the prestigious [UK] Music Industry Trust Award.
The concert at the Spitfire Ground, St. Lawrence, Canterbury will feature a collection of Tom's most popular hits across the decades, including his latest albums.
Tom Jones said, "I am really looking forward to coming to the lovely cathedral city of Canterbury. I love doing outdoor shows and being able to perform at the Spitfire Ground is fantastic. It promises to be a great night so I hope everyone comes out to enjoy this show in this beautiful venue."
Liz Doogan-Hobbs MBE, CEO of LHG Live, promoter said, "We are delighted to be working with Tom Jones once again at the Canterbury concert. Tom is an incredible artist that enthrals his fans whenever he takes to the stage. It is going to be a beautiful summer evening filled with his most recognisable and popular hits. We are delighted also to be working with the team at Kent County Cricket Club; it's a fantastic venue and the perfect setting for this concert."
Tickets for Tom Jones at The Spitfire Ground, St. Lawrence, Canterbury, home of Kent County Cricket Club on Saturday 8 July go on General Sale on Friday 3 March at 9.00am.
This event is subject to licensing
Both seated and standing tickets are available, priced at: £35.00 + booking fee (Standing), £49.50 + booking fee (Gold Seated) and £69.50+ booking fee (Platinum Seated)
Accessible Tickets are available from Ticketmaster. Please call Ticketmaster's Accessibility line on 0800 988 4440.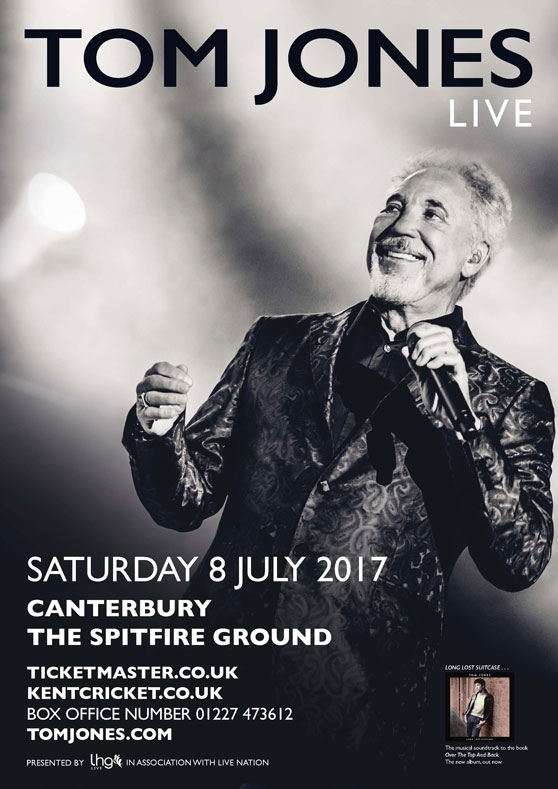 Terms and Conditions
This is a seated and standing event.
Starting and finishing times are subject to change up to the event date - we will update you of changes.
No cameras, video cameras or audio recording devices
No food, bottles or cans, cardboard container drinks - there will be various food outlets available.
No alcohol or illegal substances can be brought into the site - anyone caught with illegal substance(s) will have their ticket made invalid and be reported to the relevant authorities, no refunds will be given.
Please follow the instructions of the venue and event staff. Guests that cause a disturbance to others, or fail to follow the instructions of the event staff may be forcibly removed from the event without refund.
Guests are responsible for the security of all of their personal belongings.
The event venue operators, organisers, promoters, and artists cannot be held responsible for lost, stolen or damaged property, nor accidents resulting in injury occurring anywhere in, or outside, the venue during the event regardless of fault or reason.
Children aged 14 and under must be accompanied by an adult at all times.
No umbrellas permitted.
Dogs are not permitted.
Any form of chair including deckchairs, camping chairs, folding chairs, gazebos, picnic blankets and tents are prohibited.
No smoking in the arena except at designated smoking points.
Tickets - Exchanges and Refunds
We can't offer any exchanges or refunds. Please note: before buying tickets it's really important to double check all the event details and make sure you're 100% happy before going ahead.
All of the aforementioned terms and conditions affect you and all persons accompanying you to the event.
By purchasing a ticket you, and all persons accompanying you agree to the aforementioned terms and conditions.
LHG Live hold the right to change these terms and conditions at any given time, you will be notified of any changes.