Discover new technology, business model and ecosystem horizons toward smarter ports at the TomorrowPorts conference.
About this event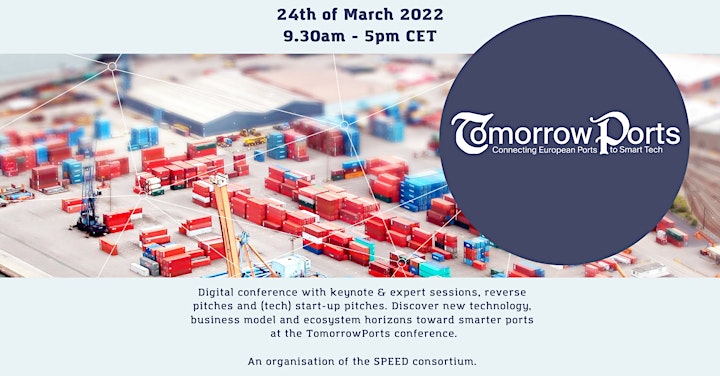 Today is the day!
TomorrowPorts 2022 is live. Don't miss it!
Don't forget to create or link your Conversation Starter profile, since that's where all the networking, streaming and interacting will take place. Go to the video section.
We hope you enjoy all the pitches, panel sessions and keynotes. Also remember to interact in one-on-one meetings with interesting profiles and to visit our booths.
Our best regards and see you @TomorrowPorts 2022!
About this event
TomorrowPorts is a community event organized by a growing consortium of smart port ambassadors, collaborating to develop the ecosystem around smart port innovation in Europe and beyond.
TomorrowPorts will be our annual meeting of minds for smart port innovators. So, if innovation in ports is a priority for you, join us there!
What can you expect at TomorrowPorts?
Learn from use cases from smart port pioneers showing how their application of Port 4.0 technologies improved their operational efficiency, cybersecurity, energy and environmental performance, or synchromodality.
Get inspired by state-of-the-art smart port technologies that deliver business results.
Find tech talent to fuel the digital transformation of your port or logistics business in speed-dating sessions.
Show the innovation power of your port business by participating in the TomorrowPorts innovation award.
Get in touch with the latest thinking and frameworks to build and realize your port's digital roadmap.
Join us online on March 24th for a gathering of innovation-minded smart port business, technology and policy stakeholders from across Europe.
Be inspired by keynotes and panel sessions
Dual keynote:
Building your smart port roadmap, by Erwin Verstraelen, Chief Digital and Innovation Officer, Port of Antwerp and Alistair Gale, Director of Corporate Affairs & Strategy, Port of London
Parallel sessions:
Smart talent for smart ports
Track chair: Arjan Haring – JADS – Tilburg University
Ports as synchromodal value-added logistics hubs
Track chair: Alex Van Breedam - CEO @ Tri-Vizor & Faculty Global Supply Chain Management @ Antwerp Management School
Sustainable & connected ports
Track chair: Sharon Jones – Economic Development Officer BCP Council (Marine and Maritime Industries)
Reverse pitch discussions: Learn practical ways forward on how to deal from the challenges and solutions applied in other ports
Pitch and connect: watch live or recorded pitches from cutting edge smart port innovators and connect with them in the networking rooms to explore how their solutions could make you operations, security, sustainability, sunchromodality or other capabilities more effective
...more to be announced soon!
Practical information
Date and time: Thursday March 24th, 9h30am - 5pm CET