Tongji Uni-UCL Bartlett public symposium Shanghai 30th October 2017

Monday, 30 October 2017 from 18:30 to 20:00 (CST)
Event Details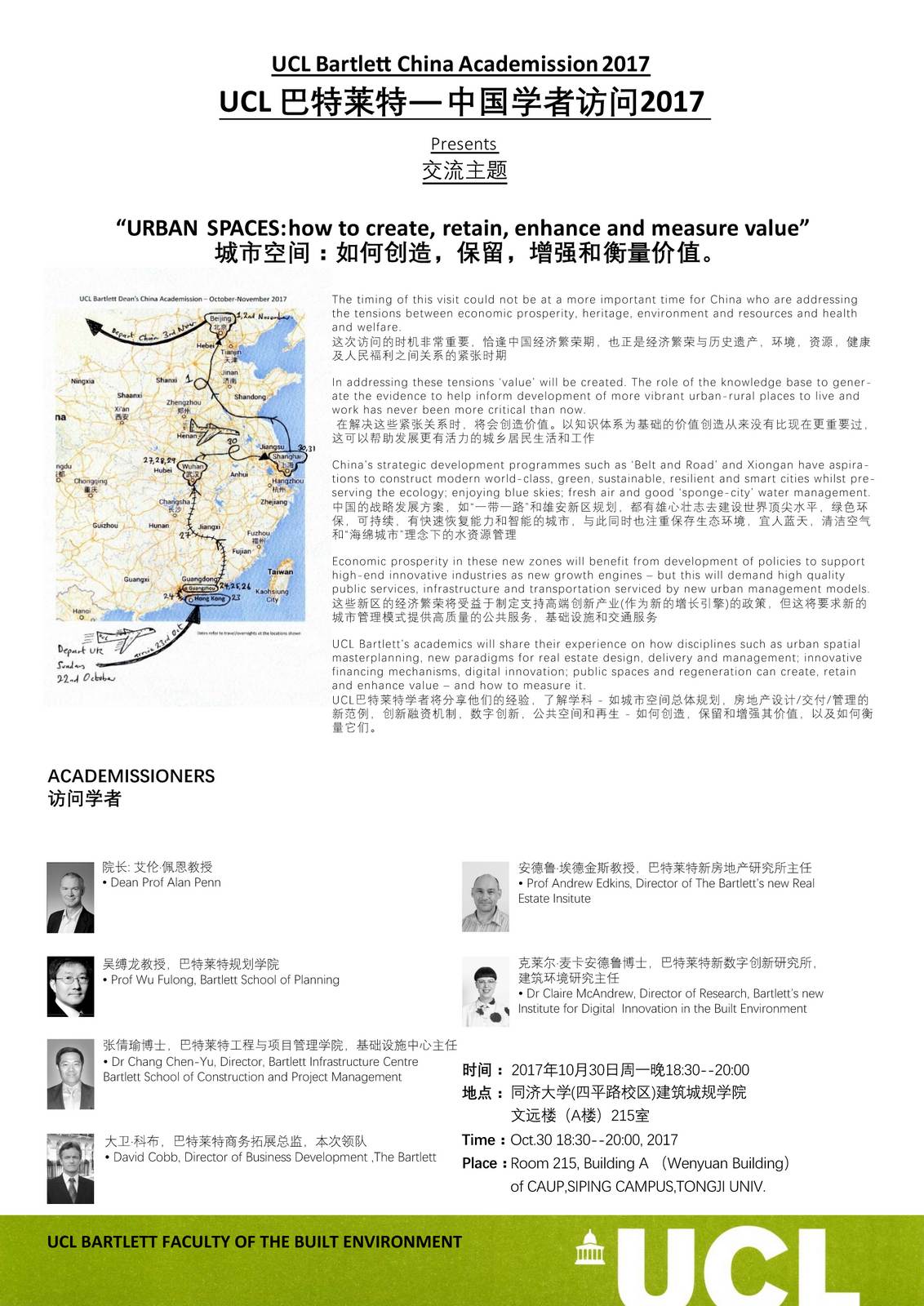 UCL Bartlett China Academission 2017 
UCL 巴特莱特-中国学者访问2017
Tongji University College of Architecture and Urban Planning (CAUP) UCL Bartlett Faculty of the Built Environment
同济大学建筑与城市规划学院- UCL巴特莱特建筑环境学院
Presents
呈现主题
"URBAN SPACES: ……..how to create, retain, enhance and measure value"
 "城市空间 :  ……….如何创造,保留,增强和衡量价值"
Meet Deans from both UCL Bartlett and hosts Tongji CAUP and their senior colleagues (see below for list)  – who will share with guests their visions on the theme below as part of a special CAUP-Bartlett public symposium to celebrate The Bartlett's China Academission 2017.
与巴特莱特学院院长和同济大学建筑与城市规划学院院长,以及其他高级学者同事见面(详见下文)。他们将与访客分享基于以下主题的观点,作为同济大学建筑与城市规划学院-UCL公开研讨会的一部分,来庆祝巴特莱特-中国学者访问2017活动。
---
Full details of The Bartlett's China Academission here
---
Do come along and sign up for this evening event - which has generously been arranged by Tongji CAUP Dean Prof Li Zhenyu
请共同报名参加此次晚间的活动 – 此次活动由同济大学建筑与城市规划学院李振宇院长慷慨筹备
 ------
 The timing of this visit could not be at a more important time for China who are addressing the tensions between economic prosperity, heritage, environment and resources and health and welfare.
这次访问的时机非常重要,恰逢中国经济繁荣期,也正是经济繁荣与历史遗产,环境,资源,健康及人民福利之间关系的紧张时期。
 In addressing these tensions 'value' will be created. The role of the knowledge base to generate the evidence to help inform development of more vibrant urban-rural places to live and work has never been more critical than now.
在解决这些紧张关系时,将会创造价值。以知识体系为基础的价值创造从来没有比现在更重要,这可以帮助城乡居民建设更有活力地生活和工作。
 Economic prosperity in these new zones will benefit from development of policies to support high-end innovative industries as new growth engines – but this will demand high quality public services, infrastructure and transportation serviced by new urban management models.
这些新区的经济繁荣将受益于制定支持高端创新产业(作为新的增长引擎)的政策,但这将要求新的城市管理模式提供高质量的公共服务,基础设施和交通服务。
UCL Bartlett's academics and CAUP academics will share their experience on how disciplines such as urban spatial masterplanning, new paradigms for real estate design, delivery and management; innovative financing mechanisms, digital innovation; public spaces and regeneration can create, retain and enhance value – and how to measure it.
UCL巴特莱特学者和同济大学建筑与城市规划学院学者将分享他们的经验,并了解学科——如城市空间总体规划,房地产设计/交付/管理的新范例,创新融资机制,数字创新,公共空间和再生——如何创造,保留和增强其价值,以及如何衡量它们。
Come and meet:
来与以下学者见面:


Dean Prof Alan Penn
院长: 艾伦·佩恩教授
Prof Andrew Edkins, Director of The Bartlett's new Real Estate Institute
安德鲁·埃德金斯教授,巴特莱特新房地产研究所主任
Prof Wu Fulong, Bartlett School of Planning
吴缚龙教授,巴特莱特规划学院
Dr Chen-Yu Chang, Director, Bartlett Infrastructure Centre
张倩瑜博士, 伦敦大学学院巴特雷基础设施中心主任
Dr Claire McAndrew, Director of Research, Bartlett's new Institute for Digital Innovation in the Built Environment
克莱尔·麦卡安德鲁博士,巴特莱特新数字创新研究所,建筑环境研究主任
David Cobb, tour manager and The Bartlett Director of Business Development
大卫·科布,巴特莱特商务拓展总监,本次领队
 --
---
 Note: Students do not have to register on this website (optional)
提示: 学生不必在本网站注册(可选)
---
Tongji CAUP-UCL Bartlett public symposium Shanghai 30th October 2017
同济大学建筑与城市规划学院 - UCL巴特莱特学院上海公开研讨会,2017年10月30日
---
Do you have questions about Tongji Uni-UCL Bartlett public symposium Shanghai 30th October 2017?
Contact The Bartlett
When & Where

Tongji University
Room 215, Building A Wenyuan Building)CAUP, Siping Campus
同济大学(四平路校区)建筑城规学院文远楼(A楼)215室
Shanghai
China

Monday, 30 October 2017 from 18:30 to 20:00 (CST)
Add to my calendar
Organiser
UCL's Faculty of the Built Environment.