Business Health & Employee Wellbeing is the topic this month as we make our way back into the workplace. How are we measuring the success?
About this event
Join us for The Women's Awards August webinar with Leaders event. Each month we hear from individuals who share part of their business, career or life journey.
Our Community is all about learning so that we can strengthen the areas of our lives we're looking to grow.
This month our Guest Speaker is the amazing Sue Grogan, Sue is an expert in Business Health & Employee Wellbeing. She believes that by looking after our people, our businesses will be healthier and more productive. Using data and measuring tools to set benchmarks we will see the results of changes and actions in our business growth, productivity, and financial turnover. This would be a fantastic opportunity for HR Advisers to join and learn about other options.
Join us and find out more. There will be the opportunity for you to ask Sue your questions during the Q & A session.
The webinar will be hosted by Sandra Pollock OBE, Founder of the Women's Awards and multi-award-winning Leadership, Management & Equality Specialist.
Our Monthly Webinars are open to all so don't hesitate to book your place.
Date: Thursday 12th August 2021
Time: 12:15 pm - 1.15pm
Cost: £10.00 per person
(Members free access via our community page)
Location: Online via Zoom – Link provided on booking.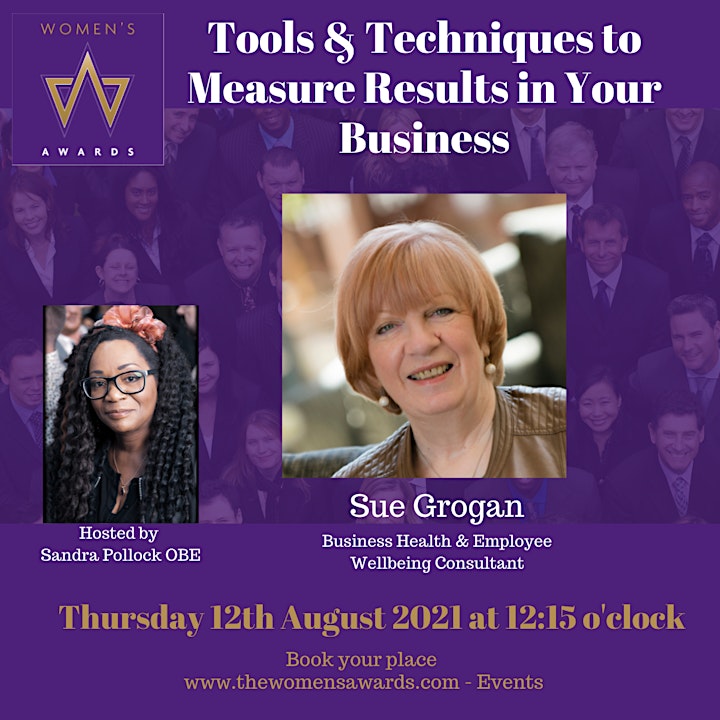 Additional Information:
SHINE Magazine Issue One now available – 'the unique female perspective.'SUBSCRIBE AT: sandra@sandrapollock.comTo find out more about The Women's Awards you can visit the website www.thewomensawards.com