Event Information
Refund policy
Contact the organiser to request a refund.
Eventbrite's fee is nonrefundable.
The Teenage Years are Tough! Let me help you understand and navigate the teenage years giving you tools and strategies to use with your teen
About this event
This online course is for parents and carers of pre-teens and teens from Year 6 up to early 20's.
It aims to support you with an understanding of the teenage brain and how this can impact on mood, behaviour and decision making for our teens, especially during the challenges of the pandemic.
It can be watched and followed at any time over the five days, you can catch up with it when you can, in short manageable content and as well as the opportunity to ask questions and obtain valuable support.
Right now times are a challenge for us all, especially for those of us with pre-teens and teens.
You might have a teenager right now who is;
Struggling with motivation, either with schoolwork or to do anything they might have previously enjoyed
Experiencing higher levels of anxiety or stress which can be expressed as anger or frustration, feeling they are 'not good enough'.
Experiencing a drop in mood and seems more withdrawn than usual.
Spending more time on gaming or on social media as there is nothing else 'to do'
Not sleeping well and often up long after you go to bed!
Imagine having a deeper understanding of your teen, why they behave the way they do, why sleep can be a challenge and why social media and online gaming can be such a worrying thing for us parents.
Schoolwork and exams may also be a challenge for your teens, along with the ongoing issue of navigating friendships both online and offline.
I can help you with this.
Join my 5 day online program and take steps to building a collection of tools and strategies to help you and your teen, day to day, manage these uncertain times.
I focus on areas of mood, sleep, focus and concentration, confidence and hormones to help you understand them, the key to supporting and navigating the world of our sometimes reluctant and resistant teens.
For £40 you will receive
Access to a five day program on an easy to use platform, watch and catch up when you are free.
Education on the teenage brain during those 5 days covering different topic areas including sleep, mood and motivation.
No long zoom calls, delivered through a series of 5 minute videos which you can watch at any time works for you to give you the information you need.
One Q and A session which you can join if you choose to and have your questions answered.
The most important part about this online course is that you will feel supported and understood, as well as having a place to be able to be open and honest about how you're feeling and the opportunity to share any worries or concerns you may have.
Having that space, even though it is online right now is so important to your well-being and the better you feel, the more able you feel to deal with family life and support those around you.
This is the space I have created for you to support yourself and understand more about what is going on for your teen.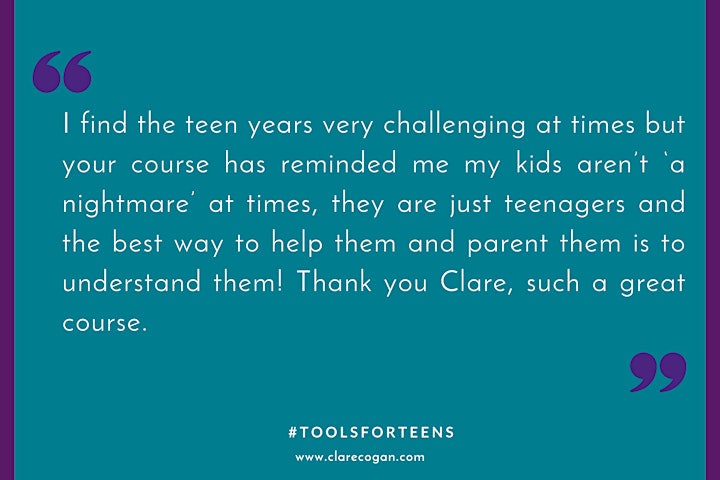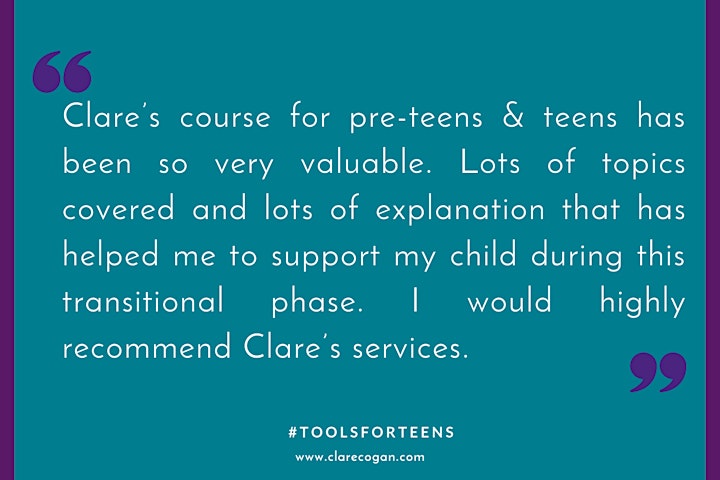 Date and time
Location
Refund policy
Contact the organiser to request a refund.
Eventbrite's fee is nonrefundable.
Organiser of Tools for Teens - Understanding the Teenage Brain
My online programs advertised here are a way of accessing my understanding and knowledge of how our mind can affect our mood, and how by understanding this in more depth we can start to introduce strategies to support us to feel more confident managing our emotional health and well-being.
My understanding of the teenage brain aims to show parents and teens that it's not 'just hormones' there are a whole host of things going on for our teens which my online program 'Tools for Teens' aims to support you to understand, using this understanding to support our teenagers mental health and well-being, reducing anxiety, stress and anger and uplifting mood and increasing motivation.