Tools That Increase Employee & Social Referrals
Description
The Searchologist School | Bite Sized Social Media Recruitment Training by Katrina Collier
Join one lesson or join the lot | Join in person or live online
---


Tools That Increase Employee & Social Referrals
You wouldn't refer someone into your firm who you wouldn't want to work with nor would you suggest a friend join your company if employee engagement was low! Just 2 reasons that employee referrals are the highest quality of hire. Katrina Collier will show you how to:
- Get proactive: free tools to use to easily see connections within your networks.
- Give your employee advocates a voice to increase social referrals.
- Using video tools like Snapchat, Instagram & YouTube to share your culture.
- Harness the power of the boomerang referral, your alumni.
- Ensuring Glassdoor, Indeed & other reputation sites help not hinder.

---


June's Guest speaker: TBA
---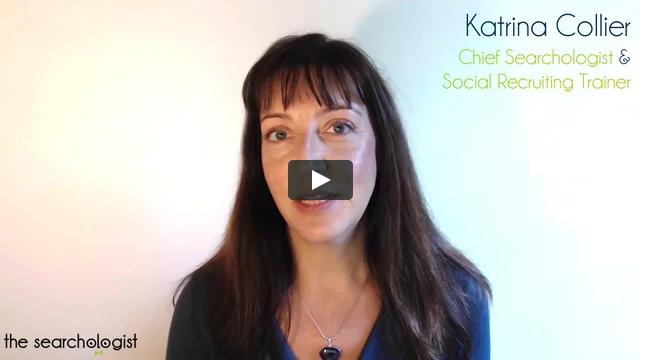 ---
What do you get?
8.30 am: Coffee, tea & croissants
9.00 am: In-depth Social Recruiting Session - a power hour of social media recruitment nuggets.
10.15am: Playtime to practise what you've just discovered so bring your laptop!
11.15am: Dynamite guest speaker presentation and time for your questions.
11.45am: Action plan, commit to what you'll do before your next class
12.00pm: Head off and implement your new wisdom



Can't make it to London?
Don't worry, I've got you covered! Join in the training session and the presentation live (or recorded if you'd prefer) by webinar.
---


Join The Searchologist School and...
Improve your quality of hire

Decrease your current time to hire

Increase your employee referrals

Improve cultural fit and retention

Increase diversity

Reduce time wasted in the hiring process, and

Save bucket loads of cash on upfront and failed recruitment (which the CIPD estimates at £8,000 per employee!)
Learning in bite-sized chunks ensures:
Retention
Ease of implementation
More time to play with your new techniques
More interaction
Accountability (join more than one lesson and you'll be part of an amazing support network)
The highest return on your investment!
---
Come along in person or join by webinar!
If you're in London, come along!
If London is too far, you can join live via webinar. Perfect!
---
Book 12 sessions for 9
If you'd like to maximise your return on investment, click here and book 12 classes for the price of 9.
---
Huge thanks to our sponsor: