WARNING: THIS IS NOT A BOOKING PAGE. IT'S FOR INFORMATION ONLY. USE LINKS BELOW TO BOOK, SUPPORT CROWD-FUNDING AND ACCESS RESOURCES.
About this event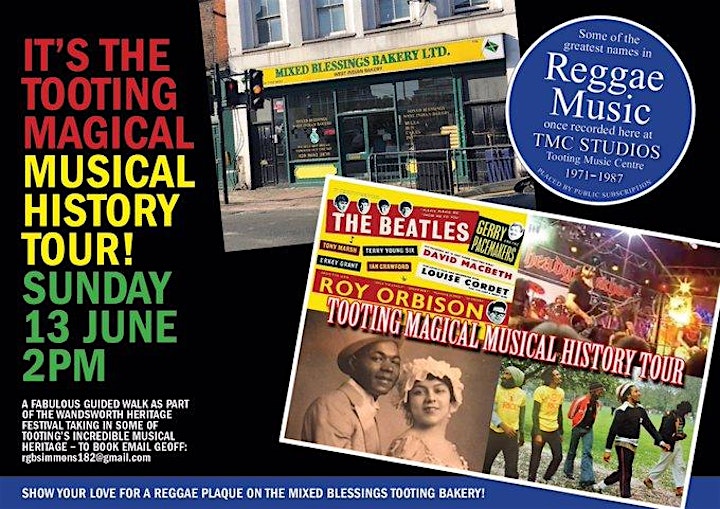 This is one of Summerstown182's splendid walks across Tooting and its south London environs. BBM/BMC (BritishBlackMusic.com/Black Music Congress) is supporting this walk because it offers a fun afternoon outdoors, walking and discovering local history, including black music history.
Find out more about Sadie Crawford, an early female jazz artist, where Mad Professor creates his dubsonic tracks, where rapper M.I.A lived, the early 20th century African-American rag-time musicians Pete Hampton and Laura Bowman, and a Bob Marley connection!
Summerstown182 also erects plaques - among the locals featured is Ms Crawford. The project is currently crowd-funding in order to erect a plaque to the memory of the Reggae Music recorded at the old Mitcham Road site of TMC Studio, now occupied by Mixed Blessings Bakery, which is a Caribbean business.
Click here for details of TMC Studio/Reggae Music crowd-funding campaign.
Click here for details of the walks, plus related resources. The TMC Studio plaque may possibly be unveiled in August and a Marc Bolan plaque in September.
Click here for a copy of one of the online resources to plan your own virtual south London walk!
Click here for details of the IRD UK (International Reggae Day, London) UK and BBMM (British Black Music Month) events.
You can discover project lead Geoff Simmons' passion for his local history, by watching the fascinating video below.
Organiser of Tooting Magical Musical History Tour!
Please note that our events are photographed and/or videotaped, hence your attendance implies you've given consent to be photographed and/or videotaped.
BritishBlackMusic.com/Black Music Congress online and offline - www.BBM.eventbrite.com www.BritishblackMusic.com