Location
NCVO
REGENTS WHARF,8 All Saints Street
London
N1 9RL
United Kingdom
Refund policy
Refunds up to 30 days before event
Description
Practical tools to design facilitation approaches with your client – 2 days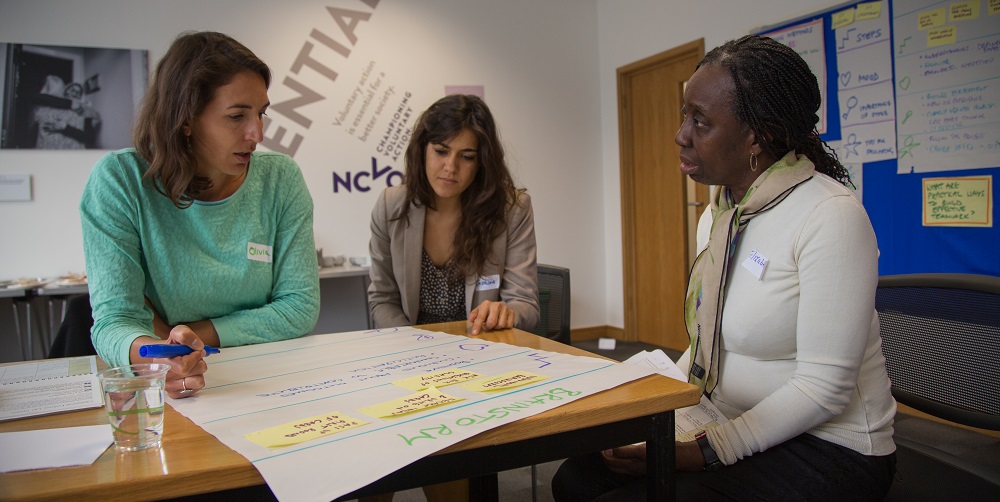 "The Client Conversation and the Triangles were outstanding. I got confidence in how to deal with my clients. I had not expected that this course would boost me up to be more open to the customers and speak with them more freely, but it did. The methods and processes will not only be helpful in my regular work, but also in solving my family, community and society problems." - Neha Shrestha
This course, in English, is scheduled in partnership with Social Platform, the largest platform of European rights and value-based NGOs working in the social sector; and with ICA Associates Inc. of Canada. If you are interested in the course but do not find dates to suit you, please contact me for alternatives.
ICA Associates Inc. has developed this course as part of its ToP Facilitation Essentials Program. I shall be joined for this course (new in 2018) by Bill Staples as guest trainer. Bill is one of the founders of ICA's Technology of Participation, a principal partner of ICA Associates Inc. and the main designer of Facilitating Client Collaboration. Bill is happy to bring this course to Europe for the second year, and will make the course come alive will illustrations from many fields.

Bill has worked around the world with many organization and is well known in the field of facilitation. He is the author of "Transformational Strategy: Facilitating ToP Participatory Planning, and is the publishing editor of the IAF Journal Group Facilitation. Bill is also a founding member of IAF, and was among the first facilitators to be inducted into the IAF Hall of Fame.
Who this course is for
This course is for facilitators and consultants who want to work with a client to develop complex or long term interventions; for managers, supervisors and staff who must enhance a group's potential to create generate solutions to long term situations; and for leaders who need to design participatory processes with groups. The course has no pre-requisite, but prior experience of facilitation is recommended.

Preparing for CPF certification? Meetings That Work, Group Facilitation Methods and Facilitating Client Collaboration together comprise the new ICA Associates ToP Facilitation Essentials Program that has been endorsed by the International Association of Facilitators for those preparing to become an IAF Certified Professional Facilitator (CPF).
Questions this course answers
"How can I work collaboratively with my client to assess the situtation and needs of a group or organisation, design a process response including multiple sessions all the way through to evaluation, and contract together for our respective roles and responsibilities?"
This 2 day course shows how to collaborate with a client about all their needs, co-discover their big challenges, co-manage a robust facilitation intervention, contract with the client and evaluate the results. Packed with tools, templates and sophisticated assessment methods, Facilitating Client Collaboration will prepare you to launch your facilitation practice.
Create collaborative client relationships:

Develop working partnerships

Manage multi-session events effectively
Evoke group creativity:

Assess the organizational environment and client needs.

Determine client challenges and solutions.

Use innovation approaches that fit the abilities of the group.
Best practices for working together:

Develop consensus on tasks, deliverables and roles

Model professional boundaries

Templates from contracting to evaluation
Facilitating Client Collaboration uses real case studies from master practitioners to prepare you for your facilitation profession.
What you will gain

Learn important methods for all forms of planning:
Client calls and conversations

Participatory client assessment – helping clients understand long range needs from a comprehensive screen.

Social Process tool – uncover client challenges and imbalances in their work

Templates – co-management, contracting, evaluation.
Each session includes:

Demonstration of participatory processes.

Exploration of how the process can be applied.

Examples from real experience that reveal practices that lead to success.

Variations for different situations.
What your fee includes
Your fee includes a comprehensive facilitator's manual and one hour's free telephone coaching after the course. Also included are refreshments and lunches during the course, but not accommodation.

For further details
Please contact me with any questions or for further details. For in-house and tailored training, see ToP facilitation training at your place – and free places for you! and please contact me.
---
Transfers and Cancellations policy
Course cancellation – with 10 days' notice. Please note, we reserve the right to cancel any course with no less than 10 working days' notice, without liability for any consequential or indirect loss. In this case, we will let you know by email and refund your booking with no charge.
Booking cancellation – with over 30 days' notice. If you let us know by email more than 30 working days before your course, then we can refund your booking less an administration charge of 10% of the course fee.
Booking cancellation – with 30 days' notice or less. Unless you let us know by email more than 30 working days before your course, we regret that we cannot cancel your booking. In this case the full fee for the course will remain payable and no refund will be made. Also if for any reason you fail to attend a course that you have booked, the full fee for the course will remain payable and no refund will be made. We are, however, happy to transfer your booking to an alternative participant to attend the course that you have booked in your place. Please let us know as early as you can if you will be unable to attend, and if another delegate will attend instead.
Full payment must be received more than 30 working days before a course to guarantee your place.