Refund policy
Refunds up to 30 days before event
Description
Introducing the foundations of the ToP approach, two powerful techniques for structuring effective conversations and building group consensus – (6 x2 hour sessions, online)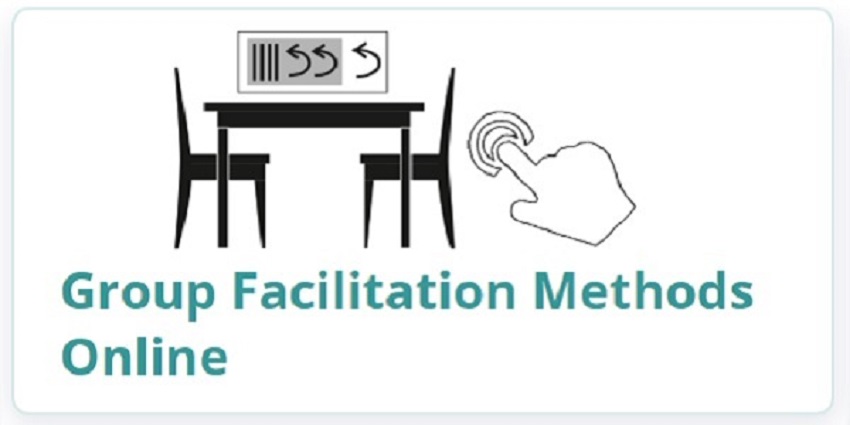 "I very much enjoyed the course, and have already found the learnings to be quite useful. One simple, but powerful, change that I've noticed is that I now have much greater awareness of "structure" in conversations; I see evidence of what I learned, either its presence, or its need and the lack thereof, around me all the time!"

Gary, Toronto

ICA Associates Inc. of Canada has developed this Group Facilitation Methods Online course as part of its Live Interactive Online Training (LIO) programme. I shall be joined for this course in 2020 by Jo Nelson as guest trainer.
Jo is principal owner and Secretary of ICA Associates Inc. and the main designer of Group Facilitation Methods Online. She is the lead for all ICA Associates training curriculum, a trainer and consultant, author of several books and co-author of Getting to the Bottom of ToP – exploring the foundations of ICA's Technology of Participation. Jo is a founding member of the International Association of Facilitators and was inducted in 2014 into the IAF Hall of Fame.
Who this course is for
The course is for all those who want to be able to engage people more effectively to build shared understanding and consensus, including team leaders and managers within organisations, those working with Boards, management teams, partnerships and external stakeholders, youth and community workers and independent facilitators. This course has no pre-requisite, but is the pre-requisite for Participatory Strategic Planning. It is recommended both to newcomers to facilitation, and to experienced facilitators who are new to our approach.
Please note that this course does not teach online facilitation. We are using online technology to teach the same Group Facilitation Methods that are taught in the face-to-face course, so that you can use them either online or face to face.
Preparing for CPF certification? Meetings That Work, Group Facilitation Methods and Facilitating Client Collaboration together comprise the new ICA Associates ToP Facilitation Essentials Program that has been endorsed by the International Association of Facilitators for those preparing to become an IAF Certified Professional Facilitator (CPF).
IAF members enjoy a special 10% discount - see Exclusive Offers for IAF Members.
Questions this course answers
"How can I have more purposeful & productive conversations, bring out the wisdom of a group, encourage feedback between people, and reach shared awareness in meetings? How can I generate and weave together a diverse range of ideas, develop creative solutions and build a group consensus?"
This course provides a structured introduction to the ToP Focused Conversation and Consensus Workshop methods, which form the foundations of the ToP Action Planning method, Participatory Strategic Planning and other applications.
What you will gain
By the end of the course, you will
be able to identify when and how to use the Focused Conversation and Consensus Workshop methods

have gained confidence in the use of these methods

have recognised and explored elements of participation, creativity, teamwork and action

have built links with others to promote future collaboration and support in the use of the methods
The Focused Conversation method provides a structured, four-level process for effective communication which ensures that everyone in a group has the opportunity to participate.
The Consensus Workshop method is a five stage process thatenables a facilitator to draw out and weave together everybody's wisdom into a clear and practical consensus.
These methods have been featured in publications including:
See also my own blog posts Four steps to a universal principle of facilitation and learning and Responding to changing situations and needs with ToP Consensus Workshop, and Online ToP Group Facilitation Methods training – I am convinced!
Learning style
This interactive course is delivered on the online meeting platforms Zoom and Linoit. It is taught by an experienced team of two, who will acquaint you with the necessary technology. A workbook is included with the course.
The course comprises six 2-hour sessions, scheduled on Monday, Tuesday and Thursday of two consecutive weeks to provide ample offline preparation and practice time. All sessions will be scheduled 3-5pm UK time. The offline time includes 2½ hours of participant preparation, reading and application exercises.
You will also prepare and lead a facilitated an event using each method. You will arrange and facilitate a Focused Conversation during the first week and a Consensus Workshop during the second week. You will need at least 3 more people for these live practice sessions - they need not be attending the course. You may lead these sessions in your workplace, with a volunteer group or with friends or family, and you may lead them online or offline.
The whole course involves
12 hours class time

1 hour methods practice

2 hours reading

2 hours of homework and preparation
Course session times
Session 1 - Monday 22 June 2020, 3-5pm UK time

Session 2 - Tuesday 23 June 2020, 3-5pm

UK time

Session 3 - Thursday 25 June 2020, 3-5pm

UK time

Session 4 - Monday 29 June 2020, 3-5pm

UK time

Session 5 -

Tues

day 30 June 2020, 3-5pm

UK time

Session 6 -

Thurs

day 2 July 2020, 3-5pm

UK time
Your commitment
We will expect you to make a commitment to full time participation in all the online sessions, and to all the offline reading, homework and practice . We will expect you to practice the Focused Conversation Method and the Consensus Workshop Method in real settings, securing the commitment of at least 3 people willing to be participants in each of these two, one hour face-to-face practice sessions. These will happen between the second and third session of each week.
For further details see the ICA Associates Group Facilitation Methods Online and Group Facilitation Methods Online Brochure.
For further details
Please contact me with any questions or for further details. For in-house and tailored training, see ToP facilitation training at your place – and free places for you! and please contact me.
---
Transfers and Cancellations policy
Course cancellation – with 10 days' notice. Please note, we reserve the right to cancel any course with no less than 10 working days' notice, without liability for any consequential or indirect loss. In this case, we will let you know by email and refund your booking with no charge.
Booking cancellation – with over 15 days' notice. If you let us know by email more than 15 working days before your course, then we can refund your booking less an administration charge of 10% of the course fee.
Booking cancellation – with 15 days' notice or less. Unless you let us know by email more than 15 working days before your course, we regret that we cannot cancel your booking. In this case the full fee for the course will remain payable and no refund will be made. Also if for any reason you fail to attend a course that you have booked, the full fee for the course will remain payable and no refund will be made. We are, however, happy to transfer your booking to an alternative participant to attend the course that you have booked in your place. Please let us know as early as you can if you will be unable to attend, and if another delegate will attend instead.
Full payment must be received more than 10 working days before a course to guarantee your place.