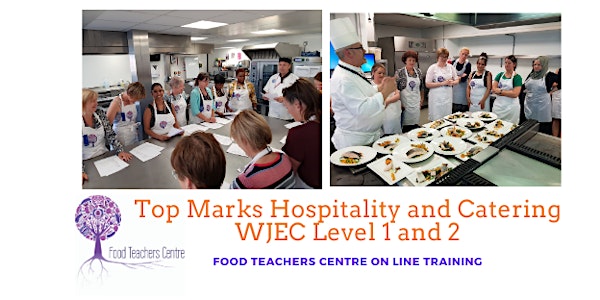 Top Marks Hospitality and Catering L1-2 (On Line training room)
This on line course focuses on how to teach the WJEC 1-2 Hospitality and Catering course
About this event
Top Marks Hospitality and Catering Level 1-2 (On-Line)
This training room allows you to work alongside experienced teacher practitioners who guide you through how they have successfully planned and taught the WJEC L1-2 H&C course, how they have addressed issues and gained excellent performance from their students.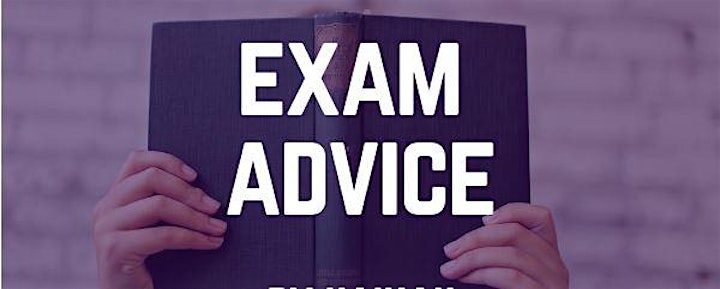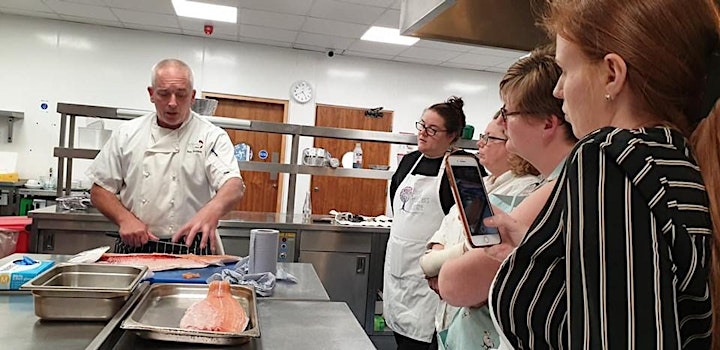 Top Marks - Hospitality and Catering: Overview
• A proven approach from experienced teachers to help your students succeed
• Practical strategies and easy to use learning activities to create a high challenge classroom
• High impact ideas, resources that engage and focus learning, hands on approaches that challenge and extend
• Plain and simple planning, with a busy teacher's toolkit to help progress and maximize marks in the time available
Back to Basics – Practical ideas to help with teaching and assessment
What Year 9 looks like to prepare for the exam course
How to approach options evenings, options choices and selling the course
Getting started in Y10 – inspiration to motivate students at the start of the course and setting boundaries and expectations, getting parents and the rest of the school on board
Developing knowledge and practical skills side by side throughout Y10 – ideas for lessons that work
Setting homework, assessments and mocks.
Approaching Year 11 scheme of work – what it looks like
Getting help with scheduling and organizing NEA– issues and solutions
Supporting all abilities and addressing SEND with key strategies and resources
Revision for the examination and strategies for approaching the paper.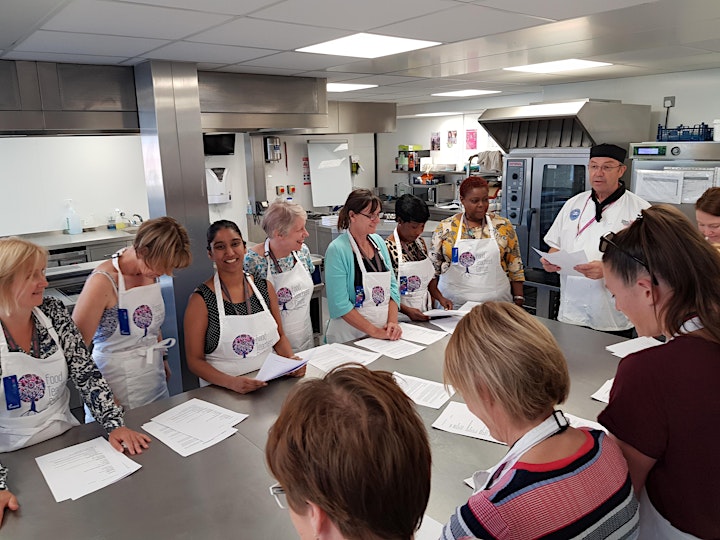 Full Contents List of Units
This course includes on-line learning GUIDES that you access via your mobile device or laptop. Features include recorded presentations, handouts, teaching resources, example schemes, and example assessed student work.
Your learning journey can be developed with all of these units or pick and mix to suit.
1. Welcome to the training room.
2. Introducing vocational courses in your school.
3. Getting going! Introducing the course.
4. Overview of L1-2 hospitality and catering course.
5. How the course is taught in year 10 part 1.
6. How the course is taught in year 10 part 2.
7. How the course is taught in year 10 part 3.
8. Year 11 How the NEA is planned and conducted.
9. How to ACE your coursework (live presentation with Adrienne Gristwood).
10. How to prepare your students for the written exam.
11. Preparing your students for unit one exam (with Anita Tull).
12. Teaching in different circumstances. 2020-21.
13. H&C Teach Online with Google classrooms (with Danica Red).
14. LO1 and LO2 course workbooks by Carolyn Walker.
15. LO3 and LO4 l course workbooks by Carolyn Walker.
16. Unit 2 Resources by Carolyn Walker.
17. Creating a real working environment for your course part 1.
18. Creating a real working environment for your course part 2.
19. Authentic learning, making H&C real with Fran Shopland.
20. Headstart! Introducing the H&C course during year 9.
21. Planning to support low attainers, and students with SEND.
22. How Sarah Badzire tackles SEND Learning issues in food lessons.
23. Access arrangements and reasonable adjustments for SEND.
24. Working with Challenging behaviour, (with Alice Swainston).
25. Day in the life of PRU pupil referral unit (with Ian Walker).
26. Teaching unit LO1: The importance of Nutrition, with BNF.
27. Improving your teaching of AC3.4 presentation techniques.
28. An example of teaching Unit Two AC 1.4 cooking methods.
29. Coming soon. Fine tuning your teaching, using examiner feedback.
30. Environmental issues in hospitality.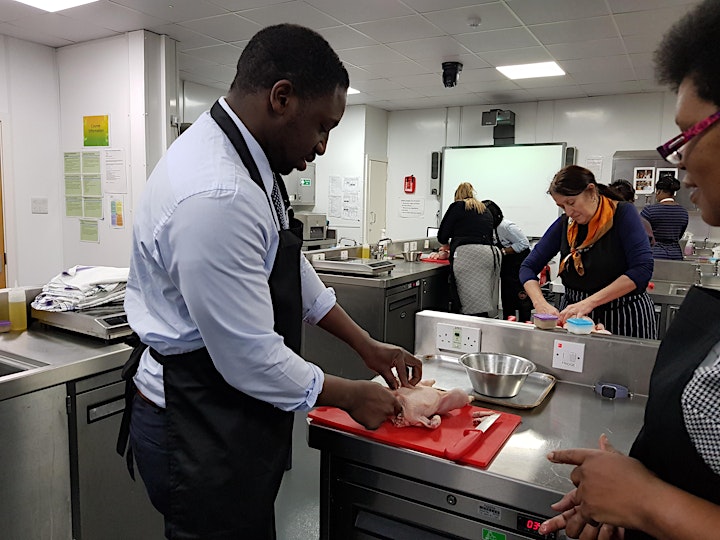 What do you need to gain access to the training room?
To access the training room you will need a Facebook account and access to the internet. The training can be accessed on a mobile device, tablet or computer.
Full access for one year for live presentations and Q&A
On joining this course, you get a full year of access, live presentations and updates to the training room on a regular basis, including presentations from industry professionals to assist you in keeping your sector knowledge up to date.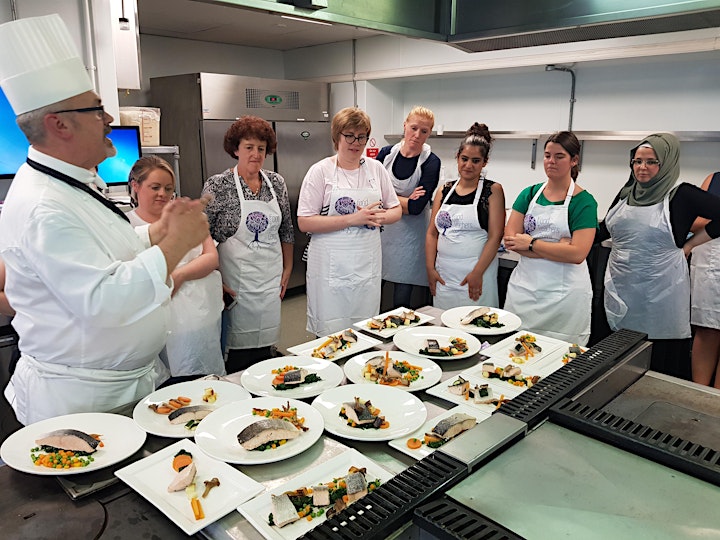 Your course tutors and presenters
Louise T Davies (Founder Food Teachers Centre) has been in food education for over 30 years. She is currently working for the United Nations School Food and Nutrition Education programme, and also offers advice to Department for Education (as Adviser on 2016 GCSE Food Preparation and Nutrition) and other key food education organisations. Her career spans teaching and senior leadership in schools, but also curriculum development and teacher training at the Royal College of Art, Brunel University, Bath Spa University, South Bank University and the Open University. She has also been an Ofsted ITE Additional Inspector.With six years at Qualifications and Curriculum Authority (QCA) advising government on D&T national curriculum and examinations and eight years as Deputy Chief Executive at the D&T Association, Louise led innovation across a diverse range of high profile curriculum and professional development programmes. She is nationally recognised for ground breaking work in food education (Food in Schools programmes, Licence to Cook, Active Kids Get Cooking and the School Food Champions programme. She's a prolific author with over 50 D&T textbooks and award winning multi-media resources.As founder of the Food Teachers Centre, she has won awards for her work with the community (2018 Outstanding Contribution to D&T Excellence Award, Global Excellence 2017 Best Nutritional Health School Engagement programme and 2017 Best Public Health Sugar Reduction Awareness Campaign) and is recognized by Facebook as a Power Admin for one of the "most active, engaging and influential groups on the Facebook platform".
Adele Louise James
Adele qualified in 1999 as a primary school teacher after completing a 4-year combined teaching degree from St. Martin's College, Lancaster BA Hons Art & Design with early years specialism age range 3-8 QTS, with design technology as my 2nd subject.
From the age of 16 I worked part time at McDonalds working my way up from crew member, parry hostess, training squad to a shift manager,and achieved an NVQ2 in commercial retail & customer service on top of all of my McDonalds qualifications.
I have been teaching food since Jan 2006 as I arrived on long term supply and have never left. During this time I have become a self-taught food teacher & have developed schemes of learning for all key stages, I have good links with my local feeder primary schools from years 2-6 regularly attend cooking sessions which are based on an area of their curriculum or to develop basic skills, I developed a variety of resources including demonstration videos which are hosted at Mrs James Kitchen on You Tube.I also run a variety of internal competitions and get involved in a variety of external competitions with my students, In the past I have been invited to speak to teachers who were converting to food teachers as part of Teach Food Technology and I have hosted numerous Food Teachers Centre events.
Carol Deane
Carol is a qualified food teacher with 10 years' experience in a large comprehensive school in Cheshire. She has led a successful food department for the last 4 years and prior to this she was second in department and also worked in industry.
Currently, she teaches KS3 Food, KS4 WJEC Level 1/2 Hospitality and Catering, Eduqas Food Preparation and Nutrition and KS5 Level 3 Extended/Subsidiary Diploma Hospitality and Catering.