Location
NCVO
Regent's Wharf
8 All Saints Street
London
N1 9RL
United Kingdom
Description
Practical tools to design and lead effective meetings – 2 days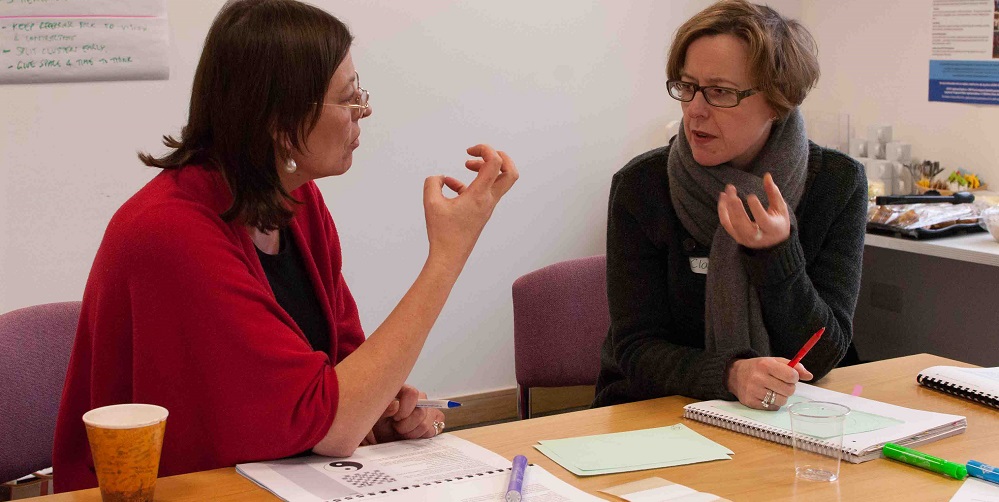 "The 'Meetings That Work' training ticked all the boxes. It was very interesting to hear the theory and useful to have to put it in practice during the many exercises. The proof of that is that I use the templates and ideas from this course on a weekly basis. It improves planning and preparing for one of our 20 meetings (annually). Feedback on the improved meeting format is excellent."
Peter Van Roste, General Manager CENTR

This course, in English, is scheduled in partnership with ICA:UK, the participation & development charity. It is scheduled back-to-back with ToP Group Facilitation Methods (September 13-14) to allow 2 or 4 days of training at once. If you are interested in the course but do not find dates to suit you, please contact me for alternatives.
Who this course is for
This course is for anyone who leads or attends lots of meetings, and all those who want to lead meetings with a clear purpose and great outcomes - including team leaders and managers within organisations, those working with Boards, management teams, partnerships and external stakeholders, youth and community workers and independent facilitators. The course has no pre-requisite, and is recommended to newcomers to facilitation.
Preparing for CPF certification? Meetings That Work, Group Facilitation Methods and Facilitating Client Collaboration together comprise the new ICA Associates ToP Facilitation Essentials Program that has been endorsed by the International Association of Facilitators for those preparing to become an IAF Certified Professional Facilitator (CPF).
Questions this course answers
"How can I turn meetings into "events" that people want to attend? How can I increase participation, and get the best input and results from everyone? How can I increase commitment to action, and handle difficult or controversial items?"
This course will provide you with tips, templates and practical tools from professional facilitators that will enable you to get more from meetings than you ever thought possible.
Design and run great meetings:
Create engaging agendas

Construct meaningful processes

Increase group participation and productivity

Make group decision making more effective
Create a Participatory Environment:
Use diversity to make everything interesting

Deal with difficult situations

Get the very best results

Develop teamwork and follow-through
Gain Confidence as a Facilitative Leader:
Learn best practice tools and techniques

Enhance meaningful participation

Communicate more effectively in groups
What you will gain
How to plan, prepare for and facilitate productive meetings with best professional tools and approaches available:
Dialogue approach

Ladder of participation

Effective flipcharting

Product oriented agenda design
How to play the role of meeting facilitator more effectively, and get results that generate confidence and motivation in the whole team:
Process and its elements

Tips for effective communication

Event design and orchestration

STEPS model
Throughout the course there are valuable tools, contexts and guidelines that will deepen your capacities as a leader, facilitator and coach:
72 facilitation tools

Seven intelligences

Working with difficult behaviours.
What your fee includes
Your fee includes a comprehensive facilitator's manual and one hour's free telephone coaching after the course. Also included are refreshments and lunches during the course, but not accommodation.

For further details
Please contact me with any questions or for further details. For in-house and tailored training, see ToP facilitation training at your place – and free places for you! please contact me.
---
Transfers and Cancellations policy
Course cancellation – with 10 days' notice. Please note, we reserve the right to cancel any course with no less than 10 working days' notice, without liability for any consequential or indirect loss. In this case, we will let you know by email and refund your booking with no charge.
Booking cancellation – with over 30 days' notice. If you let us know by email more than 30 working days before your course, then we can refund your booking less an administration charge of 10% of the course fee.
Booking cancellation – with 30 days' notice or less. Unless you let us know by email more than 30 working days before your course, we regret that we cannot cancel your booking. In this case the full fee for the course will remain payable and no refund will be made. Also if for any reason you fail to attend a course that you have booked, the full fee for the course will remain payable and no refund will be made. We are, however, happy to transfer your booking to an alternative participant to attend the course that you have booked in your place. Please let us know as early as you can if you will be unable to attend, and if another delegate will attend instead.
Full payment must be received more than 30 working days before a course to guarantee your place.