Location
Social Platform
Square de Meeûs 18
B-1050 Brussels
Belgium
Description
Bringing people together to create strategies for action - 2 days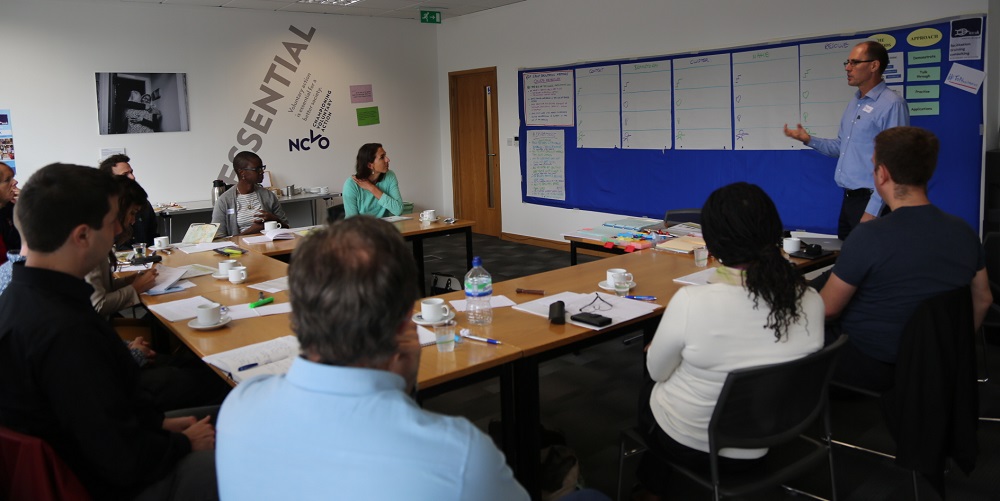 "As a trainer Martin created good atmosphere in an international group. His presentations were crispy clear, illustrated by carefully chosen, practical examples from his rich facilitator experience... Martin helped me to make in my head a big picture of Participatory Strategic Planning session facilitator work and to understand countless details of preparation and running a successful PSP session for various customers."
Marzena Dębska-Matuszak, Experienced Trainer, Facilitator and Coach
This course, in English, is scheduled in partnership with Social Platform, the largest platform of European rights and value-based NGOs working in the social sector; and provided under license with ICA:UK, the participation & development charity. It is scheduled back-to-back with ToP Group Facilitation Methods (November 7-8) to allow 2 or 4 days of training at once. If you are interested in the course but do not find dates to suit you, please contact me for alternatives.
Who this course is for
This course is for all those who want to be able to involve people more effectively in planning and implementing medium to long-term strategies together, including team leaders and managers within organisations, those working with Boards, management teams, partnerships and external stakeholders, youth and community workers and independent facilitators. Group Facilitation Methods is a pre-requisite for this course, and Action Planning is recommended.
Questions this course answers
"How can I enable my group to come to a common vision for their future? How can I help them make their vision happen by creatively addressing the root causes of the challenges that are blocking them, rather than focus simply on fire-fighting and problem-solving? How can I ensure a real sense of ownership, so that for once their plan actually happens?"
The course presents a structured long-range planning process which incorporates the ToP Consensus Workshop method for building consensus, the ToP Focused Conversation method for effective group communication, and an implementation process for turning ideas into productive action and concrete accomplishments. Those with more experience of facilitation, strategic planning or ToP facilitation may need no further support to apply the process effectively in their own situations, and for others the course serves as a powerful, experiential introduction to the process.
What you will gain
By the end of the course, you will
have enhanced your capacity for creative strategy building by exploring and understanding the four stages and the flow of the Participatory Strategic Planning process, and the four associated types of thinking – visionary, contradictional, strategic and practical

be able to identify when and how to use the Participatory Strategic Planning process

have consolidated your understanding of the Consensus Workshop and Focused Conversation methods, and gained confidence to use and adapt them

have further developed your links with others to promote future collaboration and support in the use of the methods.
ToP Participatory Strategic Planning is a 4-stage process, each stage involving a specially tailored ToP Consensus Workshop process. The four stages are:
Practical Vision – what the group would like to see in place in 3-5 years' time, often preceded by a visualisation exercise.
Underlying Contradictions – the obstacles or issues that are preventing that vision from happening, and which must be dealt with in order to move forward
Strategic Directions – innovative courses of action that the group can take to deal with the underlying contradictions and move it toward realising its vision.
Implementation Plan – a set of practical actions that will start the group's journey from where it is to where it wants to be. A clear outline of what is to be done, why, how, when and by whom.
This method has been featured in publications including:
See also my own case study of the method in action with an international humanitarian agency in Geneva, "Transformational Strategy: from trepidation to 'unlocked'".
Learning style
The course presents the process in a practical and participatory way, enabling the group to experience the complete strategic planning process during the course. Each of the four workshops is first demonstrated, using a scenario with which participants can identify without having to role-play.
What do participants say about this course?
80% of PSP participants rated this course 8/10 or higher. Comments from participants' end-of-course evaluations included:
an in-depth look at advanced use of ToP group facilitation methods for strategic planning

provides a great tool to enliven your team and involve them in making commitments to deliver benefits for your organisation – I really enjoyed the course

an insightful and inspiring course that opens new doors in facilitating groups

this is the best two days you could spend on learning to plan strategically for maximum impact
What your fee includes
Your fee includes a comprehensive facilitator's manual and one hour's free telephone coaching after the course. Also included are refreshments, but not lunches during the course and not accommodation. A variety of places to buy a light lunch are available near the venue.

For further details
Please contact me with any questions or for further details – including how to commission a tailored course for your group and availability of scheduled public courses, in the UK and worldwide. See also ToP facilitation training at your place – and free places for you!
---
Transfers and Cancellations policy
Course cancellation – with 10 days' notice. Please note, we reserve the right to cancel any course with no less than 10 working days' notice, without liability for any consequential or indirect loss. In this case, we will let you know by email and refund your booking with no charge.
Booking cancellation – with over 15 days' notice. If you let us know by email more than 15 working days before your course, then we can refund your booking less an administration charge of 10% of the course fee.
Booking cancellation – with 15 days' notice or less. Unless you let us know by email more than 15 working days before your course, we regret that we cannot cancel your booking. In this case the full fee for the course will remain payable and no refund will be made. Also if for any reason you fail to attend a course that you have booked, the full fee for the course will remain payable and no refund will be made. We are, however, happy to transfer your booking to an alternative participant to attend the course that you have booked in your place. Please let us know as early as you can if you will be unable to attend, and if another delegate will attend instead.
Full payment must be received more than 10 working days before a course to guarantee your place.