Description
TORADH Fèill Bìdh agus Sgrìobhaidh ann an Uibhist / HARVEST Festival of Food and Writing from the Uists.
Celebrating the food we make, we sell, we eat, Toradh / Harvest will be a festival of food and writing, to take place throughout the Uists on 24 - 27 August, 2017. Toradh / Harvest will be a rolling feast - from N.Uist & Berneray on the theme of Grain, to Benbecula & Iochdar featuring Meat, to S. Uist & Eriskay focussing on Fish. From Farmers' Markets to Book Fair to Fishermen's Mass, from cheesemaking to Grimsay baking, from Salar Salmon to the 30th Anniversary of MacLean's Bakery, from croft walks to foraging in Gaelic, from panel discussions related to local food production to a bilingual Bookbug session for 0-5 years and authors discussing their work, there will be something for everyone!
SATURDAY 26th AUGUST 2017 - ISLE OF BENBECULA - Programme of events:
Please visit www.toradh.org for further information and for a map of Benbecula which corresponds to venue numbers below.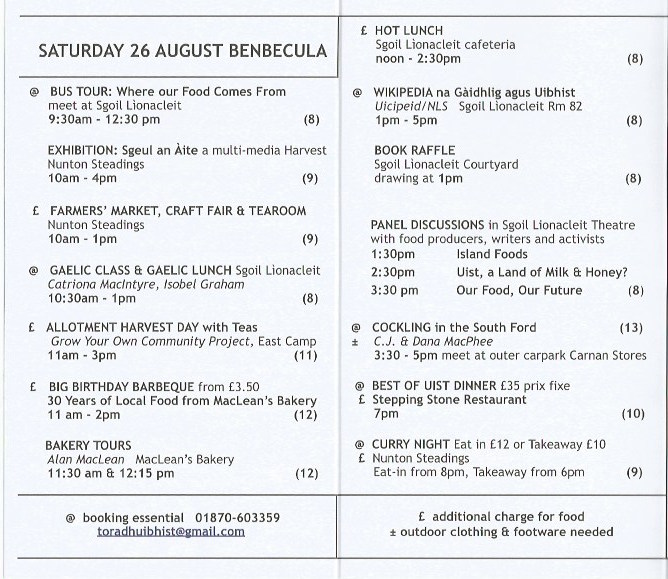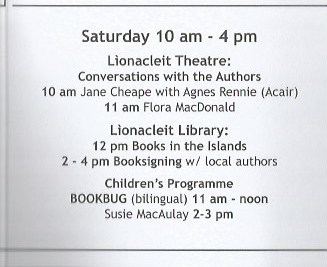 ***TICKETS & BOOKING***
Admission by Day Ticket (individual) or Family Day Ticket (4 including adults & children). Please note there are also Uist Resident Tickets for sale.
Uist Resident Day Ticket £10
Uist Resident Family Day Ticket £20
Individual Day Ticket £20
Family Day Ticket £40
Tickets give admission to all events on that day. However, please note that even after purchasing a ticket, it is still essential that you book any events marked '@' = booking essential, as numbers are limited.
BOOKING:
Many events have limited places (marked @) and should be pre-booked.
Please book by emailing toradhuibhist@gmail.com or by telephone at 01870 603359
Your ticket number will be required in order to book.
Mòran taing! / Thank you!
RESPONSIBILITY:
Some events take place on crofts or on the shore. By attending, you agree to take personal responsibility for yourself and dependents.