Total Surveillance - Cybersalon

Tuesday, 29 October 2013 from 18:30 to 21:30 (GMT)
Event Details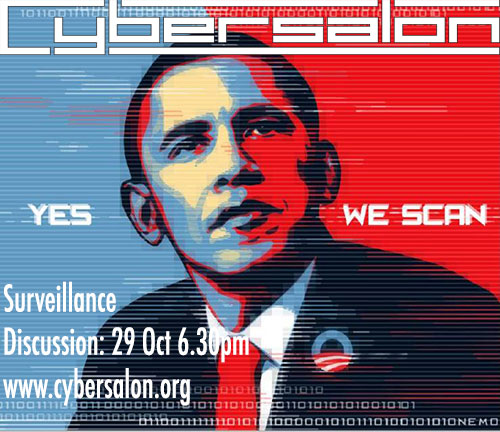 Thanks to Edward Snowden we now know the British state conducts unprecedented interception of data flowing in and out of the UK Internet. It does so without individual warrants. This massive surveillance is widely thought to be lawful and bigger than that of the US. In the US surveillance is conducted with some protections for US citizens. Yet while a debate about surveillance has started in the US, it has so far passed the UK by.
In fact UK citizens are double surveilled. As foreigners for the purpose of US surveillance our use of US cloud based services - like Gmail - make us fair game for warrantless US surveillance as well. 
In this Cybersalon we bring together: 
James Ball, data editor of the Guardian investigations team and part of the publication's core reporting teams on the Edward Snowden revelations, Guantanamo Files, Offshore Leaks and Reading the Riots. He joined the Guardian from Wikileaks and is a visiting lecturer in journalism at City University, London. He was the Washington Post Laurence Stern Fellow in 2012. 
Caspar Bowden

, Europe's foremost authority on security, the former head of Microsoft Security - who will set forth the technical and legal basis of surveillance, and why this is such an important moment.
Anthony Glees, a professor of Politics at the University of Buckingham and directs its Centre for Security and Intelligence Studies (BUCSIS) . He has written and lectured on aspects of the history of British intelligence, on the Stasi, on Islamism, on terrorism and counter-terrorism, on subversion in western democracies both today and in the past. He takes a particular interest in European Union and German affairs and contemporary history.
Simon McKay, a solicitor advocate at McKay Law solicitors and advocates. Simon specialises in covert policing, intelligence and witness protection; undertakes regulatory work, principally for national sports regulatory bodies; and handles media cases generally where there is a privacy or human rights issue. Simon was the legal expert on phone hacking used by the Guardian and represented the Sunday Telegraph in the MPs' expenses case. 
Becky Hogge - Author of the book "Barefoot in Cyberspace: 
Adventures in search of techno-Utopia'.
 Becky also 
sits on the Advisory Council
 of the Open Rights Group where she was their first full-time Executive Director and changed
 UK policy on electronic voting and communications surveillance. 
In this Salon we'll discuss issues like
"They do it because they can": What is the role of big data technologies and advances in UX and hardware in the increase in government ability to surveil, and what are the trends - what does the future hold? 

What's the fuss? Is it ok for Google to know more about us than the government? And - by the way - If you have nothing to hide, then what's to fear?

What are the implications for Net freedom around the world, and for the very character of the Internet? Is the Net a commons or as an American general recently claimed, a global free-fire zone?

If we accept that people are not about to stop using the Internet, what is the best way to counter surveillance? Is the solution to snooping: technological, politics or the market?
Moderator:
Wessel van Rensburg
, former investigator for the South African Truth and Reconciliation Commission, digital strategist at
RAAK
 and Director of
Cybersalon
.
Doors: 6.30pm
Talk: 7.05pm - 8.40pm
Drinks and Mingling: till 9.30pm
PLEASE NOTE OUR NEW VENUE! 
DigitasLBi, opposite the Truman Brewery, 146 Brick Lane, London E1 6RU, United Kingdom 
 (Big red shutter just opposite Dray Walk and Vibe Bar)
Look forward to seeing you there!
9.30pm onwards: Drinks and discussions continue at the Big Chill Bar, Dray Walk (opposite Digitas LBi, pedestrian street off Brick Lane).
A video recording of the event will be available afterwards on www.cybersalon.org
Forthcoming Events:
26th November:  Smart Cities - Resilience and Big Data
10th December - Cybersalon Xmas Lecture
Details to be confirmed!
PLEASE BOOK TICKETS FOR FORTHCOMING EVENTS HERE
When & Where

DigitasLBi, opposite the Truman Brewery
146 Brick Ln
E1 6QL
United Kingdom


Tuesday, 29 October 2013 from 18:30 to 21:30 (GMT)
Add to my calendar