TotRockinBeats: HUGE N.Y.E Family Rave (Daytime & Evening Shows) - Worthing
Description
TotRockinBeats Is Back To Blow The Roof Off The Mutha!!!
TWO massive N.Y.E family-friendly house parties in one day. - Celebrating Midnight At 1 & 6 pm.
We are making history with the biggest, baddest community rave Sussex has EVER SEEN!!!!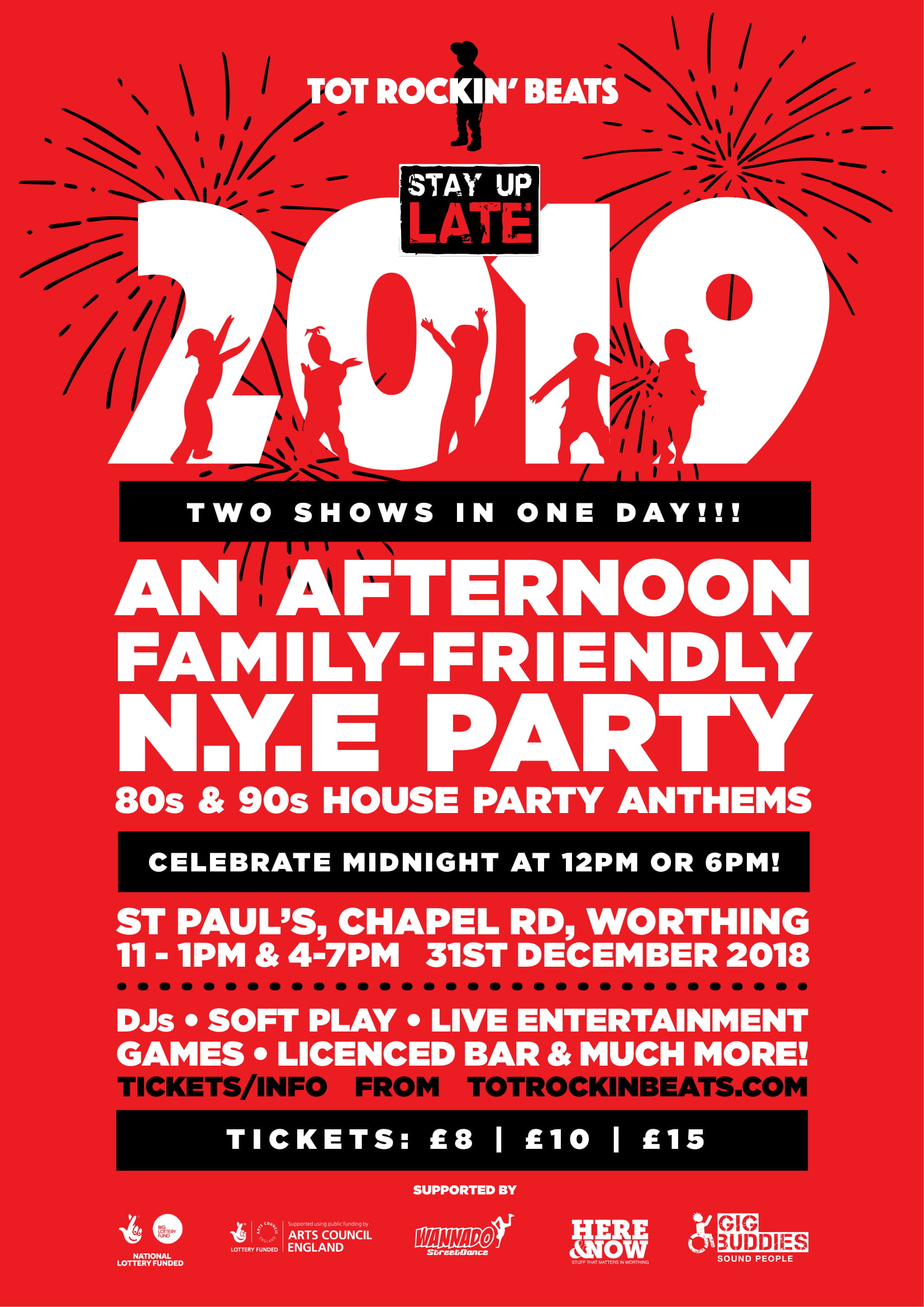 Just because you have kids, are over 65, or have a learning disability why shouldn't you see the New Year in, in style? Working with our pals, Stay Up Late / Gigs Buddies, we are producing an event like no other!
Be a part of something very special. Get your sparkly dancing shoes on and join the TotRockinBeats crew for:
A Marvellous Mash-up Of Soft-Play | Wannado Streetdancers | Lego | Bee-Fit | Fun & Games | Gelato | Hot Food | Interactive VR Visuals | Live Entertainment | Circus Skills | Singalongs | Toy Drive & Lots More!!
All Backed Up By SPECIAL GUEST DJs
STICK IT ON | GET IT TOGETHER* & DJ FORMAT* !!!!
A Fully Stocked Licenced Bar & No Need For A Babysitter Because You'll Be Back For Bedtime.
Lunchtime: 11-1pm (Celebrate Midnight At 12 PM)
Evening: 4-7pm (Celebrate Midnight At 6 PM)
ALL CHILDRENS ACTIVITIES ARE FREE!
PLEASE NOTE WE HAVE MOVED VENUES FROM LAST YEAR AND ARE NOW AT TO ST PAUL'S, SO TICKETS WILL BE EXTREMELY LIMITED
THE LAST TWO YEARS N.Y.E. SHOWS SOLD OUT WEEKS IN ADVANCE - PLEASE DON'T MISS OUT!!
**GET IT TOGETHER* and DJ FORMAT - EVENING SHOW ONLY