Description
TotRockinBeats: An Amazing, Three Hour, Outdoor, Family-Friendly, Old School Hip-Hop, Funk & Soul Block Party.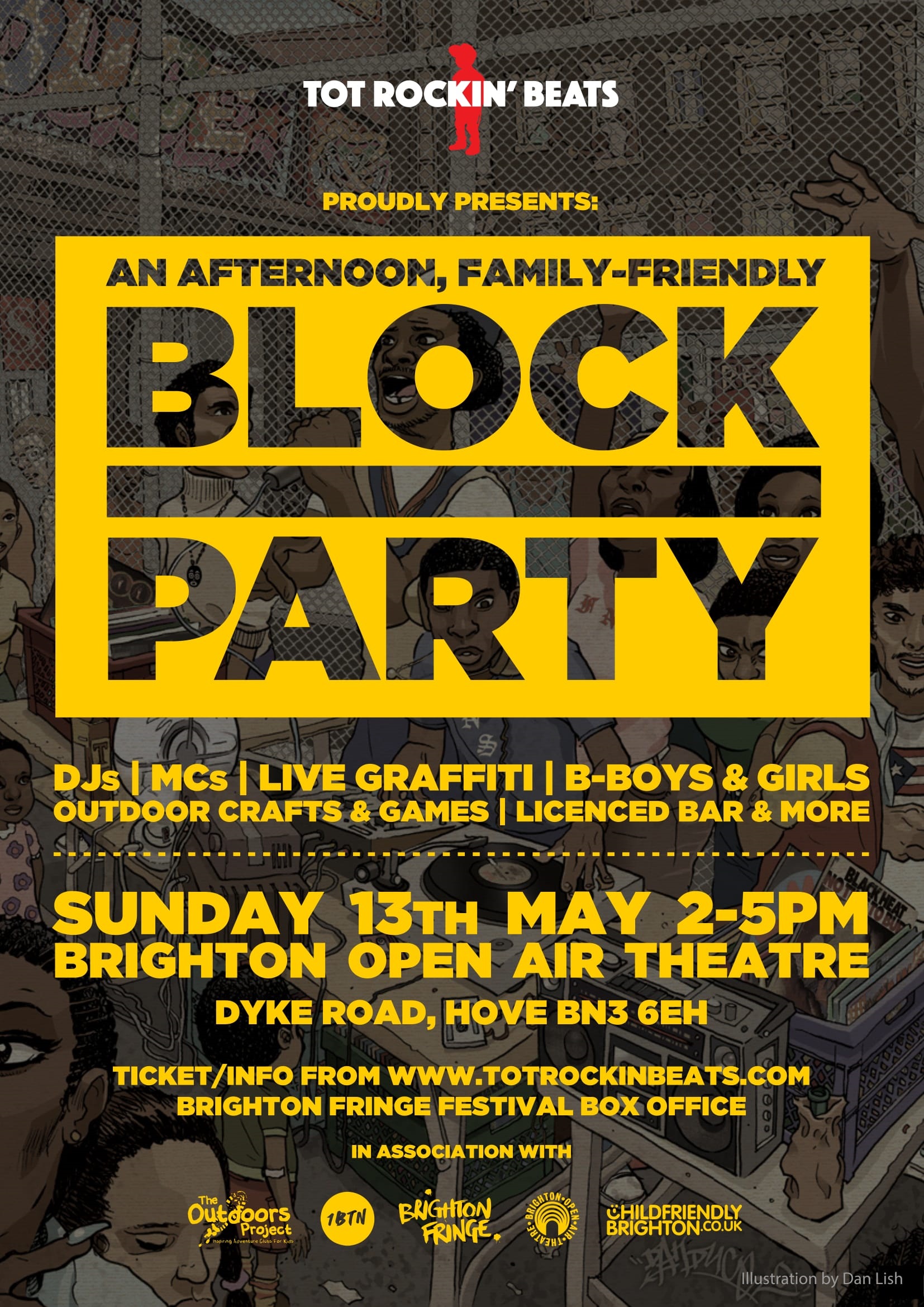 Featuring: Top DJs From 1BTN FM | MCs | Live Graffiti By Dan Lish | B-Boys & Girls | Outdoor Crafts | Kids Entertainment | Licenced Bar & More.
Imagine The Type Of Old-School, New York Block Party That Gave Birth To the Hip-Hop Culture In The 70's. Then Mix In A Wealth Of Kids Entertainment & Craft - A Live Art Exhibition - A Licenced Bar And Set It In A Beautiful, Outdoor Amphitheatre In Hove On A Sunday Afternoon.
***INSPIRED, I ABSOLUTELY LOVE IT' -BBCSussex*****

****'TOTROCKINBEATS IS NOTHING SHORT OF BRILLIANT' -childfriendlyrighton.co.uk*****

******'IT WAS AWESOME' - BelleDuBrighton.co.uk*****

Please be aware that all previous TotRockinBeats events have SOLD-OUT, so get your tickets NOW!!
FAQs
Can I bring my buggy?
If you can leave your buggy at home or in the car it will be great.
TotRockinBeats involves an enthusiastic crowd of middle-aged dad dancers and hip-shaking funk soul mothers, head-spinning like your drunken relative at a free bar. So keeping the dance floor free of obstacles is a must. If you can manage with just a sling – that's what we advise on the dance floor with very young babies, as many do, that would be just dandy.
Is this a seated event?
Please be aware that the event is set up for standing/dancing and there will be limited seating.
My name is on the guest list, can I come in?
If your name is down and you are on the guest list, please give your name when you arrive.
Any blatant attempts of trying to blag/flirt your way through will be met with high-fives and shouts of 'You Go Girlfriend'. However, you will still be turned away.
What happens if I lose my child during the event?
In the unlikely event of losing your child, please head for the bar and drown your sorrows/celebrate your freedom as you see fit.
Alternatively, please head for the entrance and notify a member of the team who will kick in our lost child poilicy.
Is there a dress code?
Hell yeah!
The dress code is to wear whatever you feel comfortable in whilst pulling off your best ever robot dance and mad props will be given to the most dapper of dads and super stylish of mums. If you feel like coming in fancy dress, then by all means, do so.
Can I take pictures?
We would prefer that you stick your phone in your pocket rather than spend three hours staring at your screens.
However, if you do want to capture some magic moments please, hashtag #TotRockinBeats like your life depends on it.
Will there be childminders or a crèche at the event?
No.
Unfortunately, your children are your own responsibility so please remember safety first and keep them close by at all times.
Is the music too loud for kids?
Hopefully not.
If in any doubt we recommend that you invest in a pair of ear defenders particularly if your children are under the age of 4, just like you would do if you were going to an outdoor festival.
If you do not have any please do not worry but it would be advisable not to stand too close or in front of the speakers.
Is there an age range limit for children attending?
TotRockinBeats is most suitable for parents with kids under the age of 10.
Teenagers although most welcome tend to be horrid sulky types who cramp our style. We suggest buying them a bottle of cider, 10 fags and sending them down the park for a couple of hours, whilst you bust out your best moves on the dancefloor, with children that aren't overtly embarrassed by you.
Does my baby/non-walking toddler need a ticket?
Yes.
Babies and non-walkers are free but do still need their own ticket so we can keep an eye on headcount. Please ensure you get one, we would hate for them to have to be left outside in their prams with a bottle of Tizer and a bag of crisps. Although this is how many of us will have been treated by our parents, it is no longer the 1970's and the pesky blighters at Social Services frown quite a lot on this type of thing apparently.
Will photos or video footage be taken at the event?
Yes.
TotRockinBeats employ professional photographers at every event so please be prepared to smile for the camera.
Do I have to bring my printed ticket to the event?
Yes please, it just makes getting you in a bit quicker.
What's the refund policy?
We are unable to refund tickets but our parties are very popular and sell out in advance. If you post on the Facebook page (FB/dontbelievethehypeuk) that you have a spare ticket you may be able to find someone to buy it from you.
Please contact dan@totrockinbeats.com with any issues and we would be happy to help.