Description
What must be done to achieve an inclusive blue economy where everyone shares fairly in the benefits the ocean brings, and neither marine life nor people are negatively affected by policies or practice?
Over the course of a day and a half, we invite you to join us in considering this question. We want to hear about what is happening already, share ideas, and commit to make change happen.
Whether you are an ocean specialist in civil society or a multilateral organisation, from a fisheries association, government, business, or a research or legal institution, let's come together to discuss what we can do.
Programme overview
The ocean brings many benefits: it plays a part in regulating our climate, it is a rich source of food and other natural resources. But in areas beyond national jurisdiction it is a free-for-all. There is no governance system and widespread misuse of an ocean that belongs to everyone. We could all play a role in being stewards of the high seas – what is needed to make that possible?
How does this connect to sustainable management of the ocean within a nation's jurisdiction? What fiscal policies can be developed and implemented through tools such as taxes, fees and subsidies? We want policies that deliver a positive outcome for the environment and people, particularly those involved in the small-scale fishing sector.
And if new policies are needed and business practice must change, how can we gather and use data in a convincing and meaningful way to help government and the private sector to understand the value of the small-scale fishing sector? Without that understanding both people and the environment may suffer and opportunities for a sustainable life below water and on land will be missed.
The draft programme can be found on the IIED website.
With speakers:
Prof Rashid Sumaila, Director, Fisheries Economics Research Unit, University of British Columbia

Editrudith Lukanga, Executive director, Environment Management and Economic Development Organization (EMEDO), Tanzania; Secretary general, African Women Fish Processors and Traders Network (AWFishNet)

Dr Ekaterina Popova, National Oceanography Centre, University of Southampton

Prof William Cheung, Director (Science), NF-UBC Nereus Program; Principal Investigator, Changing Ocean Research Unit, University of British Columbia

Lena Westlund, International Fisheries Analyst, Food and Agriculture Organization of the United Nations

Mitchell Lay, Program Coordinator, Caribbean Network of Fisherfolk Organisations
And more to follow.
It's all up for discussion. Join the conversation.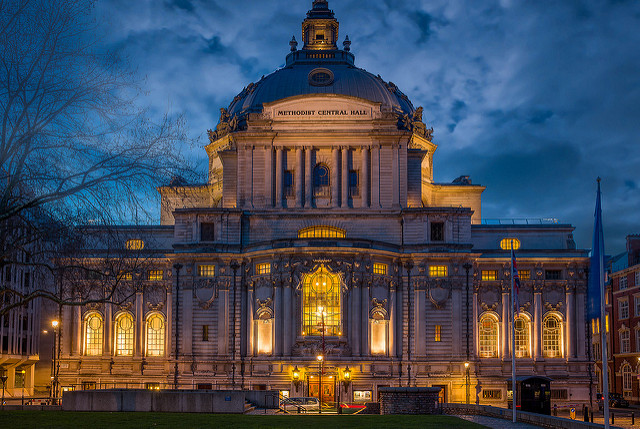 About attending
When
25-26 February 2019
What time do I need to be at Central Hall?
Registration on 25 February starts at 12.30pm. We will offer lunch from 12.30pm, and the conference welcome and opening plenary will begin promptly at 2pm.
Is my place guaranteed?
Admission is on a first-come, first-served basis for those with tickets. Not everyone who books uses their ticket, so, to ensure a full house, we offer more tickets than there are places.
We'd encourage colleagues to join us for lunch and networking at 12.30pm. Please do arrive in good time to take your seat 15 minutes before the start time to avoid disappointment.
Where
Central Hall Westminster
Storey's Gate
London
SW1H 9NH
How do I get there?
Central Hall is a short walk from several underground and rail stations, and is also served by multiple buses. Local car parking is also nearby if you are planning to travel to us by car.
The closest tube stations are Westminster, St James' Park and Victoria. For full details see the Central Hall Westminster website.
Is there parking nearby?
We would strongly advise using public transport; Central Hall is located within London's congestion charge zone. There are several public car parks located nearby: Abingdon Street, Horseferry Road, Rochester Row, and Semley Place. There is also public parking adjacent to the building, on Tothill Street and Matthew Parker Street.
Do I need to bring a ticket to get in?
When you register you will get a confirmation email with a PDF attachment that is your ticket. Please present this ticket when you arrive. You can either print out the PDF ticket or keep the email on your mobile phone and show us the attachment when you arrive. Tickets are not transferrable. If you misplace your ticket, please let us know by emailing us at anne.schulthess@iied.org and we can issue a replacement.
Where I can contact the organisers with questions?
If you have any questions about attending this 'Towards an inclusive blue economy' event, please email us at this address: anne.schulthess@iied.org.
Access for people with disabilities
Central Hall is fully accessible. Hearing and visual assistance is available at the reception desk. You can find full information about access for people with disabilities on the Central Hall website.
About data protection
The information you provide will be held on our database to process your booking. We do not share data with any third parties. Please let us know if you do not want to receive any further information from us.
Photography and filming
This event will be photographed, and/or filmed on behalf of the organiser(s) for display, distribution, and broadcast, including on television and the worldwide web. By attending or participating in this event, you are giving your consent to be photographed and/or filmed and waive any claims regarding the use of your image or contribution.