Sales Have Ended
Ticket sales have ended
Registrations have now closed as the retreat is now full. Please however register for the waiting list as we sometimes have cancellations.
Sales Have Ended
Ticket sales have ended
Registrations have now closed as the retreat is now full. Please however register for the waiting list as we sometimes have cancellations.
Description
Towards the Undivided Life: Our Inner Landscape
A Courage & Renewal® Retreat
13-15 September 2019, Hill Cottage Retreats, Powys
"By choosing integrity, I become more whole, but wholeness does not mean perfection. It means becoming more real by acknowledging the whole of who I am."
— Parker J. Palmer
We live in ever-changing and challenging times. We are often in transition, finding ourselves living life in unexpected ways. Faced with life's inescapable challenges, we can become fearful that our inner light will be extinguished, that our inner darkness might be exposed. And as a result we become separated from what is true for us. We end up living a divided life, struggling to reconcile the truth of our inner lives with the outer worlds we inhabit, disconnected and out of step. In this retreat, we allow ourselves to be called back to our hidden wholeness, to the undivided life that is at our core. Join us for this contemplative weekend, to reflect, renew, and reconnect with the inner passion, courage and sense of purpose that gives meaning to our work and life in the world. As individuals in our various life and work roles, this is an opportunity to share our unique gifts, hopes, responsibilities and perspectives. In retreat, through conversation, creative process, and deep listening we hold space for each other to reorientate ourselves in our inner landscape and (re)discover the wholeness that anchors and sustains us in the world.
Courage and Renewal® retreats:
Renew heart, mind and spirit through the exploration of the inner and outer landscapes of one's life

Reconnect to one's identity and integrity; identifying and honouring gifts and strengths, and acknowledging our limits

Create a context for careful listening and deep connection with others and the challenges they are meeting

Help participants create trustworthy spaces where they can reflect on their sense of vocation and purpose

Explore the connection between attending to the inner dimension of our lives and the impact we have on communities within which we live and the working communities of which we are part.
Who should participate:
The retreat welcomes individuals seeking the opportunity for reflection and renewal as a means of illuminating their own life journey, or enhancing their leadership role in work, organisational or community settings.
This retreat is based on the work of Parker Palmer and the U.S.-based Center for Courage & Renewal programmes. This approach to 'personal formation' and professional development is founded on the belief that good leadership, in the widest sense, - the ability to genuinely be of service in communities and workplaces, - flows from the identity and integrity of the individual. The retreat process invites participants to reclaim wholeness of self and clarity of vocation while making connections between the renewal of one's spirit and the revitalization of the communities and workplaces of which we are part.
Dates and times:
Start time: check-in from 3.30pm, in time for a 5pm start, Friday 13th September
End of retreat: lunchtime on Sunday 15th September (lunch included); optional Q&A session until 3pm
The retreat is residential for all participants. We begin on Friday evening with check-in available from 3:30 p.m. and the initial gathering at 5:00 p.m. A farewell lunch will be provided at 1p.m. on Sunday, and there will be an optional post-retreat Q&A session from 2-3pm. Participants are asked to arrive in good time so they can settle in before the first session on Friday at 5pm, and to plan to stay for the whole of the retreat.
Arriving early or staying on:
It is often possible to extend your stay at Hill Cottage Retreats or arrive earlier as the owners offer bed and breakfast. Please indicate when you complete your registration if you would like to do this. The bed and breakfast charge is £35 and dinner is not provided. There are local pubs and restaurants in Knighton and Presteigne nearby, or it is possible to prepare a simple meal in the barn kitchen areas. In addition, the following websites could be helpful if you are planning to extend your stay in the area:
https://www.midwalesmyway.com/offascountry
http://www.visitmidwales.co.uk/
Our venue: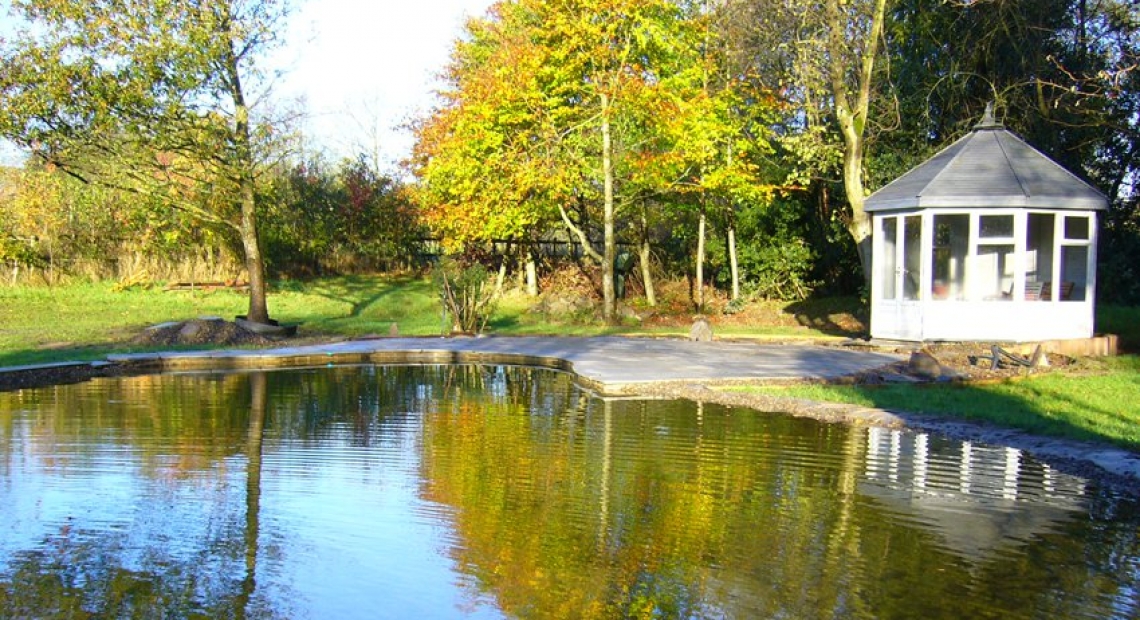 Hill Cottage Retreats, Rhos-y-meirch, Knighton, Powys LD7 1PD
w www.hillcottageretreats.co.uk
Hill Cottage Retreat Centre is situated in the Marches of mid-Wales, near Knighton, just into Wales, in Powys. The owners have created a tranquil retreat space for reflection, creativity and interaction with others and the environment in mutually beneficial ways. The centre welcomes people from a wide range of philosophical and professional perspectives for workshops, courses and retreats. Set in ten acres of land, the centre includes an independent market garden, young orchard and woodland, a natural swimming pond, gardens for contemplation, and wildflower pastures bordered by a meandering brook.
The Centre is run on principles of sustainability and mutuality. Group and overnight accommodation has been created in a number of carefully designed barns, and our main group room will be the beautiful new round-house, currently under construction. There is a range of single and shared accommodation (2 people) spread across the barns, and there is also a small number of sleeping spaces available in traditional style 'crog lofts'. The crog lofts are comfortable and spacious rooms built into the roof of the barns. They are accessed by ladder-stairs and are therefore not best suited for people with limited mobility. Toilets and showers are shared and there are in addition kitchen areas, wet-rooms and sitting room areas. Vegetarian meals are prepared on site using fresh local ingredients, and essential diets can be accommodated if we know in advance.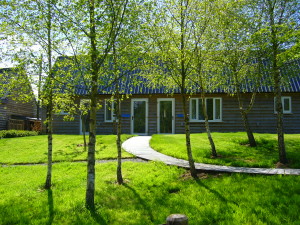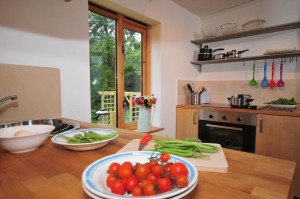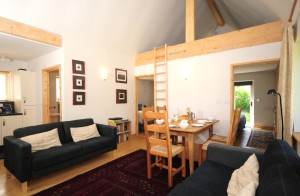 Getting to the venue:
Free transfers from the local train station (Knighton) are available. As car parking is limited, we recommend you consider travelling by train.
Knighton is around 2-2½hrs by train from Birmingham New Street, with a change in Shrewsbury. Pick-ups from Knighton can be arranged.
For full details of how to travel to Hill Cottage, go to: http://hillcottageretreats.co.uk/rhos/contact/where-we-are/
Fees:
Retreat fee: £180 plus accommodation & board £140-160 (depending on choice of accommodation); total £320-340.
Earlybird fee for early registrations (before 21st June 2019): £160 plus accommodation; total £300-320.
The retreat fee includes retreat materials and facilitation by a skilled facilitator prepared by the Center for Courage & Renewal, comfortable overnight accommodation, delicious vegetarian meals (dinner on Friday and Saturday, breakfast on Saturday and Sunday, lunch on Saturday and Sunday), and teas/coffees and snacks. You can choose your accommodation and give details of essential dietary requirements in the registration form.
Registration
:
Please complete the registration form online by going to: http://thecouragetocare.eventbrite.co.uk
Payment is required on registration. You may pay by credit or debit card online, or you may choose to pay by cheque or BACS transfer. Cheques and BACS transfers must be received within 7 days of registration and made payable to Barbara Reid. Please contact Barbara Reid for BACS transfer details, or if you need to ask about other payment options, including paying in two staged payments. If you want to make staged payments, an initial deposit of £160 will secure your place, and the final payment is due 8 weeks before the retreat. Note that the earlybird fee will be held if you register before 21st June 2019.
Cancellations and refunds:
After registering you may withdraw your application up to 8 weeks prior to the event start date (21st June 2019), at which point you will be offered a refund, minus a 25% administration fee. If you cancel your place within 8 weeks of the event commencement date (i.e. after 21st June 2019), we regret that no refund can be offered. If therefore there are circumstances in your life that create a risk of cancellation, we recommend that you take out cancellation insurance in case you find you are unable to attend.
In the unlikely event that we need to cancel or postpone, a full refund of the retreat fees will be offered. Please note that our liability is limited to the retreat fee, and travel insurance is therefore recommended.
Facilitator: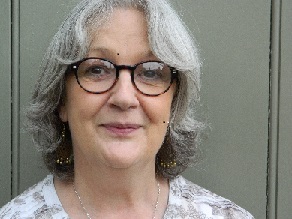 Barbara Reid, PhD, is a facilitator and retreat leader specialising in professional and personal formation. She has been prepared by the Center for Courage & Renewal in the U.S. to lead retreats based on the work of Parker J. Palmer, which she has been doing for the past 5 years. With a long-standing commitment to reflective practice, she works cross-professionally with people involved in change and transformation in organisations and communities. She is also a teacher of Mindfulness Based Approaches and taught part-time at the Centre for Mindfulness Research & Practice at Bangor University until the end of 2017. With a background in university teaching and research, Barbara led vocational degree programmes in the social and urban policy fields and managed social action research projects for a wide range of public services and third sector organisations. With a long-standing personal commitment to collaborative, contemplative and reflective practice, she is passionate about creating open and trustworthy spaces that support dialogue, learning, and community building.
Additional information:
If you have any questions about registration or about the Circle of Trust approach / the Center for Courage & Renewal, please contact Barbara Reid on 07970 877092 or email beereid@gmail.com.
Preparing for the retreat:
If you are unfamiliar – or even if you are familiar with the work of Parker Palmer and the Center for Courage & Renewal, you might like to look at some of Parker Palmer's books – "A Hidden Wholeness", "The Courage to Teach", and "Let Your Life Speak". A new book, 'The Courage Way', authored by the Center for Courage & Renewal and Shelly Francis is also a great introduction. Further information is also available on the Center for Courage & Renewal's website - www.couragerenewal.org