Towards Utopia is a brand new event focusing on workplace culture
About this event
We are rescheduling to either 5th or 6th October due to COVID19 restrictions. A final date will be confirmed soon. Thanks for your patience :)
Welcome to Towards Utopia, the inaugural conference on workplace culture for people who want to change conversation and drive action to create happiness and add value into organisations.
"Utopia is always on the horizon…as much as I may walk I'll never reach it. So what's the point of Utopia? The point is this: to keep walking"
What to expect
Content
This half day conference of keynotes, panels, fireside chats and workshops from 15 influential thought leaders and personalities, including; authors, broadcasters, artists and senior industry leaders will tackle everyday issues that affect organisational culture, focusing on three main themes, Vulnerability, Inclusion and Resilience along with a segment dedicated to the future of work.
We have 12 fantastic speakers confirmed, more to be announced: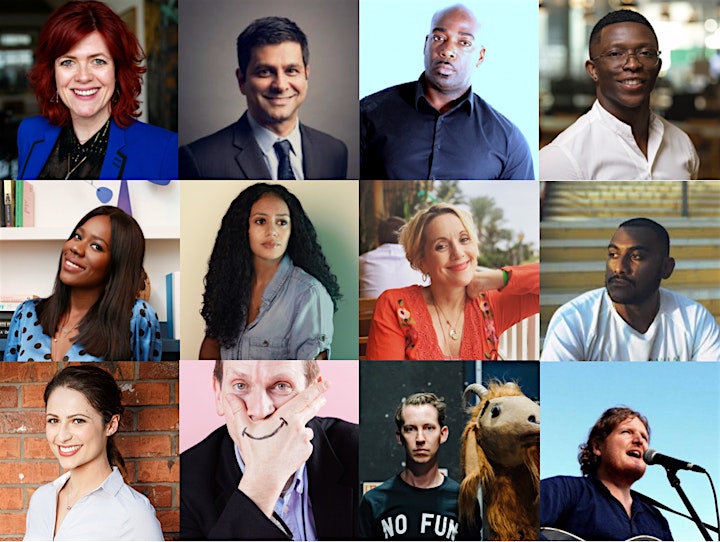 Nadya Powell, Co-founder, Utopia
Pradyumna Pandit, GM, Schneider Electric
Viv Ahmun, Futurist
Tolu Farinto, Change-Maker, Utopia
Elizabeth Uviebinené, Author
Emma Mainoo, Founder, Surviving Sundays & Change-Maker, Utopia
Emma Campbell, Writer, Blogger, Speaker, Cancer Thriver
Nathaniel Cole, Writer & Founder, Swim Dem Crew
Nicola Thorpe, Actress, Writer & Broadcaster
Bruce Daisley, Author
Mr Bingo, Artist & Speaker
James Sills, Author & Musician
Networking
High value networking and idea exchange with 200 peers who are all passionate about positive culture change
Insight
You will gain invaluable insight from both lived and first hand organisational experience. Our speakers will share expert observations along with best practice examples, simple hacks and takeaways that will equip you with the tools and confidence to embed culture change within your own organisation
Who should attend
We welcome anyone who is passionate about building more purposeful, more inclusive and more entrepreneurial work cultures including: HR Directors, People/Talent Directors, Culture Officers, Heads of I&D, CEO's, COO's and change-makers
Timings
Doors open at 12.30 for a 13.00 start. Drinks, Pizza and Networking from 18.00 - 19.00
_______________________________________________________________________________________________
More details on our content
_______________________________________________________________________________________________
Vulnerability: the new superpower for leaders
Vulnerability is a critical work skill - it's at the heart of inclusive leadership and is fundamental to creating psychological safety and trust. Yet our Masculinity in the Workplace research shows that only 30% of men are comfortable showing their emotions at work and highlights that men are far less comfortable than women being vulnerable at work.
In this session, chaired by Nadya Powell, Co-founder of Utopia, we will explore the power of being a vulnerable leader by holding an intimate conversation with leading men in industry, including Viv Ahmun, Futurist and Pradyumna Pandit, GM at Schneider Electric. We will explore how they have embraced vulnerability and the positive impact it is having on them, their people and their business.
Key takeout: Why vulnerability is fundamental to inclusive leadership and examples of changes you need to make

How to connect with peoples hearts: from exclusion to inclusion
Talking about inclusion can be hard sometimes but a great way to recognise what inclusion represents is by highlighting what exclusion looks like. There are moments in everyone's life where they feel excluded, and for the majority this won't be a pleasant experience. Only by identifying and contextualising how different groups are excluded in wider society can we really empathise and understand the problem. Empathy is a major component in creating change and this session will unlock that through connecting to hearts as well as minds.
In this visual led workshop run by Tolu Farinto, Change-Maker at Utopia, we will learn from a series of videos that cover the following issues; understanding privilege, the broken interview process, creating belonging, the problem with stereotypes and systemic inequality.
We will also have a fireside chat with Elizabeth Uviebinené discussing some of the issues she covers in her best selling book 'Slay In Your Lane: The Black Girls Bible' along with key advice on how to empower and succeed when you have been underrepresented.
Key takeout: Expect to come away with a more empathetic understanding of the different challenges faced by marginalised groups

Reframing Resilience:
In this session, we'll be exploring resilience through the lived experiences of some truly inspirational people. We'll be asking what resilience is, how it might be developed and understanding how employers might create supportive, inclusive cultures that embrace individual resilience.
Emma Mainoo, Change-Maker at Utopia & Founder of Mental Health Platform Surviving Sundays will provide background to the topic and host a panel with Emma Campbell, Author of 'All That Followed: A story of cancer, kids and the fear of leaving too soon', Nathaniel Cole, Writer & Founder of Swim Dem Crew and Nicola Thorp, Actress and Mental Health advocate. More panelists to be announced...
Key takeout: Thoughts on how to create an open and honest culture, where individual struggles might be supported

Is the future of work dystopia or utopia? time to create the future of work we want to see
For decades we've been told that we need to be more productive, more effective, winners work harder, the successful never rest. What's happened? Burn out, anxiety, absenteeism (both physical and mental) and ultimately productivity has decreased. It's time to accept the way we're working is not working.
In this session, Bruce Daisley will share key insights from his book 'The Joy of Work' giving practical ways to promote wellbeing and engagement and of course put joy into work. This will be followed by a panel discussion with business leaders who are creating positive change in workplaces everyday. Panelists to be announced soon..
Key Takeout: How to put the joy, engagement and true productivity back into work driving business success for everyone

Hacking Workshop:
Daniele Fiandaca, Co-Founder of Utopia will be running a workshop where we will use the Creative Superpower of Hacking to ensure that everyone comes away from the event with practical actions you can implement in your business tomorrow.
Key takeout: The Power of Hacking - how lots of small changes can make a big difference

End Keynote - Mr Bingo
You are in for a treat with our end keynote. Acclaimed artist and speaker, Mr Bingo will be telling us about 37 things he has learnt throughout his creative career. Mr Bingo tells it as it is. You will learn and you will laugh.

Creativity on the day:
We are very excited to have musician, vocal leader, author and speaker James Sills, join us for the afternoon. He believes singing together is a fundamental part of being human, fostering community, creativity and well-being. (Expect some interactive fun on the day:)

_______________________________________________________________________________________________
Poweryour+1
We are piloting a new initiative poweryour+1 which encourages you to invite people from underrepresented backgrounds to the event. It gives people who may not normally have access to this type of event an opportunity to experience, learn and contribute to something outside of their usual framework. The poweryour+1 ticket is discounted at 50% for the +1.
You can read all about the idea which was developed by Carol Tarr HERE.
"Innovation does not happen in a static space with the same people of the same background trying to figure out what comes next. Innovation thrives under a fresh set of eyes, new perspective and robust discussion that diversity brings"
Carol Tarr, Lecturer | Founder | Fellow | Micro-catalyst
Our Guarantee
We want you to gain tangible value coming along to our events so if you attend and you find it hasn't given you what you were looking for, then we will provide you with a full refund. No questions asked.
Our events are designed to provide you with new ideas and practical hacks that you can use to make real change within your organizations culture. If you feel we haven't provided this, then we have fallen short of our promise.
Coronavirus
We understand that the current situation is affecting businesses in different ways and with no certain outcome to the containment measures being implemented, we are giving a guarantee that if the event has to be cancelled at any time your tickets will be fully refunded.
Organiser of Towards Utopia
Utopia is a culture-change business.
In a business landscape where creative thinking is the primary driver of growth, our changemakers help organisations build more purposeful, more inclusive and more entrepreneurial cultures, fit for this age of creativity.
We do this by disrupting, inspiring and rewiring - from the intern to the CEO, through virtual workshops and hacks - to create happier, inclusive, more productive workforces that deliver competitive advantage.