Description
Toy Models and Playful Science

IMI Public Lecture, University of Bath
Time: 3.15 - 4.15pm (Tea and coffee from 2.45pm)


On Wednesday 23 May, Professor Tadashi Tokieda from Stanford University will give a talk about rediscovering the eyes of a child in science, rather than pursuing well-established topics that we assume should interest us.


ABSTRACT
Tadashi invents, collects, and studies toys - simple objects from daily life that can be found or made in minutes, yet which, if played with imaginatively, exhibit behaviours so surprising that they intrigue scientists for weeks.
Have you ever watched a small child being given a toy? Often the child pays no attention to the intended gift but will happily play with the wrapping paper and box instead. Grown-ups, on the other hand, tend to pay attention only to the parts of science already labelled as interesting.
I am suggesting that in science we rediscover the eyes of a child and explore phenomena that appeal to our personal experience, which we make interesting, rather than just pursue well-established topics that we have been led to assume should interest us.
Established sciences are important. But alongside these sciences in the flower, there are also sciences in the bud. This lecture invites you to start looking for those buds, through simple yet surprising toys.
The lecture will include table top demos of such toys, together with simple, robust modelling of what is going on. The theme that emerges is singularity.


Professor Tadashi Tokieda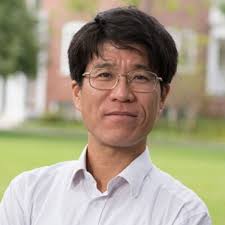 Tadashi Tokieda grew up as a painter in Japan, became a classical philologist in France, before switching careers to mathematics (PhD Princeton), and he now does most of his research in physics.
He is a professor of mathematics at Stanford University and active in outreach, especially via the African Institute for Mathematical Sciences near Cape Town. He is also slated to give a plenary public lecture at the International Congress of Mathematicians in Rio de Janeiro in August 2018.
This talk is FREE to attend and open to all with a ticket.
For further information, please email s.terry@bath.ac.uk.